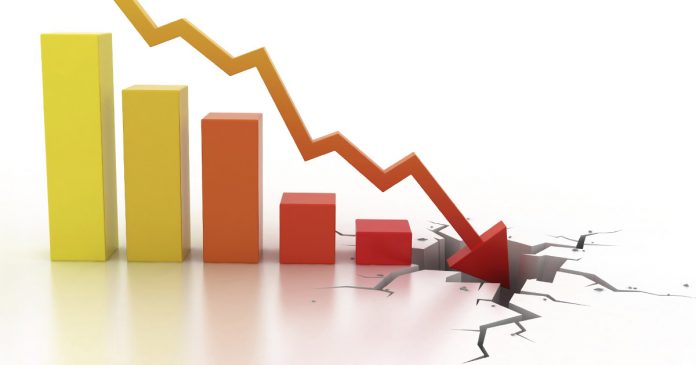 In what's looking to be a busy week for investors, stocks sagged early Monday morning, as both bears and bulls prepare for the next round of U.S.-China trade talks set for the end of the month.
The Dow dropped over 300 points while the S&P 500 sunk almost 30 points, dragged down by a huge earnings miss from Caterpillar (NYSE: CAT) as well as renewed fears over another prolonged government shutdown. Intensifying things further is an upcoming news conference from Federal Reserve Chairman Jerome Powell – something that could severely tilt the market in the coming weeks. Equities as whole seemed stressed out by the massive rally from December lows, and as traders try to predict the next dip, conditions seem a little unstable in American stocks.
At the time of writing, CAT shares have dropped almost 8 percent since last week's close after a disastrous earnings report that saw the world's largest construction equipment manufacturer miss nearly all its Q4 forecasts. Investors fled the high-market cap stock in droves, exacerbating the market-wide drop.
And as bad as that may be for bulls, it could get even worse as more prolific earnings are set to be reported in the coming days. Facebook (NASDAQ: FB), Amazon (NASDAQ: AMZN), and Apple (NASDAQ: AAPL) – the "FAA" of FAANG stocks – will all report earnings this week, and if investors are displeased by what they hear from them, significant drops from any three of these stocks could cause some serious market hysteria.
Nvidia (NASDAQ: NVDA), more than two weeks ahead of its earnings on February 14th, said that it expects to report only $2.2 billion in Q4 revenues, a whopping $0.5 billion short of its $2.7 billion estimates. Out of all the chicanery from today's session, this might be the most shocking, as Nvidia prepares its investors for a major earnings miss.
All in all, it's shaping up to be a critical week for the market. In this case, that means that "a single grain of rice" (or in this case, a single blue-chip stock) could finally tip the scales, flushing equities down the drain after looking woefully overbought for weeks. Traders who rode the recent rally to some nice post-holiday gains are looking for an exit point, and if the market continues to decline, they'll have a great excuse to sell.
Once that happens, a "rip-your-face-off" run to the bottom is not at all out of the question as a major momentum shift takes place.
Until then, however, investors will be keeping an extremely close eye on Facebook, Amazon, and Apple's earnings – as these, coupled with the Fed's press conference, could ultimately be the "trigger points" of a bear market relapse in 2019.