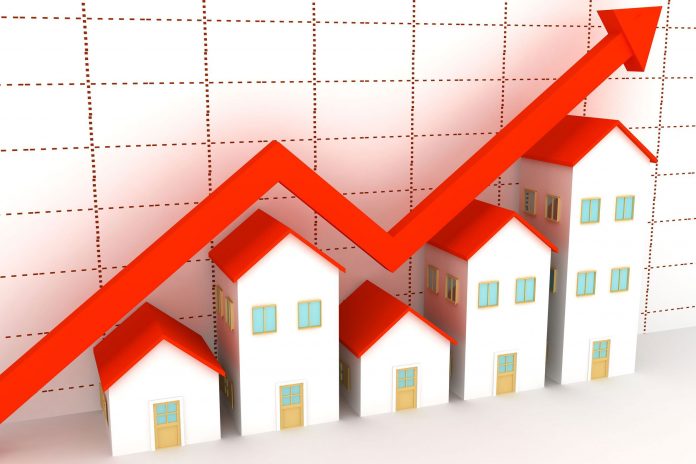 After two ruinous days for oil, it's back up this morning, causing the stock market to rise as well. The major indexes – all of which are trading higher as of midday – could get back to their winning ways if oil continues surging.
With the West Texas Intermediate (WTI) May crude oil futures contract (the one that went negative) expired, the focus shifted to the more popular June contract, which is currently up over 26% on the day.
President Trump did his best to galvanize crude prices, tweeting that he "instructed the United States Navy to shoot down and destroy any and all Iranian gunboats if they harass our ships at sea."
Iran should be careful; oil's got the Navy on its side, now. We all saw what happened to noted war criminal Qasem Soleimani when left out in the open.
Iranian President Hassan Rouhani knows not to give Trump any more reasons to unleash the U.S. arsenal. Last time, it went very poorly for the rogue nation.
For now, Trump's backing should provide at least little more stability for oil.
The bigger issue at hand, however, is getting the U.S. economy re-opened. Until that happens, demand for oil will remain extremely low.
Gregory Faranello, head of U.S. rates trading at AmeriVet Securities, sees the oil struggles as a sign of potentially worse things to come.
"The short term story in the market remains oil. Yet, this is much bigger than oil," Faranello wrote.
"The price action over the last 48 hours not only points us back to the economy and demand side, but is showing signs of spillover and contagion in risk toward other markets."
Jim Paulsen, chief investment strategist at the Leuthold Group, is concerned that oil – and the general market – still has more room to fall.
"This week investors are realizing that even though the crisis could soon get better, the negative impacts of having an economy which is essentially shut down are magnifying at an alarming rate," Paulsen said.
"With no demand even for a couple of months, energy prices go negative as excess oil supplies balloon."
And though most analysts remain (rightfully) fixated on oil and energy stocks, there's another sector that could see a massive "boom" in the event of an economic re-opening.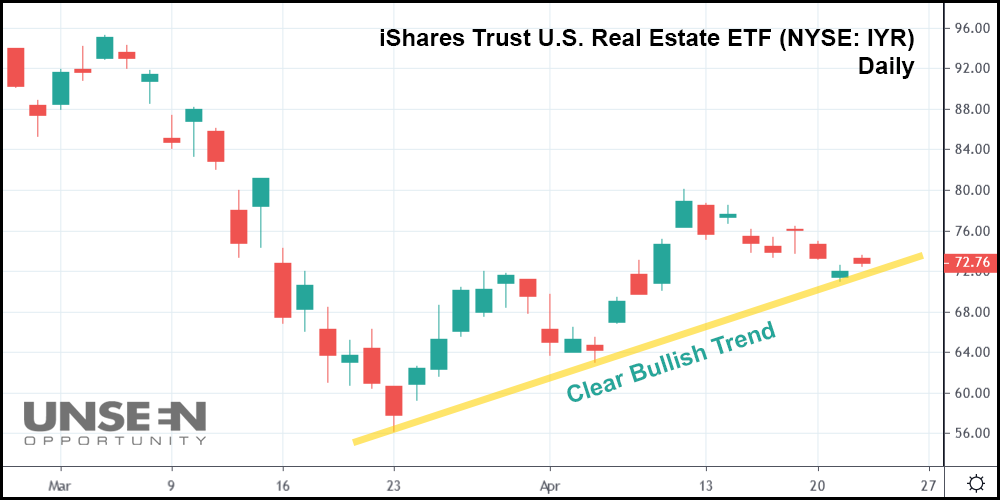 Yes, believe it or not, real estate stocks, which already measured a 40%+ gain from trough-to-peak (March 23rd – April 9th), look like they're about to rally once again.
The rest of the market did well after it "bottomed," too, but few sectors enjoyed as massive of a lift as real estate did. The iShares Trust U.S. Real Estate ETF (NYSE: IYR) reflects that in its price action following the COVID-19 crash.
IYR, which is made up of 117 different stocks, includes real estate investment trusts (REITs) like American Tower (NYSE: AMT), Crown Castle International (NYSE: CCI), and Prologis (NYSE: PLD) – all of which have soared.
But over the last week, the sector has sold-off. Now, it rests cleanly upon its post-crash bullish trend (represented with the yellow trendline).
With everyone's attention turned to oil, don't be surprised to see real estate stocks "fly under the radar" for the next few days.
Make no mistake, though; a real estate recovery – when the U.S. starts to re-open – will likely be spectacular. It might take IYR another week or two before things really get going, but once they do, bulls might want to hop on board.
Hopefully, before its too late to do so.