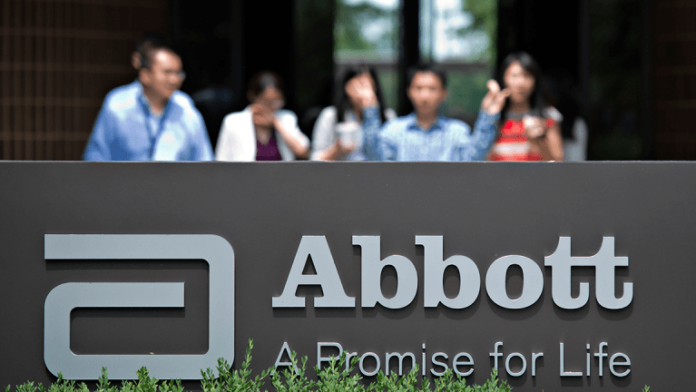 Stocks closed flat today after opening lower in what was a largely uneventful trading session. Chinese tech stocks Alibaba (NASDAQ: BABA) and Baidu (NASDAQ: BIDU) sunk in response to a newly proposed Senate bill that would ban Chinese companies from listing on U.S. exchanges, but besides that, the market barely budged.
Which, historically, is what typically happens the Friday before Memorial Day weekend. It was serendipitous for bulls after equities soared earlier in the week. The reduced trading volume may have kept bears at bay for the time being.
And to some analysts, this week's gains were a sign of things to come.
"This week started off really strong and put us on a good trajectory," said Northwestern Mutual's Matt Stucky.
"There's an increasing probability that something more permanent in nature is going to fix the problem, and that should be discounted in a positive way."
A "rally reboot" – if one is really on its way – would likely follow positive economic data as a result of the state-by-state reopenings.
National Institute of Allergy and Infectious Diseases director Dr. Anthony Fauci explained how crucial reopening the economy will be in an interview with CNBC.
"We can't stay locked down for such a considerable period of time that you might do irreparable damage and have unintended consequences, including consequences for health," Fauci said.
Want more FREE research and analysis on the best "unseen opportunities" in the markets?
"It's for that reason that the guidelines have been put forth so that the cities and states can start to reenter and reopen."
Fauci's comments seemed to oppose his testimony given to the Senate Health Committee on May 12th, just 10 days ago. Back then, he warned the committee that "suffering and death" could result from a reopening that came too quickly.
So, does the economy need to reopen immediately? Or do we need to wait? You can't have it both ways, doctor.
Maybe he changed his mind. Or, maybe he just wants more attention.
Either way, Fauci's soundbite illustrates the main problem investors are facing:
Uncertainty.
Nobody knows what's going to happen and stocks seem just one headline away from the leg up or down. Precious metals have benefited from the confusion, and a few stocks, too.
Take, for example, Abbott Laboratories (NYSE: ABT), a company that looks ready to rise.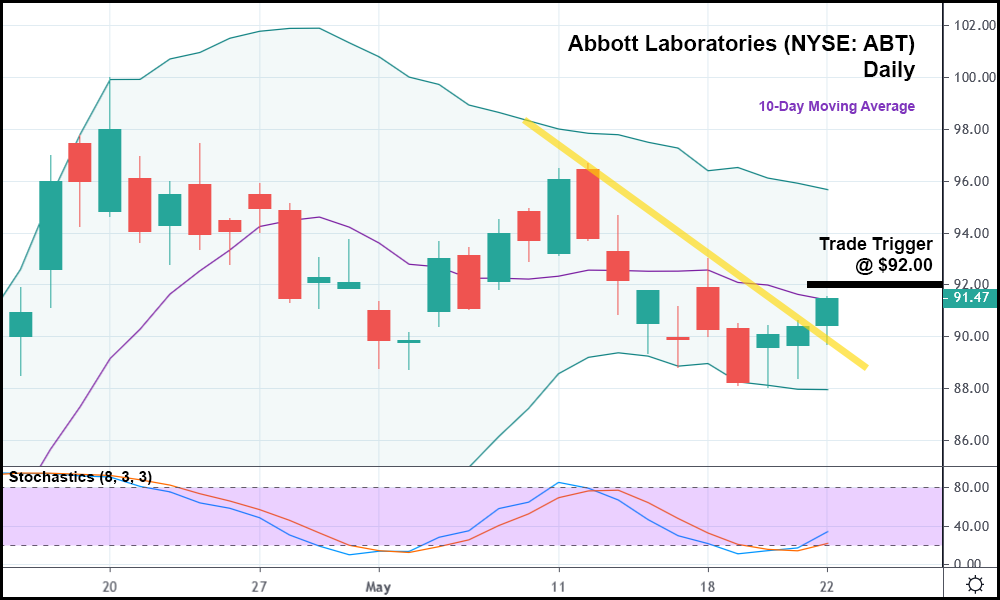 ABT has been in a bit of a downtrend since peaking in mid-April. The stock attempted to regain ground in mid-May, but now hovers just above the lower Bollinger Band (BB).
However, contact with that BB seems to have given the stock some legs. ABT bounced off the lower BB and, today, broke out above its minor bearish trend (represented by the yellow trendline) and the 10-day moving average.
If ABT trades above today's high, it might make sense to go long on the stock with a trade trigger of $92.00.
From there, resistance looms overhead, but it won't stand in the way of a true rally should the market (or possibly just ABT) gets back to its winning ways.
All while, hopefully, the economic reopening in the U.S. goes exactly as planned.