Stocks slipped this morning after big banks cast doubts on the economy's future. The Dow, S&P, and Nasdaq Composite opened lower before rallying intraday to pare back some losses through noon.
Earnings for the banks were good, but forward guidance left investors feeling concerned. Both JPMorgan Chase (NYSE: JPM) and Bank of America (NYSE: BAC) told shareholders that they were preparing for a recession sometime this year.
In anticipation, banks are preparing to absorb credit losses should they rise in response to a major economic slowdown.
"Financials weren't really quite expected to have a blockbuster quarter," said Ross Mayfield, investment strategy analyst at Baird.
"It's just providing a bit of a sentiment wave, and since the banks lead earnings season, they can kind of set the tone for how investors look at the broader picture."
He continued, adding:
"Frankly, the market has rallied pretty nicely over the last few weeks, absent a catalyst, and so there might just be a little bit of profit taking out of earnings season going."
The S&P's still on track to finish the week with a net gain, making this the second consecutive winning week for the index. But Wall Street is still net short stocks as of this morning, suggesting that retail traders powered the market higher over the last few trading sessions all on their own.
Epic meetups in speculative names like Bed Bath & Beyond (up 260%) and GameStop (up 25%) this week are evidence of this, too.
But will stocks climb further? The S&P faces a tough test at its bearish trendline…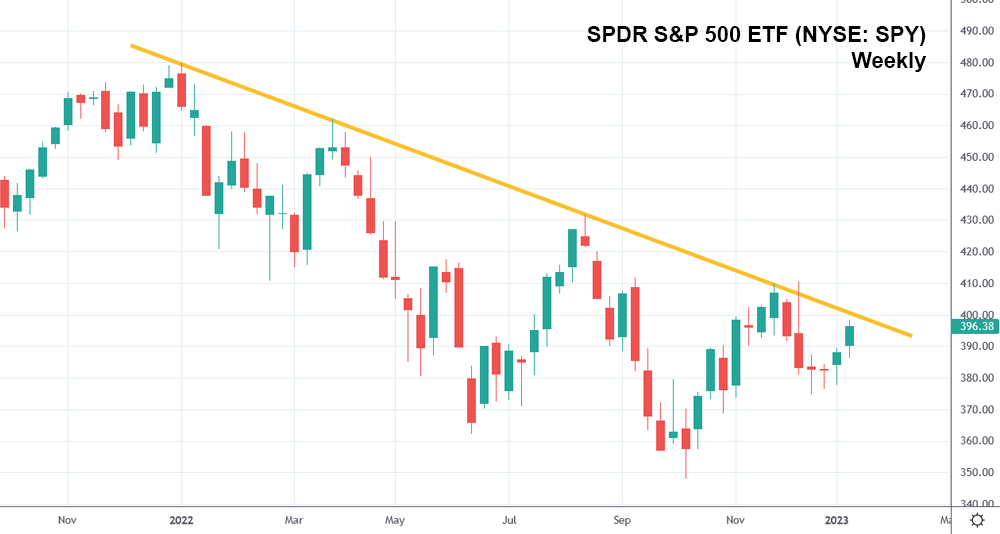 …and the VIX is slamming into key support.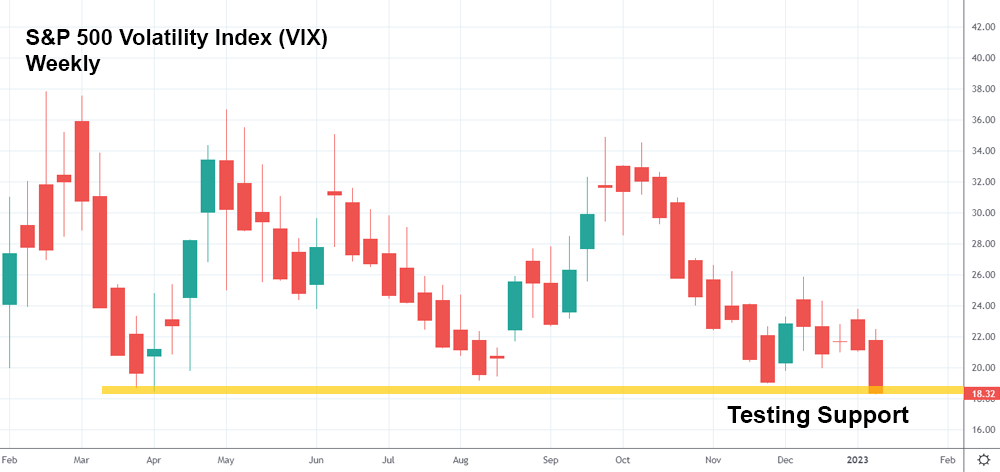 It's long been said that "when the VIX is low, it's time to go." The VIX is currently testing support at a low that it repeatedly bounced off of last year.
Historically, loading up on bullish positions with a VIX this low has been a losing strategy. Trying to buy near the SPY's bearish trendline in 2022 also never worked out.
Virtually every time, though, retail traders took the reigns and attempted to stage breakouts without the help of institutional investors, who primarily were busy flipping bearish, getting ready for the next reversal.
The S&P then retraced on each occasion as Wall Street made its money, and Main Street was made to look foolish.
Based on the charts above, it looks like history is about to repeat itself. And it will if more corporations hint at an earnings recession later this year. The market's going to find out for sure when more companies report earnings next week. Until then, expect choppy price action as the S&P draws closer to its ominous bearish trendline.