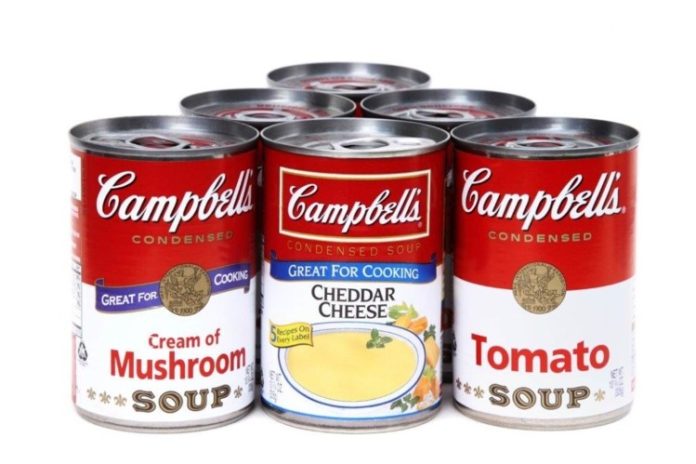 Stocks dropped today in a trading session that saw more "zig-zag" price action. The market was down in the morning, up at noon, and then down again by the close.
The indexes still linger near their late April/early May highs, but after such a weak finish to trading, equities certainly seem ready to head lower in the coming days. A report from STAT News cast doubts on Moderna's (NASDAQ: MRNA) coronavirus vaccine, causing shares of the biotech firm to plunge 10.4%
The report likely influenced the general market as well.
And with volatility rising, silver – not gold, the usual suspect – soared. Over the last few months, gold's gone on an absolute tear.
Silver, which usually tracks gold somewhat closely, didn't even come close to matching its gains.
Today, however, silver prices flew higher, bringing the two precious metals closer together while stocks dipped. Banks endured substantial losses in particular, as Wells Fargo (-5.75%), Bank of America (-3.14%), and Citigroup (-2.72%) all sunk back toward their May lows.
"Buying weakness and selling strength has proven to be the most profitable strategy to play Banks up to this point," Frank Cappelleri, executive director at Instinet, wrote in a note.
"That certainly could change, but we won't know if that can or will occur until the next breakout attempt happens."
Making matters worse was the Congressional Budget Office (CBO), which released its economic outlook this afternoon. The CBO sees a 38% annualized decrease in GDP for the second quarter, nearly matching existing forecasts from Wall Street. The Atlanta Federal Reserve revealed its own estimates last Friday. The district bank expects a larger drop of 42% from April to June.
"The economy is expected to begin recovering during the second half of 2020 as concerns about the pandemic diminish and as state and local governments ease restrictions," the CBO said in a statement accompanying its prediction.
"The decline in economic activity has been so rapid and so recent that the depth of the downturn is still uncertain, and the data on spending are preliminary and incomplete."
That uncertainty could drag the market down as bulls continue to feel unsure near key resistance.
And if stocks are destined to fall, a handful could get absolutely crushed in the descent.
Take Campbell's Soup Co. (NYSE: CPB), for example, a soup giant that finds itself suddenly "on the ropes."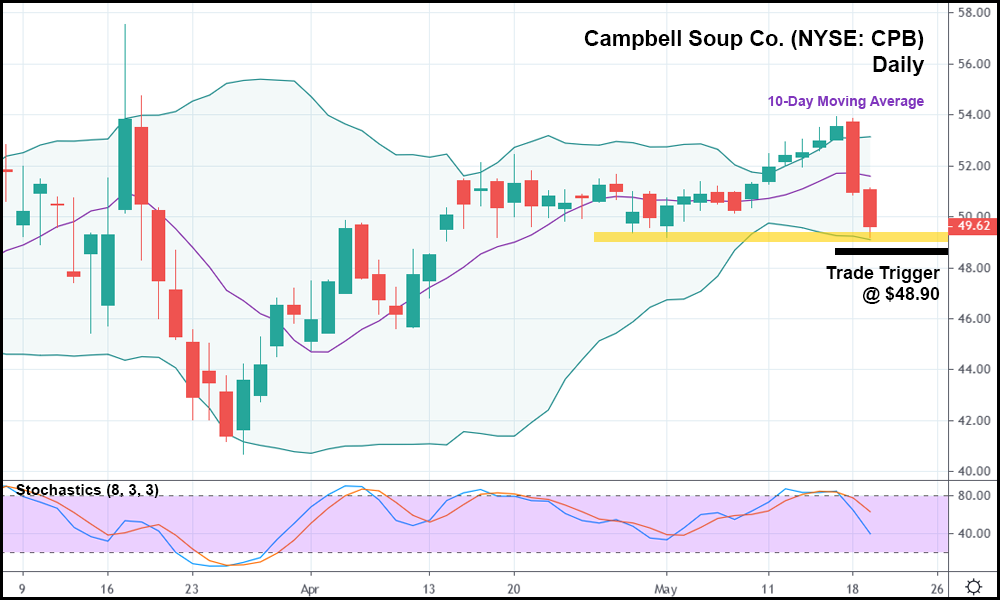 Campbell's is a company that has done well during COVID-19. The increased demand for canned soup and prepared meals has caused CPB shares to rise mightily from the March lows.
At least, until yesterday, when CPB came screaming back down from its monthly high.
Today, CPB fell further, and now sits right on top of key support (represented with the yellow trendline) after blowing past the 10-day moving average.
If CPB falls below today's low, it might make sense to go short on the stock with a trade trigger of $48.90. From there, CPB has plenty of more room to drop.
For this stock, it's not a matter of whether or not the outbreak will continue. It's a question of how overbought CPB really is.
Based on CPB's recent price action, it certainly looks like it's ready to "come back to earth." Potentially very soon, making it a great choice for short-term bears as the rest of the market wrestles with an ever-shifting sentiment.