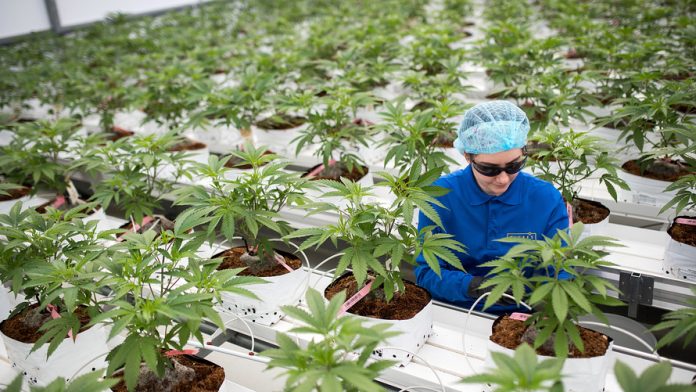 The U.S. labor market is firing on all cylinders. 225,000 payrolls were added last month according to the January jobs report, blowing away the estimated 158,000 gain. Wage growth surpassed expectations, too, coming in at 3.1% (vs. an expected 3.0%).
But instead of a stock surge, equities sunk. Investors are getting increasingly nervous about the coronavirus, it seems, and the impact it could have on the Chinese economy. In an afternoon press conference, the CDC confirmed that China had failed to contain the outbreak, suggesting that many more infections could be on the way.
Some analysts are now worried that Shenzhen, where 90% of the world's electronics are made, could be overrun by the virus. Manufacturers in the area have already told employees not to come to work.
A full lockdown could cause serious supply chain issues.
Worse yet, Shenzhen borders Hong Kong, the region's key financial hub. A coronavirus outbreak there could spell ruin for the Chinese markets.
And, by proxy, the rest of the world.
The U.S. indexes are still trading near their all-time highs, of course, but in light of the recent outbreak developments, are starting to fall. If the S&P, Dow, and Nasdaq Composite aren't able to rally next week, another drop could ensue.
Or, stocks could continue to "chop sideways." At this point, it's hard to tell what's going to happen in what has become a zig-zagging market.
But that doesn't mean there aren't trading opportunities to be had. The once red-hot marijuana sector attempted a recovery last month, as evidenced by rising share prices.
This week, however, those gains have gone "up in smoke," as investors dropped pot stocks en masse.
And though they've already fallen significantly, some of them – like Canopy Growth Corp (NYSE: CGC) – stand to drop even further.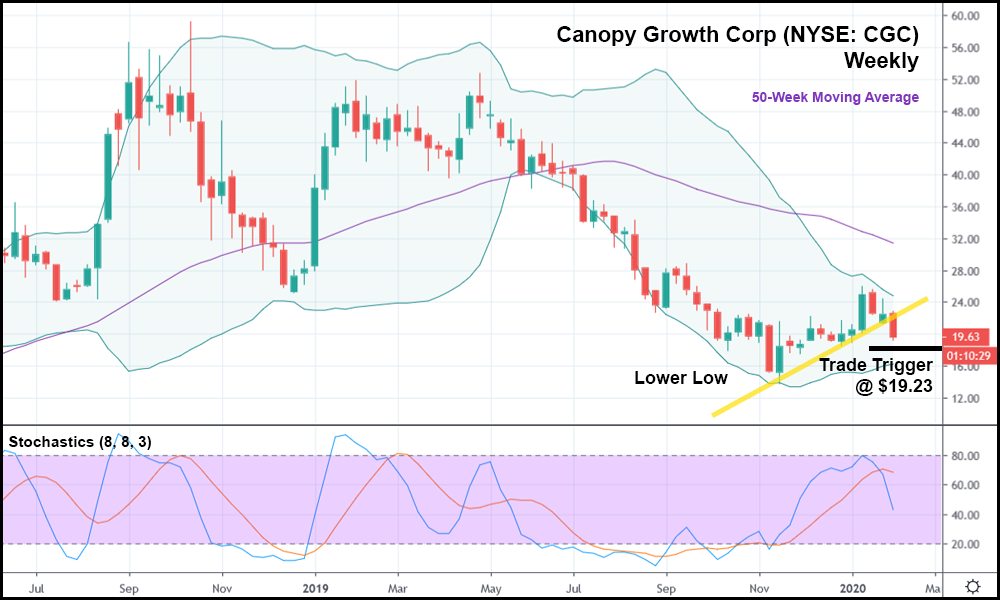 In the weekly candlestick chart above, you can see that CGC turned a corner in mid-2019. After making a "triple top," the stock plunged for months on end. In November, it bottomed (setting a lower low) and started rising.
Now, however, after falling the last three weeks, CGC has broken out of its minor bullish trend (represented by the yellow trendline). Shares have completely retraced their gains from December, and another dip seems imminent.
If CGC descends further next week, it might make sense to go short with a trade trigger of $19.23 (below the current week's low). From there, the stock could easily drop past its recent lower low as the stochastics indicator suggests there's plenty of room to drop before CGC becomes oversold.
Best of all, pot stocks aren't exactly market-correlated, either. So, if the general market ends up recovering next week, CGC could still fall.
Regardless of what happens with the coronavirus.