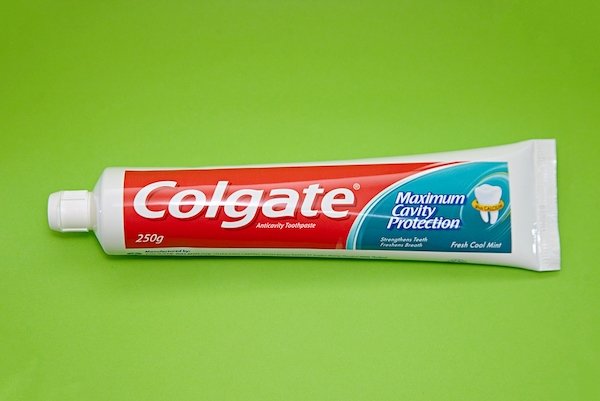 Stocks stumbled as the S&P 500's (-0.34%) four-day winning streak came to a close. The Dow (+0.05%), meanwhile, finished slightly higher today while the Nasdaq Composite (-0.69%) fell the furthest among the major indexes.
Sluggish jobs numbers cast a pall on equities this morning when the Labor Department revealed that 1.877 million Americans filed for unemployment last week, surpassing the consensus estimate of 1.775 million. Just yesterday, Moody's Analytics and ADP predicted a May jobs loss of only 2.76 million, well below the expected total of 8.75 million. The report sent stocks soaring.
Now, with the Labor Department's official May jobs report due out tomorrow morning at 8:30 a.m. EST, investors seem anxious to find out where the data really lies.
Many analysts remain optimistic that the economy will continue to send positive signals.
"May could well end up being the turning point for the viral crisis. The month ended with the virus seemingly under control and with the economy reopening faster than expected," Brad McMillan, chief investment officer at Commonwealth Financial Network, said.
"June will tell us whether that trend continues. But right now? Things look much better than we could have expected a month ago."
The European Central Bank (ECB) got in on the action today as well when it announced an expansion of its Pandemic Emergency Purchase Programme by 600 billion euro to a total of more than 1 trillion euro. Alongside the Fed, the ECB's doing whatever it can to provide liquidity – something that economist Ed Yardeni warns has created a bullish smokescreen for investors.
"[The market is] focusing on signs that a reopening recovery—juiced by federal spending and monetary easing—is taking hold," Yardeni said.
Want more FREE research and analysis on the best "unseen opportunities" in the markets?
"The market is treating the recent calamity as if it were a natural disaster rather than a severe recession."
Phil Blancato, CEO of Ladenburg Thalmann Asset Management, echoed Yardeni's sentiment in a statement on the current rally.
"The market is trading on extreme optimism like I've never seen in my career, I've never seen the market trade on this kind of euphoria without real data to back it up." said Blancato.
"We're looking at the worst data in our lifetime. Yet, here we are at all-time highs. Those two don't normally go together. The market either knows something we don't or we're trading on extreme optimism."
We've argued for weeks now that the market appeared overbought. If the rally is truly "topping out," then traders will want to find short setups.
And fast.
Thankfully, Colgate-Palmolive Co. (NYSE: CL) may have just given them one.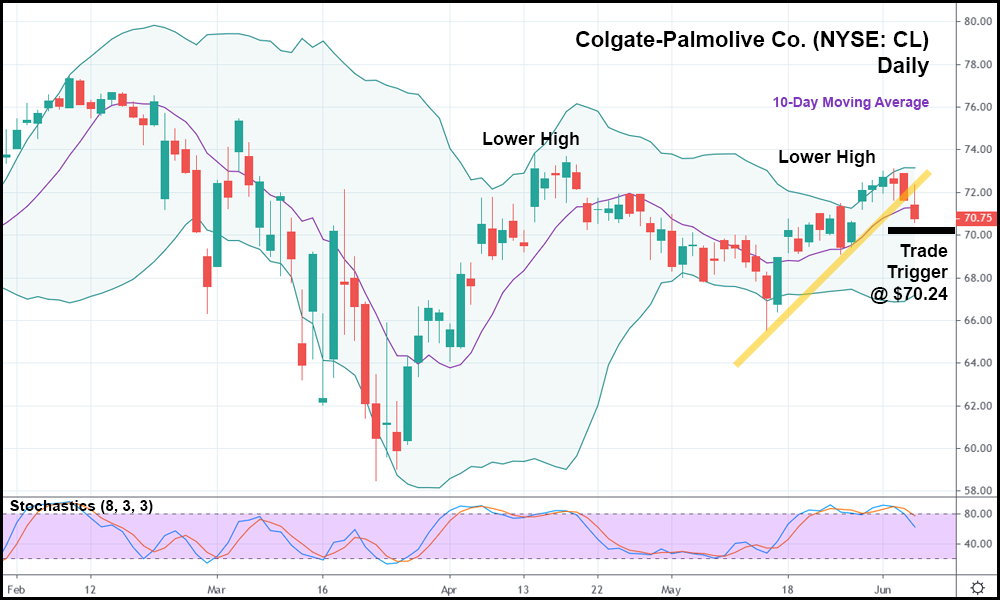 CL, for the most part, has enjoyed a relatively comfortable post-crash recovery. Share prices peaked in mid-April, then sold-off, and then attempted to burst past resistance at the mid-April high.
Sadly, for shareholders, CL wasn't able to quite break through. Instead, the stock set a lower high in the process.
And today, CL fell beneath both the 10-day moving average and its minor bullish trend.
Should CL trade below today's low, it might make sense to take the stock short with a trade trigger of $70.24.
As a member of the consumer defensive sector, CL isn't supposed to get crushed when the rest of the market drops. But in this stock's case, all signals are currently pointing down.
And that, more than anything, is a reason for bears to take a chance on CL. Defensive, cyclical, or otherwise.