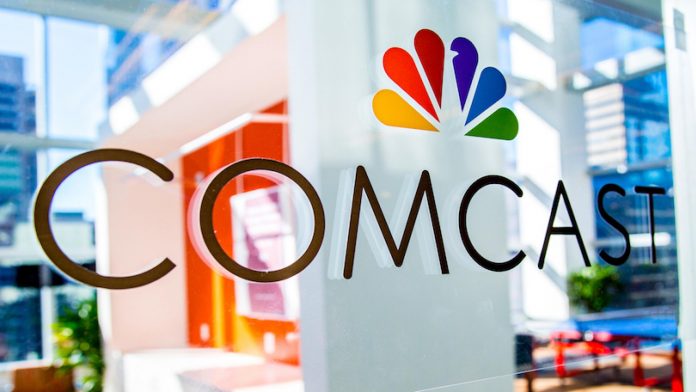 After having a rough start this morning, stocks have started to recover. The Wuhan coronavirus – which initially sent equities lower – isn't a "global health emergency" quite yet according to the World Health Organization (WHO).
"[It's a] bit too early to consider this event as a public health emergency of international concern," said WHO representatives this afternoon. Soon after, the S&P, Dow, and Nasdaq Composite erased their early deficits.
That's not to say that Wuhan's under control; it's not. The death toll has risen to 18 as of this evening and more cases have been confirmed.
But until investors see real evidence of a major outbreak, they seem unlikely to sell, even if a bit of uncertainty has entered the market. Sure, gold prices are rising, but that doesn't mean equities will drop.
What did drop today, however, was Comcast Corp (NASDAQ: CMCSA) shares after the company released its Q4 earnings before the market opened.
Comcast's EPS (earnings per share) beat analyst estimates (79 cents vs. 76 cents expected), along with revenue ($28.398 billion vs. $28.169 billion expected) and new high-speed internet customer adds (442,000 vs. 378,000 expected). CEO Brian Roberts announced that his company is increasing its dividend by 10%, up to 92 cents per share annualized for 2020.
All in all, it should've been a good day for CMCSA.
Instead, the stock dropped 3.5% after investors learned that the cable giant had lost 149,000 video customers last quarter. Broadcast revenues impressed ($3.16 billion), but it was clear that Comcast had yet to show any proof of their ability to compete in the streaming game.
"I think there is a bifurcation in the market. Some people want a real premium video experience and those customers are very stable and we're very satisfied with that business," Roberts said.
"At the same time, we needed to pivot the whole company to the streaming world and I think what's exciting is how well our cable company has done that."
Apparently it wasn't "exciting" enough for shareholders, who were happy to dump CMCSA. Now, the stock is in danger of falling further. That's bad news for Comcast bulls, but great for short-term traders looking to make a quick post-earnings buck.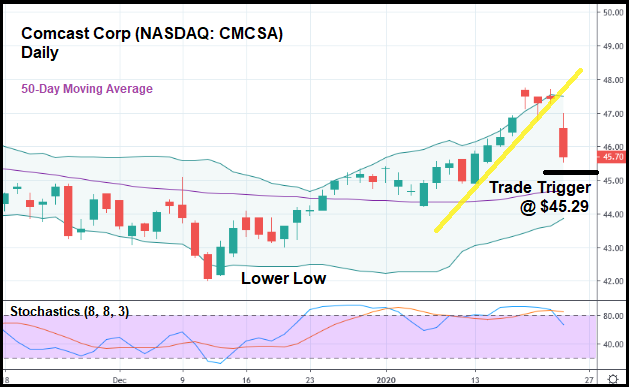 In the daily candlestick chart above, you can see that CMCSA just broke below its minor bullish trend after earnings. The stock seemed to be doing well since mid-December, but was actually attempting to escape a longer-term downtrend. CMCSA set a lower low in early December (relative to a prior low not pictured) and eventually stalled just a few sessions ago.
Contact with the upper Bollinger Band (BB) was made as well, suggesting that a rebound downwards was likely. The stochastics indicator remains high, too, even after today's plunge, meaning that CMCSA could have more room to fall.
If shares trade below today's low, it might make sense to go short with a trade trigger of $45.29. From there, CMCSA has plenty of downward potential. Over the next few weeks, it wouldn't surprise me at all to see the stock set a lower low as shares continue to cool off.
Comcast is laying the groundwork to deal with the "streaming wars" and its revenues appear to be healthy. A turnaround when Q1 2020 earnings are released could absolutely be on the horizon. But until we see precisely how Comcast is actually doing (as streaming services continue to gain steam, mind you), share prices could be doomed to fall further.
All while opportunistic bears pocket some "easy winnings."