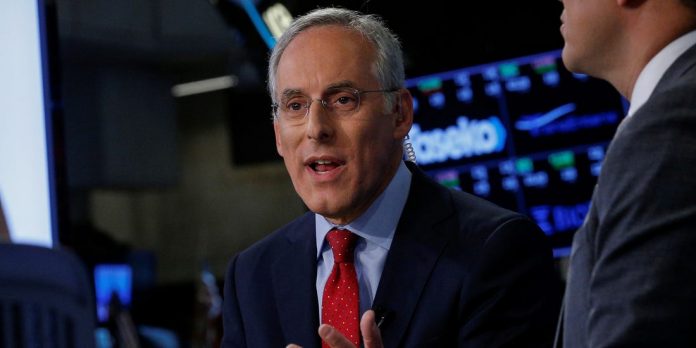 Stocks are down again today in what's been another wild week of trading. Oil and treasury yields have fallen, too, while the U.S. wrestles with COVID-19.
Over the last month, Wall Street told investors that the coronavirus-driven dip was a buying opportunity.
Now, one of the Street's top firms is throwing in the towel.
David Kostin, Goldman Sachs' chief U.S. equity strategist, predicts that second- and third-quarter profits will "collapse." He believes that even the historic drop in interest rates – which could potentially take the U.S. into negative territory – won't save American corporations.
Instead of focusing on growth stocks, Kostin told clients to shift toward companies with stable earnings and strong financials.
"After 11 years, 13% annualized earnings growth and 16% annualized trough-to-peak appreciation, we believe the S&P 500 bull market will soon end," Kostin wrote in a note this morning.
"Investors have cut their equity positions in recent weeks, but not to levels reached at the trough of other major corrections this cycle."
Kostin cut his midyear S&P 500 forecast to 2,450 as a result. If he's right, that means the index would drop another 11% from its current level.
That's not to say Kostin sees 2020 as completely lost, though. In the second half of the year, he believes the S&P 500 will hit 3,200; below the index's all-time high, but up 15% from where it is now.
"Supply chains have been disrupted and final demand has declined for many industries. Travel is contracting sharply as both individuals and businesses restrict movement," Kostin wrote.
"Airlines, hotels, cruises, and casinos report plunging demand, lower occupancy, and cancellations. Employees are being furloughed."
He continued, adding that "both the real economy and the financial economy are exhibiting acute signs of stress."
Back on February 27th, Kostin said that U.S. corporations would experience "zero earnings growth" in 2020. In today's commentary, he doubled down on his prediction.
Whether or not that will actually happen remains to be seen, however. Earnings season is almost here, and if first-quarter revenues fall short, there could be hell to pay.
Or, alternatively, the market will respond in a somewhat muted manner. Many analysts believe that the current dip has already priced-in poor earnings.
If stocks are going to fall further, they'll likely need a recession to do so. The market's good for a 40% drop every 10 years or so. It experienced one from 2000-2002 and another from 2008-2009.
It's been 11 years since the financial crisis. We're overdue for another crash based on that metric alone.
A coronavirus/oil/treasury yield-driven recession, coupled with a presidential election, could do it.
Either way the market goes from here, the truth is that nobody quite knows what's going to happen. Kostin's convinced that stocks will keep dropping. The market's current downtrend confirms that as a likely outcome.
But if equities turn around in the coming weeks, don't take Kostin's opinion as gospel. A trend reversal, in which stocks string together a handful of positive sessions, could kick-start a protracted rally at some point.
Plenty of investors will remain sidelined out of fear, even when stocks are surging.
My advice? Don't let Wall Street's moderate-term predictions rule your portfolio. When sentiment changes, bulls will be back.
Opportunistic, short-term traders will be, too, in what could be one of the biggest (and fastest) recoveries of all time.