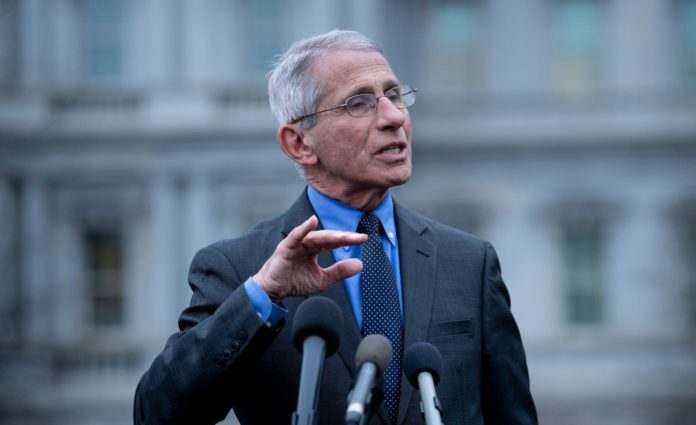 The levy has broken, and the jig is up. The fat lady may finally be singing.
Those idioms (and more) could be used to describe the post-crash rally today after the market plunged in the final hour of trading.
Stocks seemed to be doing just fine earlier in the session. The major indexes were fighting to keep their small daily gains. That momentum carried into the afternoon, but eventually unraveled as bulls gave up the ghost en masse.
By the close, the Dow, S&P, and Nasdaq Composite had all fallen. Now, the market sits in a perilous spot.
Another drop tomorrow could signal a correction – one that could even test the COVID-19 lows.
And while the coronavirus itself has mostly been to blame for the market's recent troubles, today, it was Dr. Anthony Fauci that did the damage.
Fauci, the director of the National Institute of Allergy and Infectious Diseases (NIAID), testified before the Senate Health Committee this afternoon alongside several other health officials. The hearing was conducted to discuss the reopening of the U.S. economy.
He warned that more "suffering and death" could result from a premature reopening effort. Moreover, that the federal government needs to see key "checkpoints" – hospitalization declines, testing increases, and more – before lifting lockdown measures.
"My concern [is] that if some areas, cities, states, what have you, jump over those various checkpoints and prematurely open up without having the capability of being able to respond effectively and efficiently, my concern is that we will start to see little spikes that might turn into outbreaks," Fauci said.
Bulls, unsurprisingly, didn't like what they heard. The selling started shortly after Fauci's remarks and only intensified into the close.
With so much up in the air, investors are looking for COVID-19 developments to guide their portfolio. Fauci gave them a starkly negative headline, which was more than enough of a reason to sell.
The market seemed overbought for several days. It was likely to fall off the "cliff" all on its own.
Dr. Fauci just gave it a little nudge.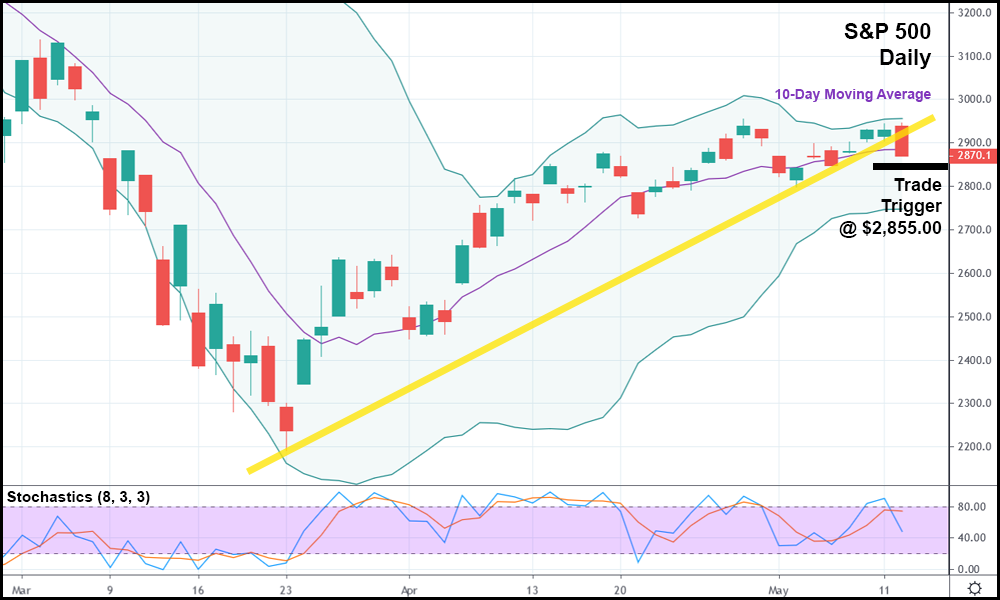 And what a nudge it was. Now, the S&P 500 is trading below the 10-day moving average and its bullish trend (yellow trendline). This has already happened twice before in the current rally, but both times, those dips never truly materialized as the index immediately reversed the following session.
Tomorrow, if the S&P 500 falls any further, a correction would likely be confirmed. Several levels of key support remain from there, all of which would likely crumble in the face of a rapid descent.
For that reason, it might make sense to go short on the index with a trade trigger of $2,855.00.
The market might rebound, too, but considering that it's sitting right beneath a "double top," a reversal seems more likely than anything else.
Especially now that Fauci's given the reopening his "seal of disapproval."