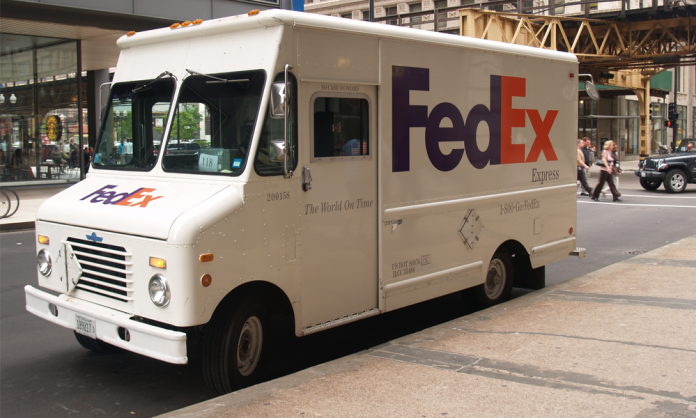 FedEx shares turned ugly on Tuesday after the company announced a brutal reversal to last quarter's rosy 2019 forecast numbers. That announcement, plus FedEx's status as a bellwether for global recessions, has sparked a monster selloff of company shares – almost 30% in 3 weeks!
FedEx didn't ask to be the canary in the coal mine, but that's unfortunately what the market believes it is. And company shares paid for it, big time, almost certainly doing more damage to the stock than was warranted. In its oversold state, FedEx discounted share prices might just be a gift to savvy holiday traders.
Here's What FedEx Said in It's Most Recent Earnings Report
On Monday, FedEx released its quarterly earnings and revenue numbers along with revised forecasts for fiscal year 2019. The news – especially the forecasts for 2019 – showed far greater weakness than most analytics anticipated:
2019 earnings guidance fell into a range of $15.50 – $16.60, which is down from the $17.20 to $17.80 predicted last quarter. Analysts were in the middle range of FedEx's original forecast at $17.33 per share.
Top and bottom lines were more positive, with FedEx reporting earnings of $4.03 a share, which was better than the $3.94 predicted by analysts.
The company also beat revenue expectations, reporting $17.8 billion, safely above the $17.75 billion predicted by analysts.
Judging from those numbers alone, the picture doesn't look so bleak, but there are additional concerns over FedEx's earnings report that aren't so easily brushed aside. And the company's insistence on the trade war being the primary cause for the drop does not do justice to the speed at which FedEx blew through some very strong technical support zones yesterday.
FedEx's Status as a Global Economy Bellwether Sparks Renewed Fears of Looming Recession
The news of FedEx's pessimistic annual forecast is bad enough, but what truly concerns financial analysts is the speed at which the company revised those numbers. Just three months ago, FedEx anticipated higher global growth for its shipping services. Which means that in the span of a single quarter, the global economy has slowed down so noticeably that FedEx saw the need to dramatically revise next year's annual forecast.
Morgan Stanley called the cuts "jarring," and that a "severe global recession" could lead to an "ongoing deceleration in global trade near-term." That's according to Morgan Stanley analyst, Ravi Shanker, who continued with the grim news in a company press release:
"We recognize that global growth has slowed but we are very surprised by the magnitude of the headwind, which is what might be seen in a severe recession. We believe global growth concerns are also likely to get worse before they get better next year, which could mean more of a drag on FY20 EPS."
Part of this is surely due to the trade wars between China and the U.S., but FedEx had priced a lot of that into their rosier forecast from three months ago. In other words, there's a very real possibility that the economy is slowing faster than anyone anticipated, and after yesterday's hawkish fed stance, we now know that Jerome Powell is not coming to the rescue of the markets.
Despite Concerns, the Technical Indicators (and Fundamentals) Are Pointing to an Upswing
FedEx shares have gone straight off a cliff over the last three weeks of trading, slamming into key support at $182.89 and breaking through it to just above $165 per share. The chart is a waterfall of red erasing over two years of investor gains.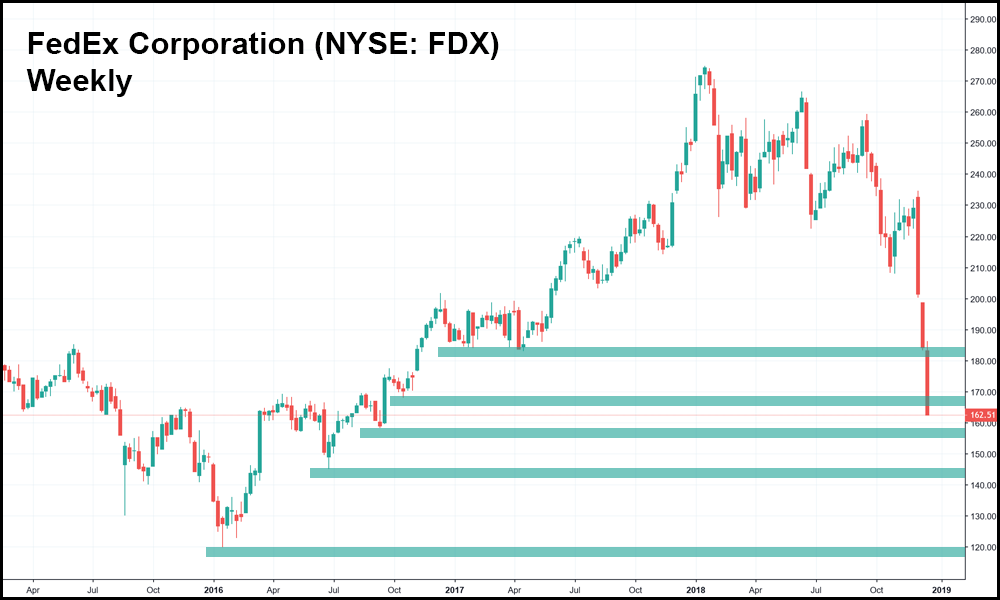 Once FedEx fell beneath its year's long bullish trendline, there was no stopping the fall back to earth. But with blood in the streets and over 28% of the stock's value vanishing in less than a month, there is a very good chance that a relief rally is now in sight.
FedEx appears to be in dire straits, having plummeted beneath key support at $182.89, set back in April of 2017. Investors are clearly in a panicked mood over the possibly of a near-term recession, and that's showing in the candles for FedEx especially. That said, with prices now under a significant (and well tested) support line, there are positive signs that a bounce-back is in sight for FedEx investors just in time for the holiday season. And with several more levels of support ready to break the fall, we could be just days or weeks away from a trend-reversal.