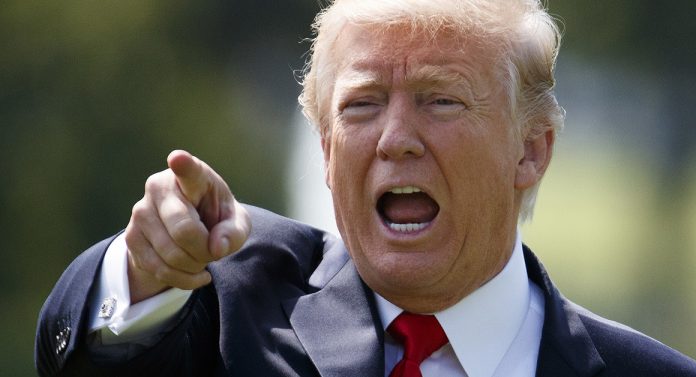 You know that trade deal everyone was hoping for?
Turns out it's not happening. At least, not today, after President Trump blasted China on Twitter for failing to hold up their end of the ceasefire bargain.
The Dow fell over 70 points (0.3%) along with the S&P, which sunk 0.3% as well. The Nasdaq Composite got the worst of it, dropping 0.5% following the President's tweets.
In particular, he took exception to a previously agreed upon condition that China has yet to make good on.
"China is doing very badly, worst year in 27 – was supposed to start buying our agricultural product now – no signs that they are doing so. That is the problem with China, they just don't come through," wrote President Trump.
"Our Economy has become MUCH larger than the Chinese Economy [has in the] last 3 years. My team is negotiating with them now, but they always change the deal in the end to their benefit."
He continued, warning that the Chinese could simply be holding out to see who wins the election in 2020.
"They should probably wait out our Election to see if we get one of the Democrat stiffs like Sleepy Joe. Then they could make a GREAT deal, like in past 30 years, and continue to ripoff the USA, even bigger and better than ever before."
Want more FREE research and analysis on the best "unseen opportunities" in the markets?
However, Trump still likes his chances. And if the Chinese don't play ball now, he says they'll be far worse off in the long run.
"The problem with them waiting, however, is that if & when I win, the deal that they get will be much tougher than what we are negotiating now…or no deal at all. We have all the cards, our past leaders never got it!"
Meanwhile, the Chinese insist that they've been buying American agricultural products – something that U.S. trade representatives have yet to confirm.
And so, trade hostilities seem ready to continue just a month after a temporary ceasefire was negotiated.
Trump's latest tirade comes at a bad time for the market. With an interest rate cut looming at tomorrow's Federal Open Market Committee (FOMC) meeting, investors are already skittish.
Now they've got cause to sell.
Even with a potentially equity-boosting rate cut in the cards.
Because in addition to increased trade tensions, analysts are now worried that a rate reduction could have a negative short-term effect on equities.
Especially if the Fed cuts less than expected.
"How low will they go?" asked Jason Pride, chief investment officer of wealth management firm Glenmede.
"Amid weaker manufacturing conditions and lingering trade frictions, the Fed may take a measure of 'insurance' to help protect against relatively unpredictable risks," Pride said in a note to clients.
"Officials have noted, however, that an insurance cut may not be without its costs — lower rates could stimulate appetite for risk, which may threaten to overheat markets at a time when valuations remain elevated."
And that, more than anything, is arguably the biggest risk of all. Despite a weak earnings season, bulls have continued to pump-up equities. The only thing that seems to discourage them these days is a series of pessimistic Trump tweets.
Unless the Fed slashes rates in a major way, investors could end up feeling deflated after months of anticipation.
That's what should be scaring bulls.
Not another candid Twitter rant from the President about U.S. agriculture.