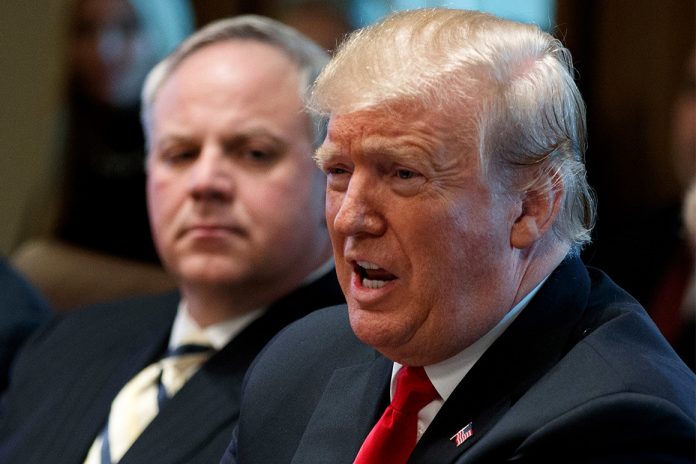 Get ready – a reckoning is coming.
And no, I'm not talking about a recession or market crash. It's something else entirely, but still just as "paradigm-shiftingly" important.
Having grown tired of their continued violations, the Trump administration announced plans this morning to sharply intensify its efforts to reduce Iran's oil exports to zero. By eliminating sanction exemptions enjoyed by importers, President Trump is tightening his stranglehold on the region.
And in doing so, he'll erase roughly 1 million barrels per day from the oil supply in a marketplace that analysts predict will tighten greatly – with or without constricted Iranian production.
Back in May of last year, Trump withdrew from the 2015 nuclear accord with Iran, an agreement that would (over time) result in the full de-nuclearization of the Islamic Republic. When he pulled out, he restored wide-ranging sanctions on the Iranian economy in November, whilst simultaneously granting six-month waivers to eight countries that had grown dependent upon oil imports from Iran.
Investors expected Trump to extend those waivers for at least five of the eight importers, but as usual, "The Donald" had other plans, stating that any country still importing oil from Iran on May 2nd would be subject to U.S. sanctions.
"President Donald J. Trump has decided not to reissue Significant Reduction Exceptions (SREs) when they expire in early May," said the White House in a statement.
"This decision is intended to bring Iran's oil exports to zero, denying the regime its principal source of revenue."
Want more FREE research and analysis on the best "unseen opportunities" in the markets?
Having acquired a taste for strong-arming foreign powers in the Chinese trade war, Washington hopes to force Iran to the negotiating table with a similar strategy. Before sanctions are lifted, the Trump administration wants to see its list of 12 demands satisfied – including a more limited nuclear program, the suspension of ballistic missile testing, an end to terror group funding by the Iranian government, and the release of U.S. citizens being held as captives.
It's certainly a lot to ask, especially of a country that's become deeply embedded with radical Islamic factions.
But if Iran wants to survive, they'll need to capitulate eventually, as their economy has grown completely dependent upon oil exports. By grasping the snake at the head, Trump will eventually choke the danger out of the serpent's body.
Or, it'll shrivel up and die – creating a power vacuum that will lead to the rise of another vicious Islamic state, poisoned against Americans for imposing sanctions in the first place.
At the current pace, though, Washington had to do something drastic in order to protect the West from Iranian nukes. By revoking the SREs, the Trump administration may have just found the straw to break the camel's back, so to say.
As a result, oil prices will likely continue to rise even further. The iPath Oil ETF (OIL) is already up over 2.5% on the day after gapping up from Thursday's close. If crude can continue on this path, the late-October highs will soon be in sight, and so long as Trump increasingly shuts off the Iranian oil spicket, price gains should only accelerate from here.
It looks like oil's making a triumphant return in 2019, and could continue to impress even though its already up over 40% for the year – provided that Iran refuses to give in to Washington's demands, of course.
However, if Iran does eventually surrender (and the SREs are reinstated), prices could come back down to earth. But even then, oil production is already falling – independent of Iran's output – and denuclearization might only delay the inevitable:
A return to the days of $100 barrels, complete with angry drivers paying an "arm and a leg" at the pump.