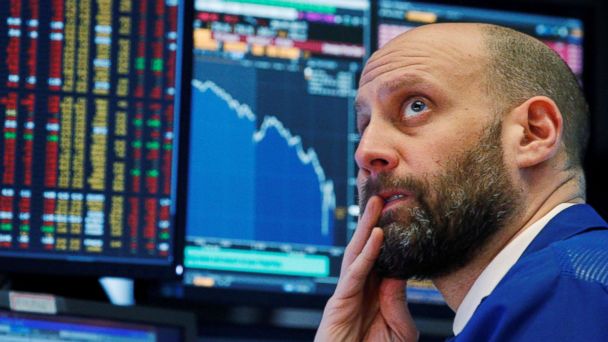 After suffering its worst single trading day in months, the market is making a comeback. The S&P, Dow, and Nasdaq Composite have risen 1.00%, 0.75%, and 1.25%, respectively, as of midday.
But to some analysts, stocks shouldn't be staging a recovery. The Wuhan coronavirus outbreak has only gotten worse, not better, over the last 24 hours. Its impact on America's top corporations has intensified as well.
Patrick Perret-Green, Head of Research at economic analysis firm AdMacro, believes that investors have become "far too casual" about the deadly virus and resulting travel bans.
"Xinjiang province, 56 million people where enterprises are shut for another week, Shanghai, 24 million people, Hangzhou is another 11 million people," he said, suggesting that the effects of the outbreak have yet to be properly priced-in to the market.
"A huge tranche of the urban population is shut down, a huge tranche of business, so a lot of Chinese companies are just going to have to declare force majeure and shut down orders."
At worst, Perret-Green says the coronavirus represents a "Lehman-type moment tipping point" that could "tip the global economy into effective recession."
Former Food and Drug Administration Commissioner Scott Gottlieb remains concerned about the outbreak, too. In an interview on CNBC's Squawk Box, he remarked that "I think we are dramatically underestimating [cases in China by] tens of thousands."
If that's the case, then equities could have more room to fall. Germany just confirmed its first human-to-human transmission of the coronavirus outside of China, meaning that a carrier (likely showing no symptoms) slipped through detection at a European airport.
And within the last hour, the Trump administration announced that it's expanding screening for the virus from five U.S. airports to a total of 20.
"We are constantly preparing for the possibility that the situation could worsen," said U.S. Health Secretary Alex Azar just moments ago in a press briefing.
Yet still, stocks are climbing.
Mad Money host Jim Cramer felt skeptical about today's gains as well, commenting that investors are "coming in on quicksand," by buying the virus-driven "dip."
"If we had any sort of clarity at all, I would certainly feel like a bounce can happen," he said.
As of yet, though, there are more questions about the coronavirus than answers.
Cramer's biggest worry is about what will happen when the World Health Organization (WHO) is eventually forced to step in.
"I think when the WHO gets in there we got to prepare for them calling it a pandemic," he said, warning that "all this rally disappears," should it come to that.
But for now, bulls couldn't care less. The Conference Board released its latest report this morning, which showed that the January CCI (consumer confidence index) reading beat estimates, rising to 131.6 vs. the expected 128.
If the market can survive the coronavirus outbreak, stocks would likely rise further on renewed consumer confidence.
Before that happens, though, investors might need to temper their expectations slightly. Until the coronavirus is truly contained, the risk of collapse will persist. Buying-in now will only set bulls up for greater losses down the road should the outbreak get worse.
And based on the information we have, that's absolutely a possibility. It's not guaranteed, mind you, but still something all investors need to be thinking about.
Even if consumer confidence is riding high.