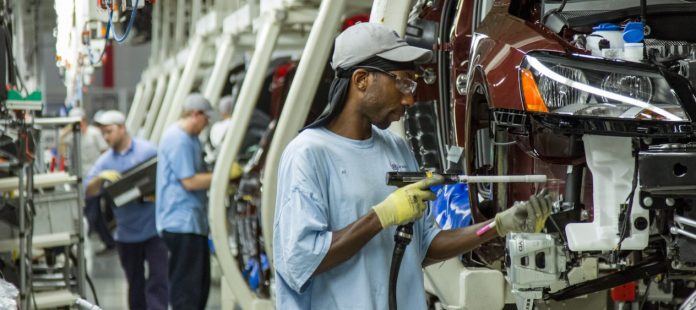 Trump was right.
The July jobs report – released this morning – showed a "yuge" payroll gain just like he said it would. 1.763 million jobs were added last month according to the Labor Department, beating the Dow Jones-estimate of only 1.4 million.
And even though that's undoubtedly good news for the U.S. economy, stocks are down. Jobs report "beats" typically spur on bullish surges.
The current market, however, is not typical in any way, shape, or form. The U.S. is once again embroiled in a dispute with China after Trump signed an executive order banning Chinese apps TikTok and WeChat. The U.S. just sanctioned Hong Kong leader Carrie Lam as well. The labor market, despite July's impressive payroll gain, is still leagues away from where it was pre-coronavirus.
And, perhaps most importantly of all, equities spent the last 5 sessions screaming higher.
The barbarians have been at the gates for weeks, now. But bulls couldn't care less.
Instead, they're laser-focused on coronavirus vaccine news, sky-high tech stocks, and federal unemployment aid.
It's a "buy the news" market – arguably more than ever before – and so long as investors continue to receive positive headlines, stocks will keep rising.
That is, until reality hits and the house of cards comes crashing down. Equities are lower as of noon, but based on the last few days of trading, it wouldn't surprise anyone to see stocks jump higher by the close.
What really should be keeping a lid on the market, though, is the true nature of American labor, as reflected in the total number of U.S. nonfarm payrolls (updated to reflect this morning's jobs report):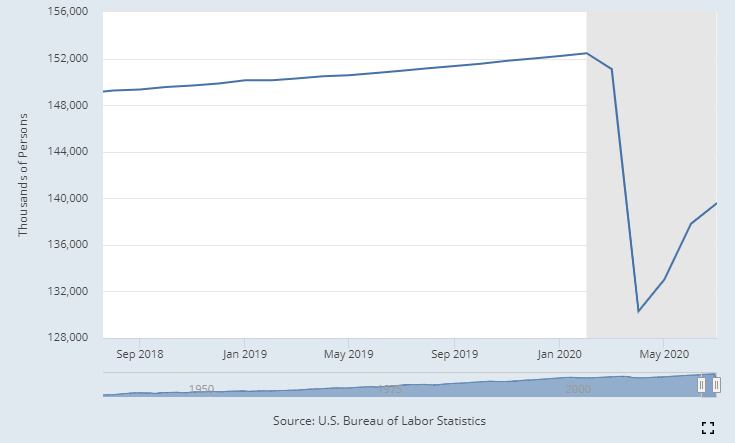 Despite a massive gain of 4 million jobs in June and a 1.7 million addition in July, nonfarm payrolls are roughly 12 million short of the all-time high set in February of this year. Yes, the U.S. has recovered significantly from the Covid-19 unemployment bottom, but it isn't even close to being completely back on track.
Main Street and Wall Street are utterly divided as a result. The stock market is, too, with Big Tech running the show opposite almost every other sector. And if lawmakers can't agree on a unemployment package soon, that gulf could easily widen.
"We're still a considerable amount apart in terms of a compromise that could be signed into law," said White House chief of staff Mark Meadows about recent meetings between Democrats and Republicans.
House Speaker Nancy Pelosi echoed a similar message, simply stating that "we're very far apart."
To keep the economy afloat, both sides of the aisle will have to come together relatively soon. Out-of-work Americans are strapped for cash. If they don't get their federal unemployment checks, who will buy iPhones and Amazon Prime memberships in Q3?
We've been predicting a market-wide crunch for quite awhile now, and during that time, stocks have mostly "chopped sideways."
With pressures mounting at every turn these days, though, the correction may finally arrive. But if stocks surge again, then following the market higher might still make sense.
Even if another protracted rally, in the grand scheme of things, doesn't.