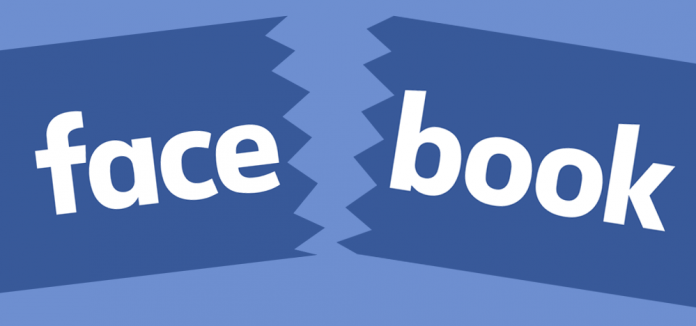 The March jobs report has arrived and it's historically bad. U.S. payrolls fell by 701,000 last month, marking the biggest decline since 2009.
And though some investors might see that as a reason to sell, they really shouldn't. Everyone knew scores of Americans would be out of work due to the pandemic.
In a few months, most of those jobs will come back once the U.S. is cured of COVID-19.
What truly caught bulls by surprise this morning, however, was a statement from New York Gov. Andrew Cuomo, who said that the state saw its single-biggest increase in daily coronavirus deaths yesterday. 562 New Yorkers perished from COVID-19 over the last 24 hours, taking the state total to 2,953. Over 57,000 are infected in New York City, making up more than half of the state's 100,000 confirmed cases.
Stocks are falling as a result. The Dow, S&P, and Nasdaq Composite are all down over 1% as of midday.
If the casualties climb, those losses could easily intensify as America's medical facilities become increasingly overwhelmed. New York needs ventilators, masks, gloves, and other personal protective equipment (PPE). Cuomo signed an executive order allowing the state to take those items (and more) from public and private organizations.
"I'm not going to let people die," he said.
"I'm not going to get into a situation where I know we are running out of ventilators and we could have people dying because there are no ventilators, but there are hospitals in other parts of the state that have ventilators that they're not using."
Want more FREE research and analysis on the best "unseen opportunities" in the markets?
Cuomo continued, pleading for additional aid.
"No state can get the supplies they need," he said.
"No state can get the PPE they need. No state can get the ventilators they need. The market has literally collapsed."
In his remarks, Cuomo highlighted one of the weaknesses of a "stay home" order from local governments. Without workers manufacturing medical equipment, the crisis could get even worse in heavily affected regions.
Which in turn would likely pummel equities across the board.
And this morning, a market-leading stock may have signaled the decline of a specific, growth-oriented industry – one that was a major contributor to the prior bull market.
Facebook Inc. (NASDAQ: FB), the "F" in FAANG, has officially broken out of its "bounce back" trend (represented by the yellow trendline) that started after the market bottomed last week. FB is falling, and in the past, its bearish breakouts have typically preceded an internet stock slump.
Thus far the stock is down 2.71% on the day. Google parent company Alphabet (NASDAQ: GOOG), the "G" in FAANG, has only fallen 1.83% by comparison. Unlike FB, though, GOOG is still trading above its recent daily lows: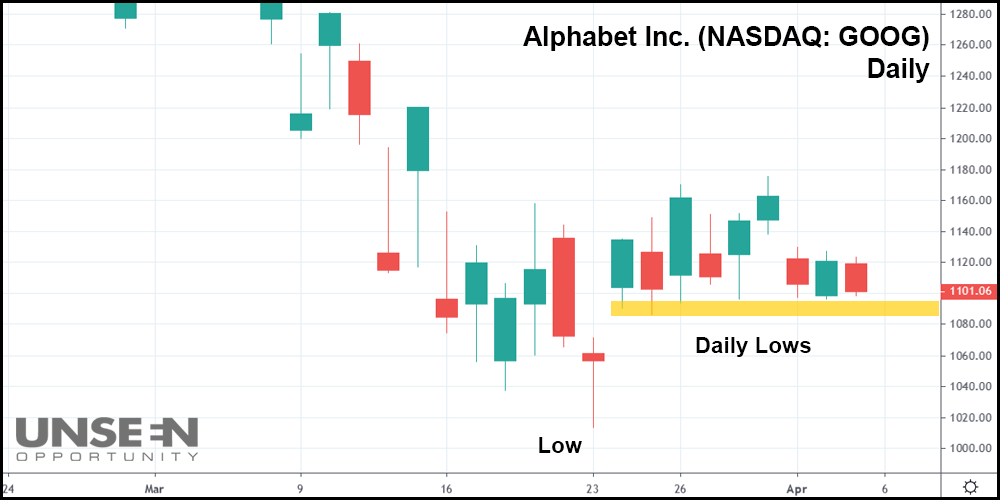 That all could change in a hurry if FB falls again on Monday, confirming that FB's bullish bounce is over. GOOG would likely decline below those daily lows in the chart above, falling past support to its recent standout low.
If last week's bottom is truly the bottom of the COVID-19 crash, then two of the market's most important stocks – FB and GOOG – will have to prove it.
And if they don't hold at their recent lows, the whole market could be in jeopardy of another major dip. With stocks already so oversold, however, odds are that the selling is due to end relatively soon.
Yes, volatility is still "rocking the boat." But instead of letting their portfolios get seasick, investors need to keep their eyes on the horizon.
A whipsaw rally of historic proportions is likely coming, even if the current conditions are a little choppier than the market would prefer.
That alone should settle everyone's stomachs.
Until the next jobs report, at least, which is currently expected to be even worse.