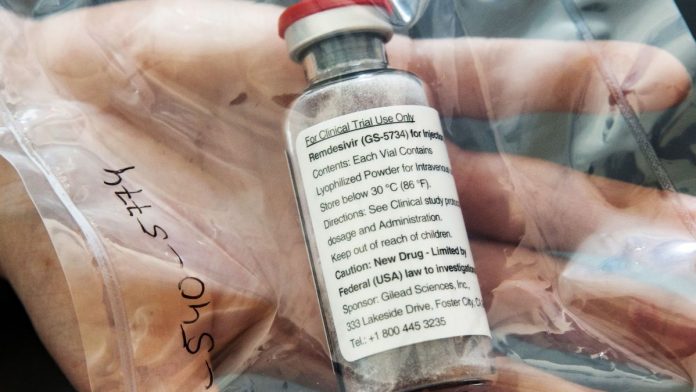 Stocks are rising this morning as the choppiness continues into the week's last trading session. The major indexes were down pre-market before flipping positive at the open in response to breaking Covid-19 news. Gilead Sciences (NASDAQ: GILD) claimed that remdesivir, its coronavirus treatment candidate, "was associated with an improvement in clinical recovery and a 62 percent reduction in the risk of mortality compared with standard of care."
Then, a few minutes later, stocks retraced their gains.
As of noon, they're up moderately on the day.
Investors still don't know what to make of the ongoing Covid-19 pandemic. The number of daily infections has soared over the last few weeks, keeping bulls at bay. Vaccine and treatment headlines caused sentiment to shift positive at times as well, but overall, July's been a very neutral month.
Helping matters today is a statement from White House Economic Advisor Larry Kudlow, who said in an interview that President Trump would "never tolerate" a full U.S. economic shutdown, no matter how many confirmed coronavirus cases there are.
Kudlow then doubled down, insisting that not only is a shutdown unnecessary, but that the U.S. is officially in a recovery phase.
Gilead's new treatment candidate could help that recovery – if it's actually taking place – provided the drug is truly effective.
Something that the headlines missed this morning, however, was that the remdesivir findings didn't come from a clinical trial. Instead, they were gathered in a backward-looking analysis of old data that had already been released.
Want more FREE research and analysis on the best "unseen opportunities" in the markets?
"This is very encouraging but needs to be confirmed in a prospective trial," former FDA Commissioner Scott Gottlieb warned via Twitter.
"It appears to be a retrospective analysis of the phase III data using historical matched controls, suggesting a survival benefit in severe Covid patients."
Gilead themselves admitted this, too, albeit much further down in the company's press release.
"This comparative analysis provides valuable additional information regarding the benefit of remdesivir compared with standard of care alone," Susan Olender, MD, Columbia University Irving Medical Center, said.
"While not as vigorous as a randomized controlled trial, this analysis importantly draws from a real-world setting and serves as an important adjunct to clinical trial data, adding to our collective understanding of this virus and reflecting the extraordinary pace of the ongoing pandemic."
In other words, more testing is needed.
But for "buy the news" investors, Gilead's "breakthrough" was more than enough to warrant a bullish surge at the open. It seems the drug manufacturer has finally learned how to pump-up share prices from its peers, even if the gains don't stick. Moderna (NASDAQ: MRNA) pulled a similar stunt with its coronavirus vaccine candidate several months ago, right before company insiders cashed-out a huge chunk of stock. The incident is now being investigated by the Feds for wrongdoing.
So, again, tempting as it may be to buy the "treatment hype," the truth is that Gilead still has plenty more to learn about remdesivir. The drug, which hopefully proves to be a Covid-19 "silver bullet" at some point, has not earned that status.
Even though Gilead's press release this morning made it seem that way.
After falling in early June, stocks have been stuck in place. Gilead's Remdesivir won't be the drug to dislodge them.
Not yet, at least.