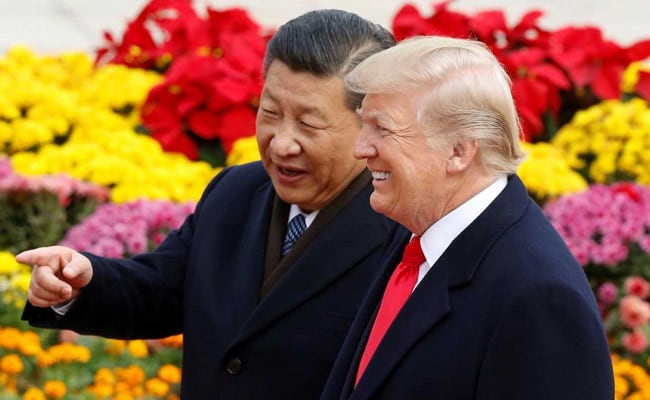 With trade talks continuing between the U.S. and China this week, Wall Street has turned its eyes to Beijing – where diplomats from both nations will be meeting to discuss a peaceful coexistence in the world economy.
Most notably for investors, however, will be the Chinese proposal on technology, and namely what Xi Jinping and co. are willing to do to become competitive in the sector again.
Without raiding American corporations, that is.
Leading up to the meetings, both sides are reportedly ready for "positive and constructive discussions".
But if Trumps' envoys don't like what they hear, it could be another long year for the Asian markets, as it seems Americans have begun to realize the grass might just be greener without manufacturing dependence on the Far East.
President Trump himself expressed optimism ahead of this week's meeting, which takes place on Monday and Tuesday, remarking that he felt good about his recent dialogue with Xi:
"I really believe they want to make a deal. The tariffs have absolutely hurt China very badly."
He's absolutely right about the pain inflicted by his tariffs, of course, as evidenced by a Chinese economy on the ropes and a sudden change in attitude from communist party leadership.
In the meeting, American interests will be represented by U.S. trade representative Jeffery D. Gerrish, who's bringing officials from the agriculture, energy, commerce, and treasury departments in tow.
On the other side of the table, the Chinese are playing things much closer to the chest and have not revealed who will be attending – a tactic almost certainly intended to catch the American contingency off guard.
Despite the "good vibes" from both nations, though, the recent arrest of a Chinese tech executive (Huawei's Meng Wanzhou) in Canada is likely to cast a slight pall over the talks. Add to that Trump's recent tariff hike that rose levies to 25% on $250 billion of Chinese imported goods, and you've got a recipe for a meeting that's anything but "positive and constructive".
However, with the derailment of China's "Made in China 2025" initiative (Xi's equivalent of "Make America Great Again") the Chinese seem ready to capitulate at some point in the near future. These talks in Beijing could be the start of that.
And while that might sound great on paper, the reality is that many U.S. corporations see things much differently.
Data gathered by UBS (Union Bank of Switzerland) and confirmed by our in-house analysts suggests that many companies (and banks) expect the trade war to escalate even further.
Need proof? 37% of the 200 manufacturers surveyed by UBS claim to have shifted business interests out of China over the last 12 months. Nearly half of the manufacturers blame their exodus from the region on tariffs, while rest cited concerns over higher costs and stricter environmental regulations.
This week's meeting, which is seen as a "critical moment" for 2019 by many analysts, is really just a session for both the U.S. and China to hammer out technical details in the event of a trade war truce. The big decisions for the future – especially regarding the easing of tariffs – are still a way off from being made and will depend entirely upon China's willingness to play by Trump's rules.
Still, any signs of friendliness between the two sides will ultimately please the market, especially if hostilities over the tech sector cool even further – something that bulls have anxiously been awaiting.