Stocks are recovering this morning as the tech sector attempts a comeback. The Dow, S&P, and Nasdaq Composite are all surging as a result.
But overall, the market's still well below its all-time highs. Bulls have plenty of work to do before share prices return to their pre-tech slump valuations.
And if investors learned anything over the last few trading sessions, it's that no stock is safe from a wicked correction at the top of an extended rally.
"The megacap Tech stocks are no longer invincible," wrote Fundstrat's Tom Lee in a note.
"The bludgeoning seen in the last few days resulted in sharp pullbacks for these stocks."
Kristina Hooper, chief global market strategist at Invesco, believes the recent dip isn't indicative of a larger collapse, though.
"Some are suggesting this is the start of another dramatic sell-off, similar to the spring of 2000 when the 'tech bubble' burst. I highly doubt that," Hooper said.
"I think of this rout not so much as a correction, but as a digestion given that the Nasdaq Composite rose more than 60% from its March bottom in the course of less than six months. All in all, I think this is a healthy period of consolidation after a dramatic run-up."
Now, analysts are trying to find pockets of strength in the market. CNBC's Jim Cramer floated the idea that it might be time to search for "easy" buying opportunities.
"You know I like the fourth day after a sell-off for about a third of the market," Cramer tweeted.
"I will point out the stocks. But don't be overeager and try to let the pitch come to you."
The "Mad Money" host later tweeted that FAANG stocks, plus Nvidia (NASDAQ: NVDA), Microsoft (NASDAQ: MSFT), Broadcom (NASDAQ: AVGO), and Advanced Micro Devices (NASDAQ: AMD) look like low hanging, bullish fruit.
Cramer's running theory is that bulls sold to lock-in profits. Now, those same tech stocks should "swoon" as others get in.
Will that happen? Right now, it's just a theory.
But it could soon become reality if investors lift tech stocks a little higher.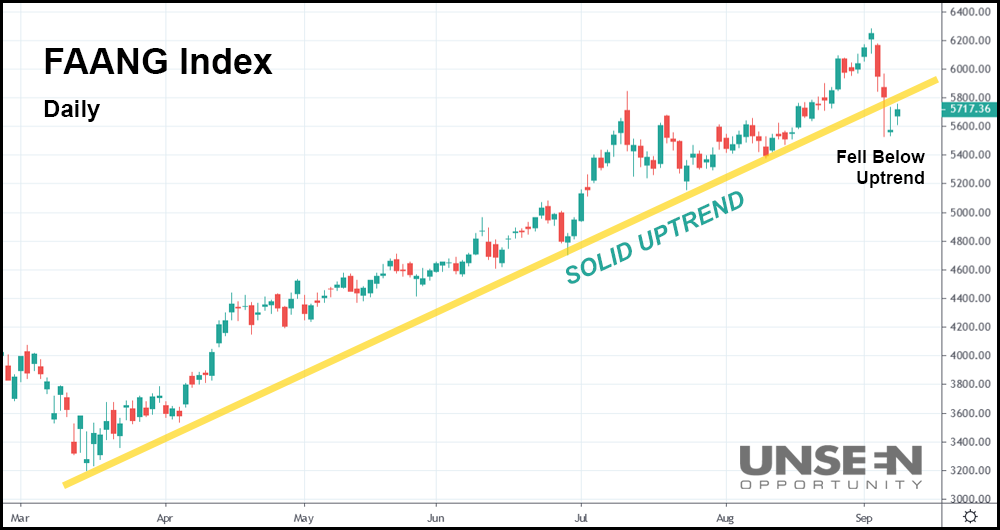 FAANG stocks, which represent some of "Big Tech's" biggest players, have been on a runaway uptrend since March. It wasn't until last week that FAANG dropped below its uptrend lows (traced by the yellow trendline in the chart above).
It could be argued that the group of stocks only needs to rise above that trendline once more to confirm a bullish resurgence. As of now, FAANG sits slightly beneath it – something that could easily change within the next trading session or two.
Another breakout above that trendline and investors might see new tech highs by mid-September.
Fundamentally, tech share valuations are still out-of-whack. Forward P/E ratios remain sky-high, even after Q2's solid earnings numbers.
But in terms of raw momentum, the Big Tech rally is still very much alive. Investors have confidence in this market, warts and all, which could lead to a rally extension.
Even while coronavirus concerns, stimulus gridlock, and a presidential election simmer in the background.
The conditions for another surge aren't ideal, but for bulls in a post-Covid economy, they don't need to be to spur-on a Big Tech revival.
Provided, of course, that the market's top stocks continue to churn out record-setting earnings, quarter after quarter.