Stocks closed higher today as market sentiment shifted decided bullish. Late last night, President Trump announced that the U.S. government ordered 100 million doses of Moderna's (NASDAQ: MRNA) coronavirus vaccine.
Equities roared in response at the open this morning and finished in an even stronger fashion. The Nasdaq Composite (2.10%), which stumbled yesterday, outperformed both the S&P (+1.40%) and Dow (+1.10%) during the buying.
Big Tech did great across the board as Microsoft (NASDAQ: MSFT) and Apple (NASDAQ: AAPL) led the pack, gaining more than 2.8% each. Facebook (NASDAQ: FB), Amazon (NASDAQ: AMZN), Netflix (NASDAQ: NFLX), and Google-parent Alphabet (NASDAQ: GOOG) enjoyed gains of their own greater than 1.5%.
The rotation into the market's underperforming sectors took a pause as a result. Bank stocks dropped. Cruise line operators did, too.
"There's a big debate happening in the market right now," explained Yousef Abbasi, global market strategist at StoneX.
"Does the tech outperformance continue? Or does hope around a vaccine, a better-than-expected Q2 earnings season and the hope the strong economic data continues to hold up start to justify the idea that some froth should probably come out of tech?"
Abbasi continued, saying that the financials sector has "some interesting levers they can pull to actually generate decent performance, particularly if you believe the economy will continue to recover."
Today, however, investors seemed less enamored with those companies.
Meanwhile, no progress was made during the ongoing unemployment relief talks between Democrats and Republicans. House Speaker Nancy Pelosi said the two sides are still "miles apart," even after President Trump's executive orders he signed this weekend.
"We have again made clear to the Administration that we are willing to resume negotiations once they start to take this process seriously," said Pelosi and Senate Minority Leader Chuck Schumer.
Pelosi fanned the flames further, stating that the gulf between Democrats and Republicans has developed into "a chasm, because they do not share our values."
Truly inspiring stuff from America's elected government officials. Republicans don't want to play the game by Democrat rules, so Pelosi and Schumer have decided to take their ball and go home for the time being.
And until they figure things out in Washington, traders need to start looking for less market-correlated trading opportunities.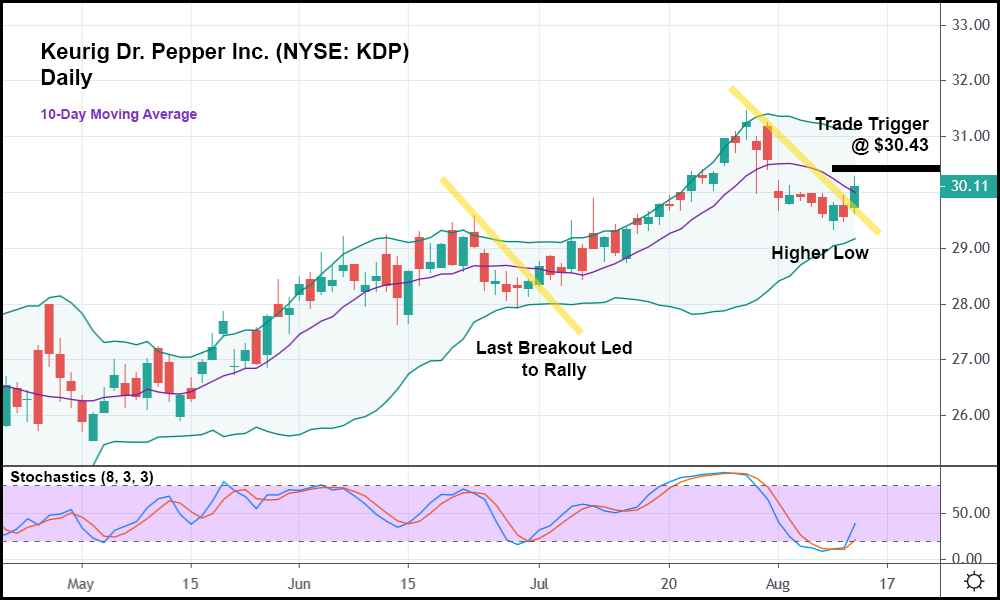 In that regard, Keurig Dr. Pepper (NYSE: KDP) fits the bill. KDP has choppily risen for months now after bottoming out in March. The stock has roughly traced the general market, but it hasn't necessarily followed it beat-for-beat.
For example, back in early June, stocks got crunched in a major single-day rout. KDP simply traded sideways for a few days instead.
Then, in early July, the stock broke out past its minor bearish trend (represented by the left-most yellow trendline) and the 10-day moving average. It traded higher in the weeks that followed.
Now, after selling-off, KDP has made a similar formation. The stock broke out above its more recent minor bearish trend and the 10-day moving average.
Should KDP trade above today's high, it might make sense to take the stock long with a trade trigger of $30.43.
And because KDP marches to the beat of its own drum (more or less), it could still prosper without a market-wide jump.
Which, at the moment, seems unlikely with lawmakers at odds over the next round of coronavirus relief.