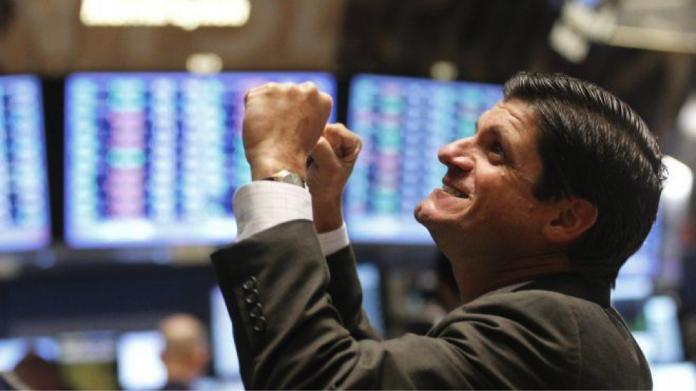 Stocks opened for another major loss today as the indexes sunk to start trading.
By midday, the sell-off looked ready to continue. T-bond yields fell to another record low.
Everything changed this afternoon, however, when equities mounted a quick recovery. For the first time in six sessions, the Dow and S&P closed above where they opened. The Nasdaq Composite actually posted a daily gain – something it also achieved on Wednesday before plummeting one day later.
Bulls are returning to the market, and stocks are finally finding a bottom.
That's not to say that the correction is over quite yet, though. Equities could still get "torpedoed" by another bad coronavirus headline.
But based on what investors saw today, there's reason to feel a little optimistic. Strong closes are always a welcome sight for bulls.
Especially after the Dow just endured its worst weekly decline since the 2008 financial crisis.
Some analysts blame the severity of the dip on a wicked swing in momentum, intensified by certain types of traders and funds.
"The reason it happened so quickly is because the momentum going up was so great," remarked Liz Ann Sonders, chief investment strategist at Charles Schwab.
"The hedge funds, the algorithmic trading, the quants: They play on momentum."
That momentum has allowed several funds to beat the market over the years, especially back when only a few existed. Over the last decade, the margins have slimmed. Quant funds don't perform like they used to.
What they're really known for these days, though, is for their contribution to volatility. Analysts like Sonders (along with many others) argue that the "quants" can do plenty of damage when the going gets tough.
Over the last week, that's likely what happened.
But now that the market's descent is slowing, investors need to get ready for a vicious move in the other direction. Quants will likely get in on this one, too, before all is said and done.
For that reason, some stocks – particularly those that have already started rising again – are becoming prime candidates for a "value explosion" next week.
KLA Corporation (NASDAQ: KLAC), being one of them.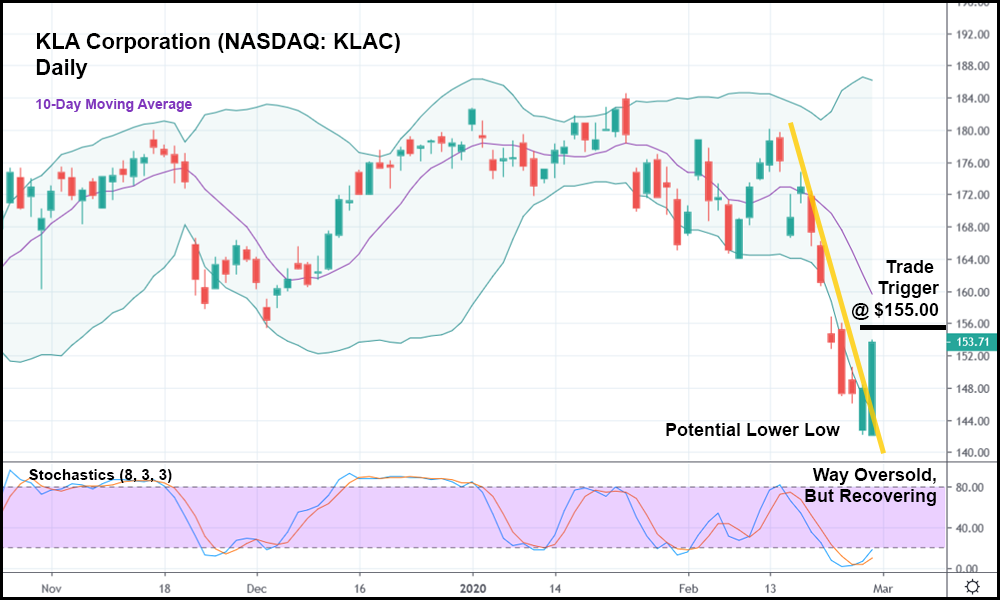 In the daily candlestick chart above, you can see that KLAC got wounded just like every other stock during this week's sell-off.
However, KLAC is unique in that it's already reversing. It posted a green candlestick yesterday, and today, it managed to close above its minor bearish trend (represented with the yellow trendline). After spending 5 sessions on the lower Bollinger Band (BB), the stock is now officially pointing towards recovery territory.
If the market experiences a whipsaw, reversal rally next week, KLAC is likely to rise with it.
So, it might make sense to go long on the stock with a trade trigger of $155.00, just above today's high.
And even if the market doesn't surge, KLAC could still see a boost. Nasdaq Composite stocks posted a small gain today (+0.30%) while KLAC blew them out of the water with a return of 3.87%.
And if stocks do surge? Look out, because KLAC could go on an absolute moonshot while long-term, "buy and hold" investors wish they would've gotten in a better price.