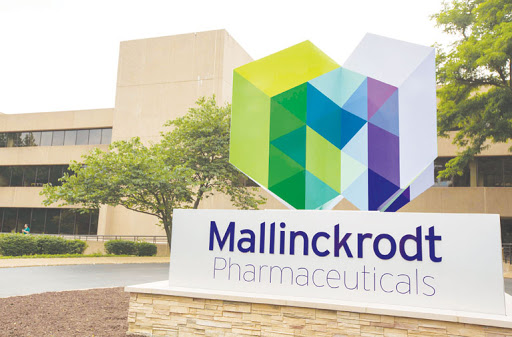 Look away, bulls. Look away.
Stocks fell today for the first time since last week after President Donald Trump announced a Friday news conference regarding China.
The president didn't specifically say what he'd be commenting on, but it likely has to do with the recently approved Hong Kong national security bill. With the bill, China hopes to further diminish Hong Kong's "one party, two systems" independence. The National People's Congress (China's parliament) approved the bill 2,878 votes to 1 this morning.
With the U.S. on the ropes, Beijing is making an opportunistic power grab. Chinese President Xi Jinping told his country's military to "prepare for worst-case scenarios" last night, referring to the tense situation developing at the Line of Actual Control (LAC) where Indian and Chinese forces are at a standoff.
Now, China might also have to deal with a trade war "reboot." The U.S. seems ready to defend Hong Kong and exact retribution for COVID-19.
Regardless of the weakened state of the American economy.
After Trump's announcement, analysts seemed concerned about the effects the press conference could have on stocks.
"If the HK response involves broad sanctions against individuals or entities, that would be a larger issue and not something the [market] could easily dismiss," Adam Crisafulli of Vital Knowledge, said.
Want more FREE research and analysis on the best "unseen opportunities" in the markets?
"[Share prices are] too high in general and leave no room for error while investors aren't paying enough attention to rising US-China tensions."
Equities already look overbought. A worsened trade environment as a result of U.S. sanctions against China would make them appear even more so.
Worse yet would be an actual engagement between the Indian and Chinese militaries at the LAC.
"Thousands of Chinese troops are on Indian soil. The only thing that remains for them is to engage in combat," said Ajai Shukla, a defense analyst based in New Delhi.
"China could be using the excuse of construction activity to put pressure on India for completely different political or economic objective[s], and that we do not know. We do not know what the Chinese objectives are in this particular case."
As usual, China's tactics involve "accidentally" blundering into foreign territory, then apologizing after depositing military assets. The Chinese navy has been doing this quite successfully for years, allowing China to dominate trade channels in Southeast Asia.
Now, China's up against a very capable adversary. If the situation gets violent at the LAC, expect stocks to shed value rapidly in response.
The same could happen if Trump imposes sanctions tomorrow, too.
So, with the market at yet another turning point, it would behoove traders to look for opportunities to go short.
Especially on companies like Mallinckrodt PLC (NYSE: MNK), a drug manufacturer that's approaching a downturn.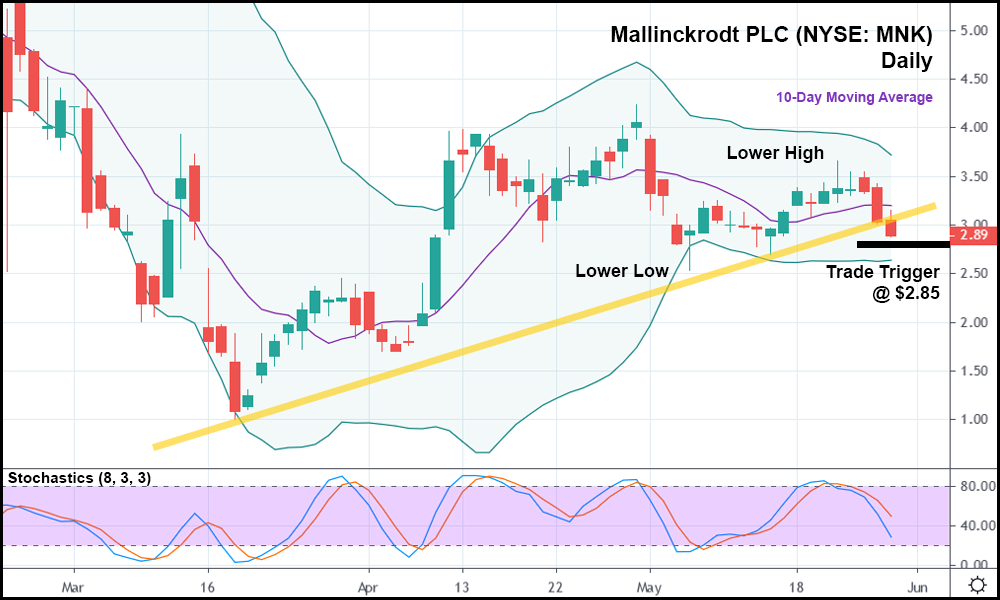 MNK, since topping out in late April, has attempted to make a comeback in recent weeks. That all fell apart, however, just a few sessions ago when the stock suddenly dropped.
Now, after having fallen below the 10-day moving average and its bullish trend (represented with the yellow trendline), MNK has lost all positive momentum.
And while that might be a tough pill for shareholders to swallow, it could be a great opportunity for short-term traders.
If MNK trades below today's low, it might make sense to take the stock short with a trade trigger of $2.85.
Best of all, even if U.S.-China (or India-China) tensions don't boil over, MNK still seems primed to fall with the general market in an overbought position.