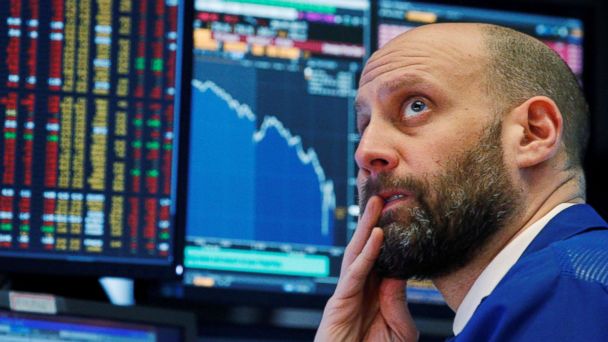 After rising more than 100 points early Monday morning, the Dow's now down over 300 points on the day, as investors wrestle with more weak economic data and news of deteriorating U.S.-China trade talks.
It's what Wall Street's been watching for over a month now, in hopes of discerning meaning from each newly released report or soundbite out of Washington. Today, the Commerce Department spoiled the fun after they revealed that construction spending had dropped 0.6% in December – a number that fell well below the expected gain of 0.2% among industry analysts.
The tech sector felt some pain as well, with cloud-based software company Salesforce leading the way, as company shares slipped more than 4% in anticipation of quarterly earnings.
It was a surprising turn of events to be sure, and one that will likely catch even more bulls off-guard as the trading session continues – one that initially looked positive after news about a trade war ceasefire hit the airwaves.
"Markets expect a deal by the end of March, but the key here will be whether the deal results in the removal of all tariffs," said Tom Essaye, founder of The Sevens Report, a market research company.
"The reports this morning imply that might happen, but it will have to become reality for US-China trade to provide a sustainable positive catalyst for stocks."
According to CNBC, unnamed "sources" told the media outlet that trade negotiations are entering their "final stages", leading up to a critical meeting at Trump's Florida sanctuary, Mar-a-Lago. An agreement between the U.S. and China there would likely see the removal of $200 billion in tariffs on Chinese goods, improving profitability across several industries and lifting immense pressure off the market.
And everything seemed to be falling in line for both sides, until just an hour ago those same "sources" told CNBC that the United States has added to their list of demands. Specifically, American trade representatives want to be able to reactivate tariffs in the future if the Chinese don't hold up their end of the bargain – meaning that if China won't penalize companies for engaging in intellectual property (IP) theft, the U.S. can impose levies on Chinese goods once again.
Unsurprisingly, this isn't sitting very well with China, nor investors who just want to see a deal, conditions be damned.
Concern from the market on a no-deal scenario in this case is understandable. After all, trade tensions have created headlines nearly every day since the trade war began.
But this time, the U.S. contingency has it right – if Trump and his team accept any terms that don't include IP theft prevention, then the whole tariff fiasco was for naught.
Ending IP theft could arguably be Trump's greatest accomplishment if he can convince the Chinese to capitulate, and something that will have a profound effect on American corporations going forward. U.S.-based companies doing business in the Far East will see a major lift over time, as they'll be able to chase a new type of consumer without losing their competitive edge.
So, if the market continues to fall short-term on this trade war hiccup, it will ultimately be a small price to pay for continued American prosperity.
And isn't that what this whole thing is about?