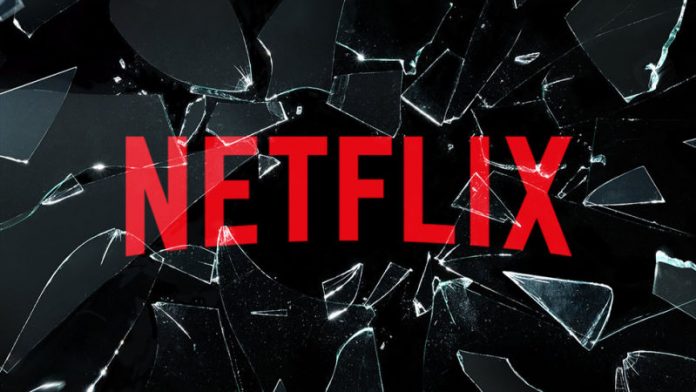 The market's stalling today in what's been a somewhat disappointing trading session. Stocks opened flat before dropping in response to even more poor economic data.
This morning, the newest weekly job loss was announced, deflating hopeful bulls in the process. 2.44 million Americans filed first-time unemployment claims last week, bringing the COVID-19 running total to over 38 million. In terms of continuing claims – which counts those who are currently receiving benefits – the tally is now 25.07 million.
And though the pace of new jobless filings is decreasing week-to-week, it doesn't change the fact that the U.S. remains out of work amid reopening efforts. Thus far, the limited reopenings haven't made a visible impact, economically speaking.
"Although the number of new jobless claims continues to ease […] the sharp rise in continuing claims the week before illustrates that the easing of lockdowns in many states has not yet resulted in any large-scale recall to work for those currently on temporary layoff," Paul Ashworth, chief U.S. economist at Capital Economics, said.
"There is little evidence that the reopening of the economy has, as yet, led to any sudden snap back in employment."
The U.S. purchasing managers' index (PMI) – an index used to determine trends in the manufacturing and service sectors – improved to 39.8 in May according to an IHS Markit survey, rising slightly above April's reading of 36.1.
"The severe drop in business activity in May comes on the heels of a record downturn in April, adding to signs that GDP is set to suffer an unprecedented decline in the second quarter," said Chris Williamson, chief business economist for IHS Markit.
"Encouragement comes from the survey indicating that the rate of economic collapse seems to have peaked in April. In the absence of a second wave of COVID-19 infections, the decline should moderate further in coming months as measures taken to contain the coronavirus are steadily lifted," he explained.
Want more FREE research and analysis on the best "unseen opportunities" in the markets?
"However, the sheer scale of the current downturn and associated job losses, and the fact that some restrictions will need to stay in place until an effective treatment or vaccine are found, highlights how a full recovery is unlikely to be swift."
Making matters even worse today were renewed U.S./China trade war tensions, stemming from a new Senate bill that could ban the listing of Chinese companies on U.S. exchanges. Shares of Chinese tech firms like Alibaba (NASDAQ: BABA) and Baidu (NASDAQ: BIDU) fell in response to the legislation.
With so much bad news afoot, it's no wonder the major indexes fell. FAANG stocks (save for Facebook), in particular, had a rough session.
Now, one of them is setting up for what could be a larger collapse.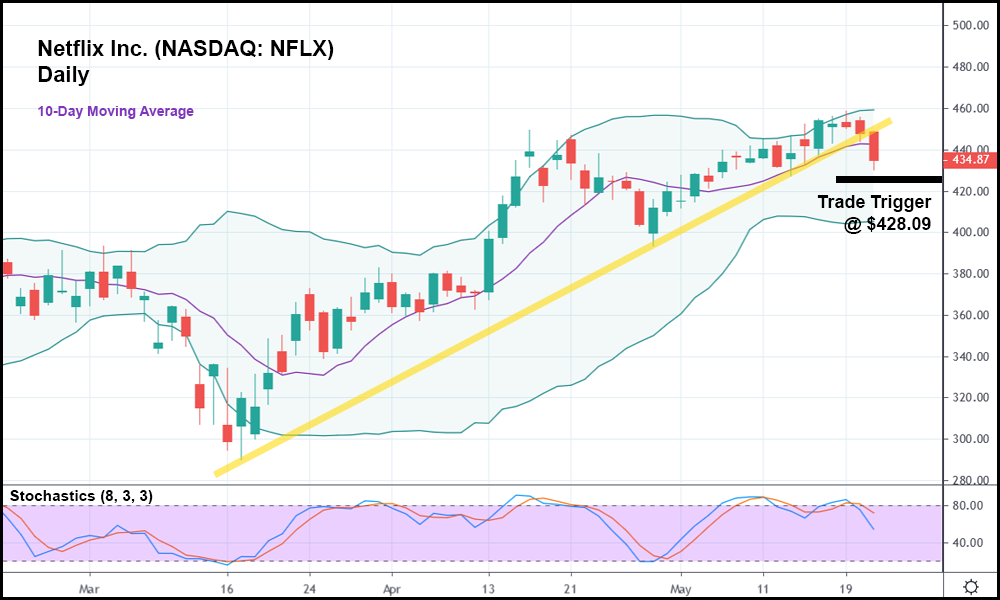 Streaming giant Netflix (NASDAQ: NFLX), the "N" in FAANG, finds itself in a tough spot. After peaking on Tuesday, NFLX shares are falling.
On Wednesday, the stock skimmed its bullish trendline (in yellow).
Today, it broke below that trend and the 10-day moving average.
With the stochastics indicator still relatively high and key support ($393) roughly 9% away from NFLX's current price, there's certainly plenty of room for this stock to fall.
For that reason, it might make sense to go short on NFXL below today's low with a trade trigger of $428.09.
The general market appears overbought. For the last few weeks, FAANG stocks have shifted it higher almost all on their own. Now, they look ready for a sell-off – one that could drag the rest of the market down with FAANG.
All while short-term bears rack up potentially huge NFLX winnings.