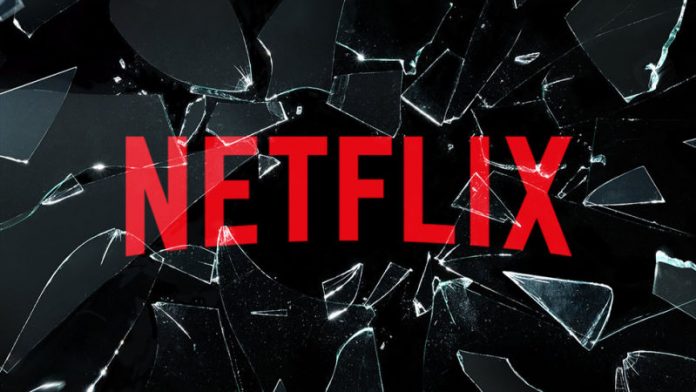 At midday today, the post-crash rally looked finished as stocks continued to fall. They opened the morning on a low note and dropped further, driven down by sinking airline shares after Warren Buffett announced that his company, Berkshire Hathaway, dumped the entirety of its airline holdings.
"The world changed for airlines," Buffett said at Berkshire's annual shareholders meeting.
"It turned out that I was wrong about that business because of something that was not in any way the fault of four excellent CEOs," he continued, referencing COVID-19.
Analysts took it as a sign of things to come for specific industries that got hit particularly hard by the pandemic.
"Mr. Buffett is a long-term investor, so his decision to sell reflects his belief that airline industry is facing future challenges that fundamentally change the value-capture of that business," wrote Fundstrat's Tom Lee in a note to clients.
CNBC's Jim Cramer weighed in on Buffett's decision, too, earlier today.
"Buffett's overview on airlines really does make me very concerned about the near term," he said.
"The world has changed for the airlines. And I don't know how it's changed and I hope it corrects itself in a reasonably prompt way."
Want more FREE research and analysis on the best "unseen opportunities" in the markets?
Nearly the entire market was dragged down by sagging airline stocks, most of which saw double-digit losses.
That all changed this afternoon, however, when big tech came roaring back. All three major indexes finished the day for a gain as a result. The Dow climbed 0.1% higher alongside the S&P, which gained 0.4%. The tech-heavy Nasdaq Composite rose 1.2% while tech shares surged.
Microsoft (NASDAQ: MSFT) leaped 2.4% while Apple (NASDAQ: AAPL) and Facebook (NASDAQ: FB) both gained 1.4% on the day.
Best of all, however, was Netflix (NASDAQ: NFLX), which soared 3.0%. And though it saw the biggest boost out of all the FAANG stocks, NFLX now appears poised to head even higher.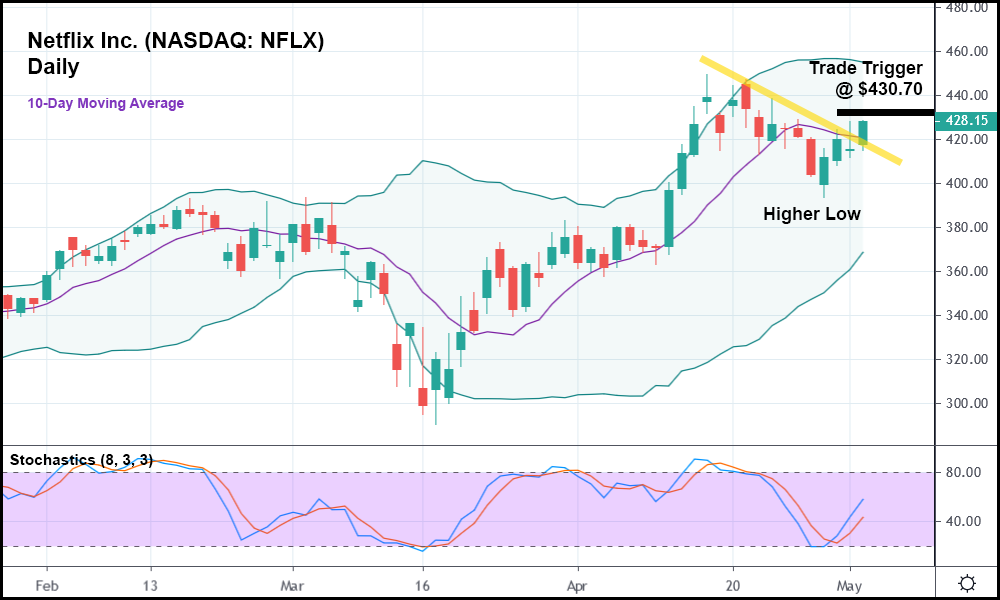 Since peaking in April, NFLX has fallen. The stock chopped every which way en route to a higher low.
It even dropped below the 10-day moving average in doing so.
But today, NFLX jumped back above the 10-day moving average and even its minor bearish trend (represented with the yellow trendline).
With the stochastics indicator well below 80 as well (meaning that NFLX isn't overbought), there's plenty of evidence to suggest that NFLX could trade higher in the coming days.
For that reason, it might make sense to go long on NFLX with a trade trigger of $430.70 provided that it trades above today's high by a significant amount.
Even though plenty of states (California included) are now trying to re-open, it could still be a while before the U.S. fully gets back to work. That means millions upon millions of customers will remain loyal to the streaming giant in the short-term, leading to higher share prices for the foreseeable future.