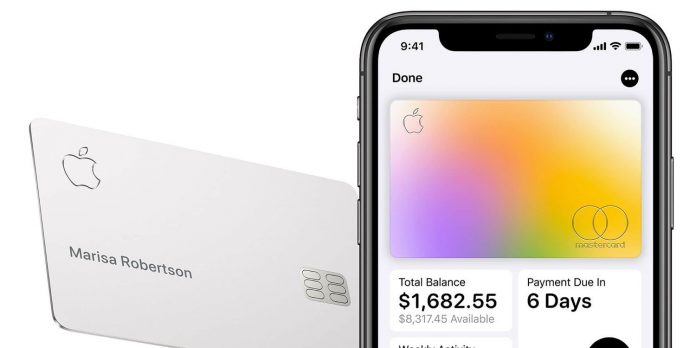 Do modern corporations think it's worth having a "finger in every pie" these days? Amazon certainly thinks so. So did Sears back in the day.
And now, Apple has joined the list of ambitious "mega-corps" by announcing plans to release a credit card on Monday night, alongside the reveal of the company's new gaming and video streaming services.
They're partnering with Goldman Sachs (their first ever credit card) and Mastercard, who will allow Apple access to their extensive credit infrastructure, hoping to leverage the two institutions as an avenue for success.
The "Apple Card" (its official name) will offer 3% cash back to cardholders on any Apple purchases, 2% back on anything – yes, absolutely anything – bought with Apple Pay, and 1% back for any transactions purchased with the card itself.
The goal here is to ultimately drive cardholders towards Apple, which ties in with CEO Tim Cook's new strategy to retain customers. The 3% cash back rewards exist only for Apple-related products, and in order to take advantage of the 2% cash back via Apple Pay, you'll need to have an iPhone.
And in a vacuum, the Apple Card's features sound good for Apple customers – there's no doubt about it. But when compared to other cards on the market, the Apple Card starts to lose its luster.
Take the U.S. Bank Altitude Reserve Visa Infinite card for example, which offers an impressive 3% cash back on all transactions completed via its mobile pay app.
As usual, though, Apple doesn't care about having a competitive advantage feature-wise when it comes to their new product. The iPhone is still seen by many technophiles as having less "bang-for-your-buck", but has managed to outperform the competition (at least, until recently) due to superior branding, even at a much higher price point.
The Apple Card is no different in that regard. In addition to providing Apple-fanatics a way to save on Apple products, it'll be a fashion accessory that looks "cool" next to a Macbook, iPhone, and Apple Watch.
And that's the idea – to make casual Apple customers into die-hards by touching them in as many ways as possible. The company wants everything we own to carry an Apple logo, so eventually over time, we're completely dependent upon them.
But in order for that to happen, Apple needs people to actually want Apple Cards – something that could prove difficult as millions of debt-laden Americans already feel like they have "too many credit cards" according to recent consumer studies.
Because of that (and in addition to other factors), breaking into the industry will certainly be tough, especially in regard to mobile payments. Paypal, the gold standard at the moment, commands a whopping 267 million users, while Apple only has 32 million. Their new card may help boost those numbers, but if consumers don't find its perks enticing enough, Apple could continue to be only a minor player on that front.
And that key statistic – mobile payments – will likely determine whether the Apple Card is a success or failure. Simply put, people tend to spend more money with mobile pay than they do when using a physical credit card, and that's something Apple desperately wants to harness moving forward.
But in order to attract "mobile payers", they'll need to make consumers do the unthinkable – switch credit cards. As it stands, there's really nothing exciting enough about the Apple Card to convince people to do so.
So, unless Apple can find some "sexy" characteristic of their card that have yet to be discovered, it might end up flopping – disappointing investors in a major way and signaling a new era of "Apple complacency" as the company desperately searches for a new identity.