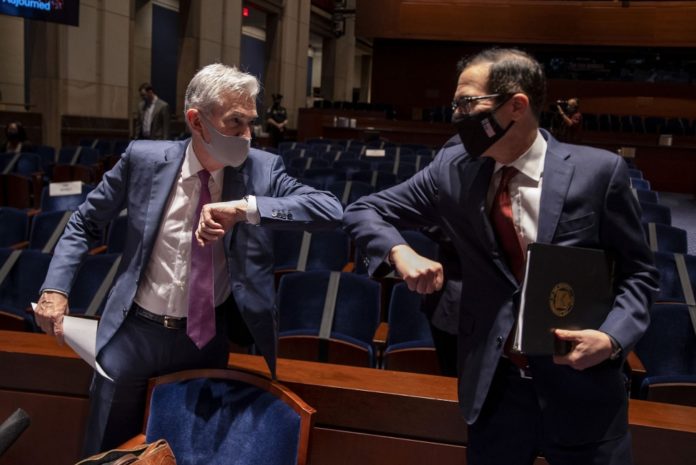 Stocks are chopping every which way this morning as "stimulus mania" continues. The major indexes opened lower, dropped further, and then eventually cut their losses after House Speaker Nancy Pelosi suggested that a stimulus deal was near.
It's something investors have gone through before. This time, though, the market seems convinced that Pelosi and Treasury Secretary Steven Mnuchin can get a relief package past the finish line before the presidential election.
New coronavirus aid is "just about there" according to Pelosi.
"If we were not making progress, I wouldn't spend five seconds in these conversations. […] This is not anything other than I think a serious attempt. I do believe that both sides want to reach an agreement," she said.
And just yesterday, Pelosi's deputy chief of staff Drew Hammill said that the two negotiators are "closer to being able to put pen to paper to write legislation" following a 48-minute conversation.
Later that afternoon, President Trump dashed bullish hopes with a sobering tweet that sent futures tumbling.
"Just don't see any way Nancy Pelosi and Cryin' Chuck Schumer will be willing to do what is right for our great American workers, or our wonderful USA itself, on Stimulus," Trump remarked.
"Their primary focus is BAILING OUT poorly run (and high crime) Democrat cities and states…."
Pelosi's statement from earlier today, however, has shifted sentiment once more.
But what hasn't flip-flopped over the past few days is the consensus opinion from analysts, who mostly believe that additional stimulus is required to keep the U.S. economic recovery on track.
"With no clear end to the pandemic in sight, the economy needs additional fiscal support that will last for several months," explained MRB Partners strategist Prajakta Bhide.
"The passing of a sizeable additional fiscal stimulus by the beginning of next year, and better control over the COVID-19 pandemic next year via the timely approval of a medical solution will be essential to ensure continued economic growth next year."
According to last week's jobless claims data, the economy may be improving on its own. Weekly unemployment filings clocked-in at 787,000, beating the Dow Jones estimate of 875,000 with ease.
That's the lowest weekly unemployment number since March 14th, and it marks a week-to-week decrease of 55,000 claims. Some of the drop can be attributed to a shift out of regular unemployment benefits and into the Pandemic Unemployment Assistance program.
But the decline in claims isn't entirely artificial. Continuing claims, which lag weekly claims by one week, fell as well, down 1.02 million to 8.37 million.
Some analysts remain skeptical as to whether this is indicative of improving economic conditions, though.
"We're happy to see continuing claims fall, but the decline — even allowing for the PEUC/extended benefits effect — does not map one-to-one onto rising payrolls," warned Ian Shepherdson, chief economist at Pantheon Macroeconomics.
"Some people no longer claiming benefits may have dropped out of the labor force, while some might have taken non-payroll gig or freelance jobs. Moreover, continuing claims lag initial claims, so if initial claims start rising again, continuing claims will follow."
And so, with the labor market still looking sluggish, investors remain transfixed on a stimulus package. After encouraging bulls with her "just about there" remarks, Pelosi tempered expectations by adding:
"If we can resolve some of these things in the next few days, it'll take a while to write the bill," suggesting that the legislation might not arrive until after the election.
But in the end, a stimulus agreement would likely spike equities, at least temporarily, regardless of when the said stimulus is deployed. Investors are looking for stability right now, and a relief package deal would give that to them in spades.
Even if an actual cash disbursement remains a month (or more) away.