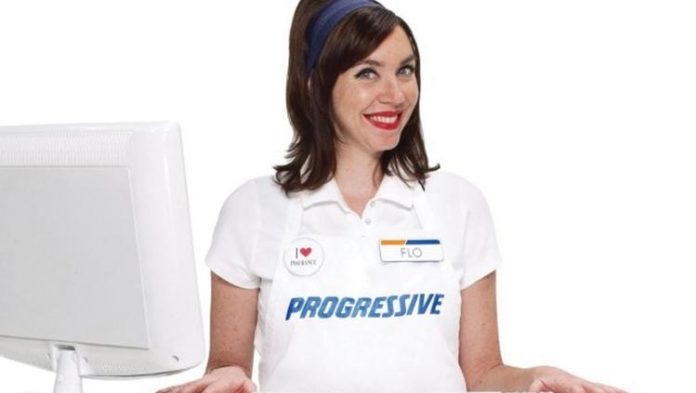 Banks are back and so is oil.
That's what caused stocks to recover today in a surprise afternoon reversal. The market opened lower this morning, only to flip positive a few hours later.
Bulls were firmly in control by the session's end.
The Dow (+1.6%), S&P (+1.15%), and Nasdaq Composite (+0.9%) climbed higher as a result.
Now, the question is whether not those gains will stick. Analysts were quick to point out that despite today's surge, stocks could still go any direction from here.
"This market is still in this muddle-through zone where you're trying to understand how difficult will this economic environment be or is there an all-clear coming soon," Rob Haworth, senior investment strategist at U.S. Bank Wealth Management, said.
The Dow and S&P both tested new monthly lows today. The Nasdaq Composite came close, too.
Equities need to keep rising if they're going to continue the post-crash rally. Gregory Faranello, head of U.S. rates trading at AmeriVet Securities, observed that the Fed could help matters via "yield curve control" measures.
"There are a lot of variables in terms of really how the economy opens here. It's going to be very uneven," Faranello said.
"From a capital perspective and a leverage perspective, the Fed can grow the existing programs that they have online."
Bank stocks, which got scorched over the last week, led the charge this afternoon despite additional poor unemployment data. For the week ending May 9th, a total of 2.981 million jobless claims were filed, bringing the COVID-19 job loss total to 36.5 million in two months.
Rising oil brought back a sense of normalcy, too, causing energy stocks to pop.
All in all, it was an initially negative session that turned positive. However, it also may have been the "last gasp" for bulls. The indexes need a string of strong performances before any significant momentum will be generated to the upside.
Thankfully, there's one stock that, at the moment, doesn't seem to care which way the general market trades.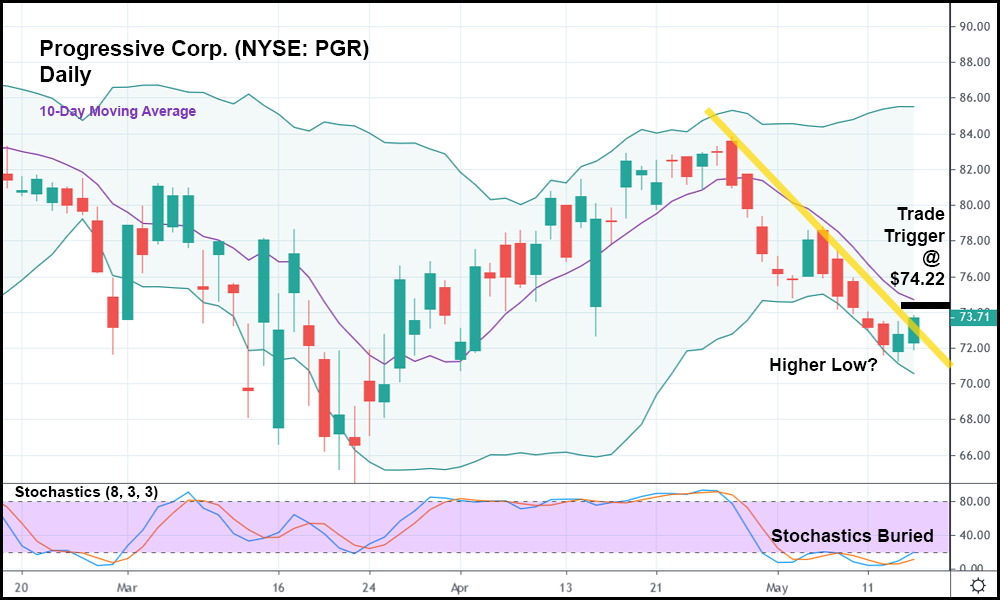 Progressive Corp. (NYSE: PGR) is certainly a unique stock in that it has attempted to follow the indexes, but ultimately "did its own thing."
PGR peaked in late April, and since then it's been nothing but bad news for company shareholders. Now, the stock sits squarely beneath its 10-day moving average and just north of the lower Bollinger Band (BB).
However, PGR also gave bulls signs of hope today when it broke out above its minor bearish trend (in yellow). The stock also could be in the process of setting a higher low relative to the low of March.
If PGR trades above today's high by a significant amount it might make sense to go long with a trade trigger of $74.22.
From there, PGR has plenty of room to climb, even if the general market ends up stalling once again.