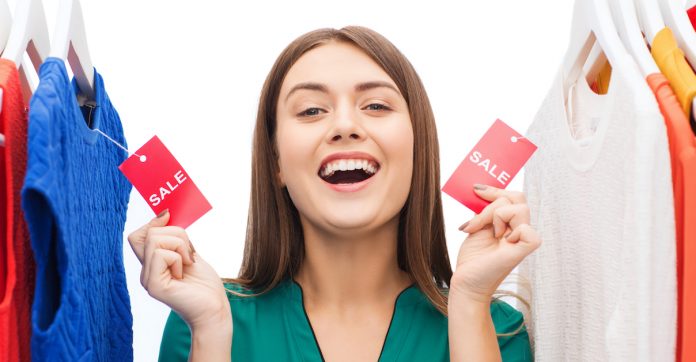 Yesterday, during his company's earnings announcement, J.P. Morgan CEO Jamie Dimon said that the American consumer was "healthy," as evidenced by low unemployment and strong spending habits.
This morning, however, data from the Commerce Department suggests that consumers are starting to slip. U.S. retail sales dropped 0.3% in September – falling for the first time in seven months – as Americans cut spending on online purchases (sorry, Mr. Bezos), building materials, and automobiles.
In August, the Commerce Department initially claimed that retail sales grew by 0.4%, before revising the figure to a more accurate 0.6% gain. Economists expected a 0.3% increase in September, making the most recent sales reading somewhat of a shock.
But according to analysts, September's retail slump is not something to worry about. At least, not yet.
"While this is by no means conclusive evidence that the consumer is wavering (after all, the upward revisions reduce the impact of September's declines), it nonetheless reinforces our ongoing concern that a spending retrenchment will ultimately trigger a more durable slowdown," wrote Ian Lyngen, BMO Capital Markets' head of rates research.
The automobile industry got the worst of it, as monthly auto sales dropped 0.9%, marking the worst sales decrease in eight months. Service stations felt some pain, too, and endured a 0.7% drop, fueled by low gas prices.
But outside of four key categories – building materials, food services, gasoline, and the aforementioned automobile industry – retail sales remained flat in September, suggesting that it's not all bad. Q2 saw 4.6% annualized consumption growth, after all. That's the highest its been in over a year.
Q3, by comparison, was likely to slow after such an impressive Q2 from consumers. In fact, back when the second-quarter numbers were released, President Trump was using them as evidence of a strong economy.
Want more FREE research and analysis on the best "unseen opportunities" in the markets?
Can you blame him? Unemployment was (and is) still historically low – why not also highlight all the extra cash Americans are spending?
And even though Q2 was a strong quarter, some economists aren't convinced that we've staved off a slowdown entirely.
Michael Pearce, a senior U.S. economist at Capital Economics, remains concerned about September's lackluster retail statistics, particularly regarding GDP growth.
"The drop back in retail sales in September was partly driven by a price-related fall back in gasoline prices, but the fact that underlying control group retail sales were unchanged provides another clear sign that consumption growth is slowing," he wrote in a note this morning.
"We think real consumption rose by 2.5% annualised in the third quarter, down from 4.2% rise in the second, with overall GDP growth slowing to just 1.5% annualised, from 2.0%."
With earnings season underway, we'll soon find out precisely how the consumer-facing corporations made out in Q3. If GDP growth actually dropped to 1.5% last quarter, shrinking revenues would likely show up in earnings.
But if yesterday's reports – from J.P. Morgan, UnitedHealth, and Johnson & Johnson – are any indication, we might be in for another overachieving quarter.
One that, at the very least, surpasses analyst expectations.
If that happens, you can kiss the market's correction fears goodbye, as bears return to their hiding spots for a long, lonely winter hibernation.
All while bulls "rake it in" during a surpisingly strong holiday season.