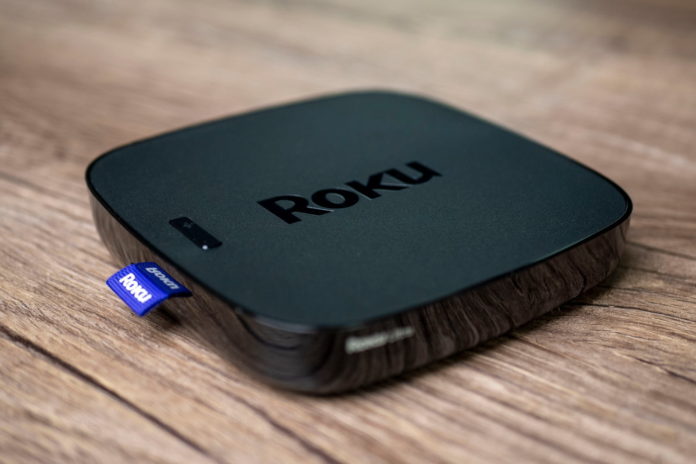 Stocks continued their climb today after last week's massive gain. On Friday, Bulls were overjoyed to hear that the U.S. economy added 2.5 million jobs in the month of May, dramatically reducing fears of a prolonged recession.
Today, they kept sentiment positive by prolonging the buying frenzy.
For bears, however, it's a bit of a "nightmare scenario." They'd heard economists and analysts alike call the stock market overvalued for weeks.
Those same experts are now saying investors "had it right" the whole time.
"What is clearly happening is the excitement of reopening is allowing a lot of these companies that have been casualties of COVID to come back and come back in force," Stanley Druckenmiller, CEO of the Duquesne Family Office, said.
"Well I've been humbled many times in my career, and I'm sure I'll be many times in the future. And the last three weeks certainly fits that category."
In reality, equities are probably overvalued. The market's "forward looking," meaning that it tries to predict where earnings will be in 3-6 months.
The U.S. economy will have to be almost back to where it was (pre-COVID-19) by early December of this year to justify the current valuations – something that will require a rapid, if not "seamless," recovery.
Want more FREE research and analysis on the best "unseen opportunities" in the markets?
But that doesn't matter to bargain-hunting investors in search of the next stock to soar. Airlines erupted for huge returns today, dwarfing the rest of the market. United Airlines (NASDAQ: UAL) led the charge with a 14.8% jump in price. Cruise lines did, too, as reflected in Carnival Corp.'s (NYSE: CCL) 15.8% surge.
Michael Pearce, senior U.S. economist at Capital Economics, offered a more cautiously optimistic take on the recent economic data.
"The 2.5 million rebound in employment last month reverses only a small fraction of the jobs lost since February," Pearce said.
"But considering we and the consensus had been braced for another large decline, it builds on the signs from some of the other macro data this week that economic activity is rebounding faster and more vigorously than we had anticipated."
But if the market doesn't keep rising, certain "stay at home" stocks could flourish instead – the same ones that prospered during the pandemic.
And no, I'm not talking about Amazon (NASDAQ: AMZN), which touched a new all-time high today.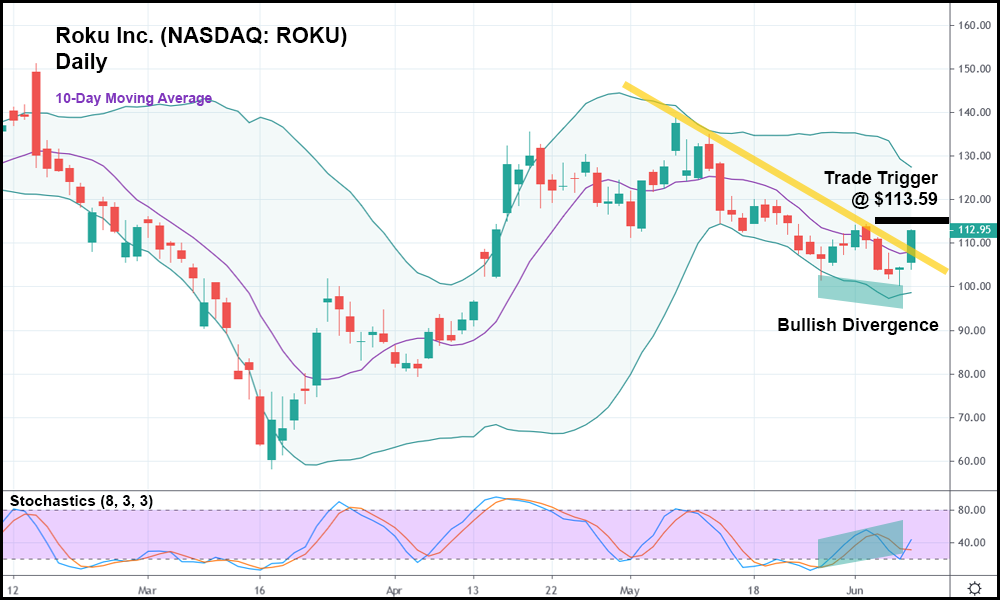 Instead, streaming device manufacturer Roku Inc. (NASDAQ: ROKU) looks poised to burst higher. After peaking in early May, it's been a slow decline for ROKU.
Within the last week, though, the stock has finally seemed to find its legs.
Yesterday, it established bullish divergence. ROKU's share price set a lower low. Its stochastics indicator set a higher low.
And today, ROKU broke out above the 10-day moving average and its minor bearish trend (represented with the yellow trendline).
Should ROKU trade above today's high, it might make sense to take the stock long with a trade trigger of $113.59.
And even if the market ends up rising again, ROKU could still potentially make a run at its May highs, generating a quick gain in the process.