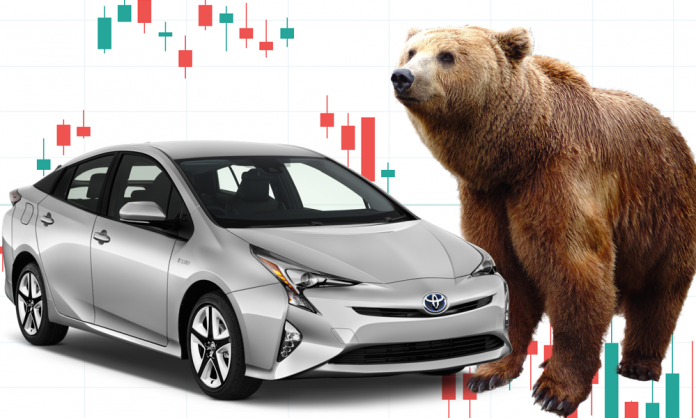 The Prius once dominated American roads as both a status symbol of green enlightenment and an economical hedge against high gas prices. Those days are fading fast however as lower gas prices, stiffer competition, and even threats from other Toyota hybrids, are expected to end Prius' hybrid domination once and for all.
We'll look at some of the reasons why the Prius is facing its stiffest headwind yet in the U.S. and elsewhere. Just as important, we'll explain why even without Toyota's Prius panic, share prices may be gearing up for another leg down.
The Toyota Prius Is Losing Its Identity—and a Sense of Purpose
The Toyota Prius—once the poster child of the green movement—may be in serious trouble if Toyota's engineers can't find a way to broaden the vehicle's appeal and excite new buyers. Sales for the Prius peaked in 2012 and haven't recovered. Worse, sales for the first 11 months of 2018 are down 23.2% from last year.
Ouch.
Toyota hopes a new redesigned Prius with better tech and an all-wheel-drive option will give the vehicle a second wind. With the challenges facing the car today, we're not so sure.
The Green Elite May Have a New Standard Bearer: Elon Musk and Tesla's Model 3
As Forbes reported earlier this year, the long-awaited Tesla Model 3 is gaining traction as the most desired electric vehicle in America. And only production issues and (to a lesser extent) pricing have held it back from winning over Prius owners.
As the VP of Worldwide Sales at Tesla, Robin Ren, reported in August:
"So, we looked at what people who are buying Model 3 cars in the United States, what cars they are trading in. What we found is through this year, from January to July, the top five non-Tesla cars people are trading in to get into a Model 3. They are Toyota Prius, BMW 3 Series, Honda Accord, Honda Civic and Nissan Leaf."
Toyota's Own RAV4 Is Capturing Would-Be Prius Owners
The possibility of the RAV4 outselling its Prius counterpart in 2019 is very real according to some analysts, leading many to wonder why the Toyota Prius should continue after 2020 and beyond.
"Toyota can say the Prius did everything they needed," said Stephanie Brinley, principal automotive analyst for IHS Markit. "But what do they need Prius for" anymore?
Even Toyota's own executives agree with Brinley's assessment.
"I don't think Prius can be the same as before," said Koichi Kaneko, a Deputy Chief Engineer at Toyota. "Our role is to figure out what we can do with it. We need to find a new direction."
Gas Prices Have Stayed Low under Trump, and It's Fueling a Thirst for Gas Guzzling SUVs
As oil continues its downward slide over fears of overproduction and an economic slowdown, the winners are clearly consumers, who can once again afford to drop huge amounts of fuel into monster SUVs.
One of the Prius' strongest selling points has always been its great fuel economy, but with gas as cheap as it is, consumers feel emboldened to go after what they really want: huge SUVs that are both safe and spacious.
Toyota Shares Showing Signs of Technical Breakdown…and a Hidden Bearish Divergence
Even without Toyota's Prius woes, the company's share price seems poised to keep falling from its January highs, as evidenced by some hidden bearish divergence on the weekly candlestick chart.
Despite having hit what looks like solid support near the $115 region and bouncing back up to $124 per share, there is growing concern that a lower low has now been set, which in turn could force a retest of the $115 share price. If that scenario plays out, there's a strong likelihood that we could sink lower: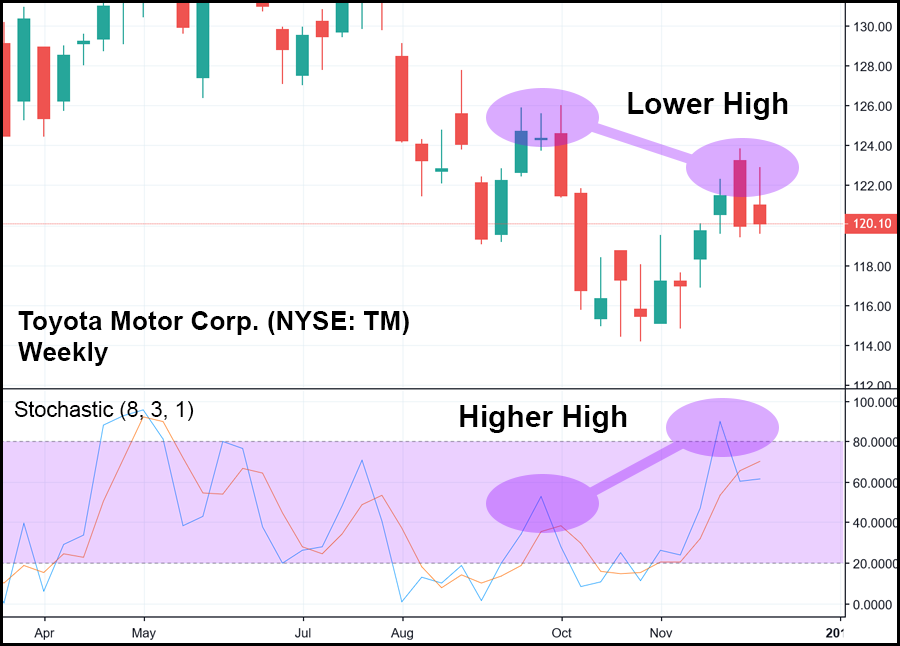 When a Stochastic oscillator hits a higher high, but share price prints a lower low, odds are that share prices will continue to fall. That isn't always the case of course. But statistically speaking, you'll have better results shorting a pattern like this than you would going long. Hidden bearish divergence typically indicates a trend continuation, unlike ordinary bearish divergence which can be used to sniff out trend reversals.
The long-term trend for Toyota Motor Corp is up, and we anticipate it will continue that trajectory for the foreseeable future. But for now, the possibility of lower prices is very real for Toyota, at least until it solves its hybrid car problems in the U.S.