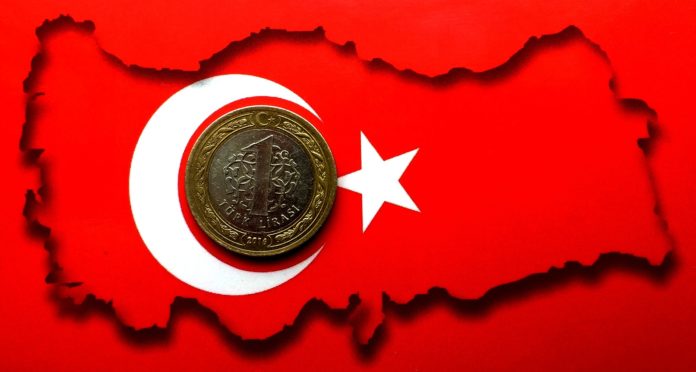 Stocks are trading flat this morning as investors weigh offsetting economic data. Better-than-expected employment numbers were released today, revealing a weekly jobless rise of only 1.186 million for the week ending August 1st. Dow-polled economists predicted a larger increase of 1.423 million.
Still, some analysts caution bulls to be wary of unemployment trends now that federal aid has run out.
"The overall tone of the jobless claims data is the best it has been in 3 weeks or so," Thomas Simons, money market economist at Jefferies, said in a note.
"The decline is the biggest since the week of June 6, so the data does not have the same sort of 'stalling out' theme that we have seen in recent weeks. However, one cannot help but notice the date of the reference week, August 1, which is the day after the $600 per week enhance benefit provided by the CARES Act expired."
Simons continued, asking:
"Is the drop this week related to an improvement in the labor market? Or is it related to folks who had some agency in their employment situation electing to collect the benefit rather than return to work now no longer being able to do so?"
It's another variable in the "sentiment soup" that's left investors feeling more unsure than anything else. The market has already endured several coronavirus and economic setbacks over the last few months.
A surprise unemployment hike in the coming weeks would only add to the confusion.
However, a far more immediate hazard appeared today, and unlike jobless claims, it has nothing to do with the U.S.
Well, not directly, at least.
The Turkish lira – a "problem currency" if there ever was one – has reached a new level of weakness relative to the U.S. dollar.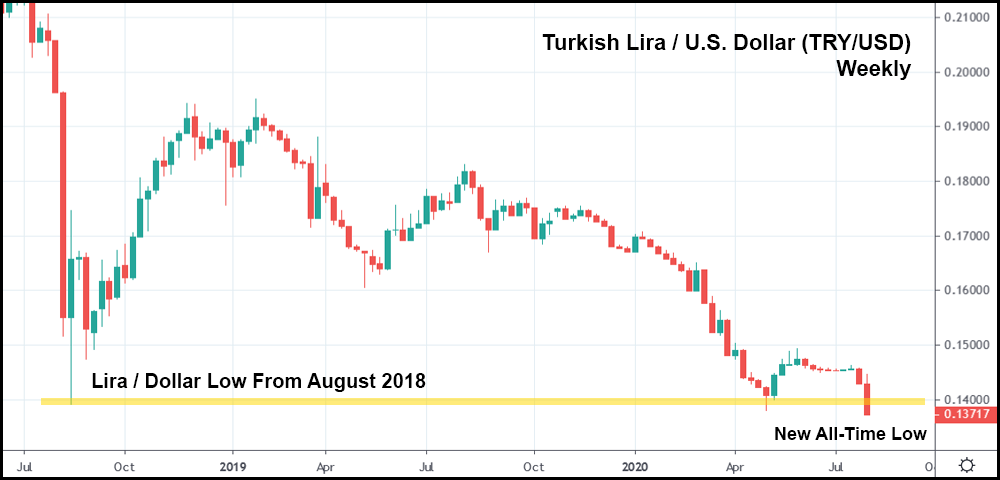 The last time the Lira was this low (August 2018), investors feared that Turkey would go belly-up like Greece did in 2009. The same concerns arose in 2013 as well thanks to a sizable Turkish debt load (which has only grown larger over time), even when the Lira was much stronger.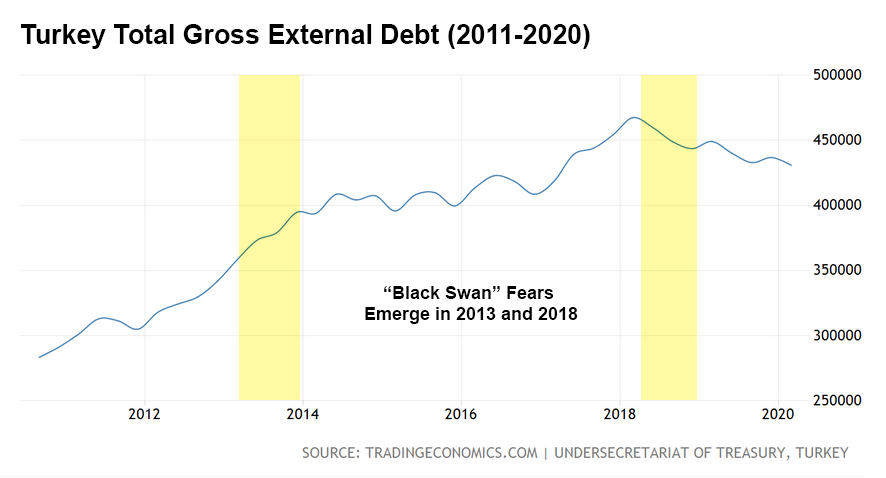 Many market players were convinced that the lira would induce "black swan" events – economic surprises resulting in potentially severe consequences – in a matter of weeks. Both times, Turkey (and the lira) thankfully survived.
Now, however, a case could be made that another "black swan" is taking shape with the Lira at rock-bottom, Turkish debt near its all-time high, and a sluggish Turkish economy slowing down further. Covid-19 has decimated the once-bustling tourism industry in Turkey, souring the country's lone source of consistent revenue.
Worse yet, the U.S. dollar has weakened dramatically relative to other fiat currencies over the last few weeks. The all-time low lira-to-dollar ratio of today suggests that the lira is actually in far worse shape than it was in 2018.
That means even if Turkey doesn't require a debt bailout, its economy may still face a dire currency crisis. And if a bailout does happen, a domino effect could follow, causing other world currencies to crumble.
The takeaway from all of this is that perhaps for the first time since 2008, investors have completely lost faith in fiat and the central banks. The Fed is considering another $1 trillion stimulus package to fight the partial coronavirus lockdowns in America. Chairman Jerome Powell says he wants to target a higher inflation rate moving forward to boot.
Do those sound like developments that should result in a stronger dollar? Absolutely not. Gold and cryptocurrencies are soaring in response, and rightly so.
The lira has long had its issues, but this time, its collapse could be indicative of a bigger problem that other nations will have to deal with. It's a tough time to be holding cash as a result, but also just as hard holding equities at the top of an extended rally.
Ironically, though, sky-high currency alternatives – which have rivaled the market's recent gains – might be the best place for investors to hide, even if it means doing so near the "top."