Attention, Tesla bulls:
Get out while you still can.
That's the message shareholders are receiving this morning as Tesla (NASDAQ: TSLA) shares plummet. The stock is now down over 9% as of noon, just two days after the company reported a stunning earnings "beat."
It's a bit of a shock to see the electric automaker dip so quickly, especially after its Wednesday afternoon earnings guidance projected big things in Q3 and beyond.
"We believe the progress we made in the first half of this year has positioned us for a successful second half of 2020," said management in a largely upbeat letter to shareholders.
"Production output of our existing facilities continues to improve to meet demand, and we are adding more capacity. Later this year, we will be building three factories on three continents simultaneously."
Tesla's major earnings headline, however, was its impressive Q2 earnings per share (EPS). The company posted an EPS of $2.18 (ex-items) vs. just 3 cents expected. That's a massive surprise number, and one that sent TSLA shares soaring after hours on Wednesday.
When the market closed on Thursday (yesterday), however, TSLA finished in the red. Today, the selling has only intensified further.
Want more FREE research and analysis on the best "unseen opportunities" in the markets?
Some have blamed the sell-off on a broader tech slump. Intel Corp (NASDAQ: INTC), for example, provided disastrous earnings guidance when it reported last evening. Analysts and shareholders alike feel as though the company is no longer competitive, and as a result, INTC shares are down a whopping 15%.
There's no doubt that the INTC crunch has had an effect on other stocks. However, TSLA isn't down 9% simply because other tech stocks are selling as well. The tech sector faces a much larger problem, which is that its top stocks have significantly outpaced both tangible and future growth.
And yes, the stock market is a forward-looking mechanism. Tesla's earnings down the road are taken into account when justifying its share price. It's the reason why cutting-edge tech stocks are typically priced so highly.
But Tesla's current value, no matter how much potential bulls argue that the company currently has, borders on lunacy. CEO Elon Musk has long said that Tesla's biggest piece of business will eventually be its technology, not necessarily its cars. Selling and licensing revolutionary tech sounds great, but at present, the company can't even get its automobile division to achieve any substantial growth.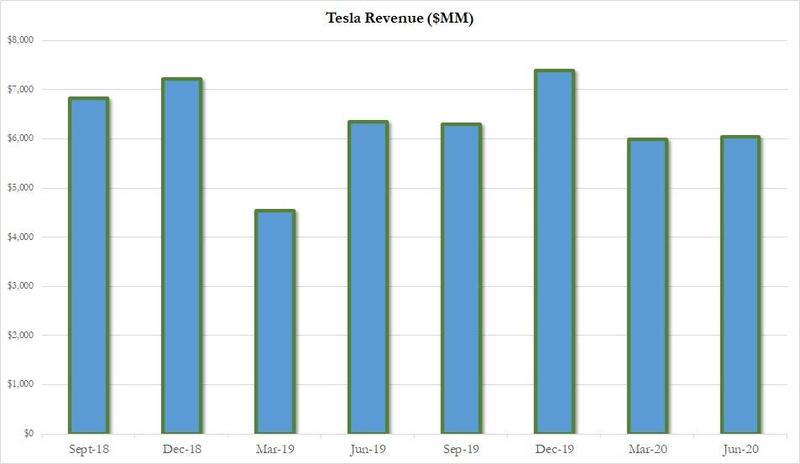 That's right, Tesla's "dirty little secret" over the last few years is that its quarterly revenues have actually shrunk. Yet at present, TSLA shares trade for more than 800 times the company's trailing earnings, which in Q2 were mostly comprised of regulatory credit sales – money given to Tesla by competing carmakers in exchange for environmental credits.
There's no question that Tesla's rivals are lagging behind when it comes to electric vehicles. For now, those carmakers are buying regulatory credits to avoid fines and "red tape" from environmentally conscious governments.
But those companies will soon catch up, and when they do, a large portion of Tesla's revenue will evaporate, drawing down the one thing that Tesla has admittedly been good at doing over the last four quarters:
Being profitable.
The issue is, though, that profitability shouldn't be the goal for Tesla. Staying slightly profitable while aggressively chasing growth is what shareholders want out of a burgeoning tech company.
Especially when that company's being led by Elon Musk, an eccentric albeit highly intelligent visionary.
And really, TSLA's current situation isn't Musk's fault. He's not the one who bought-up Tesla shares in a speculative blitz.
Amateur traders did, along with more experienced investors who were enduring a serious dose of FOMO.
The rest of Big Tech – FAANG and Microsoft in particular – is facing a similar struggle. But unlike those companies, Tesla's revenues aren't growing from quarter-to-quarter.
Which, if anything, might make it the most terrifying stock to currently own, regardless of whether Musk can continue to hawk regulatory credits or not.