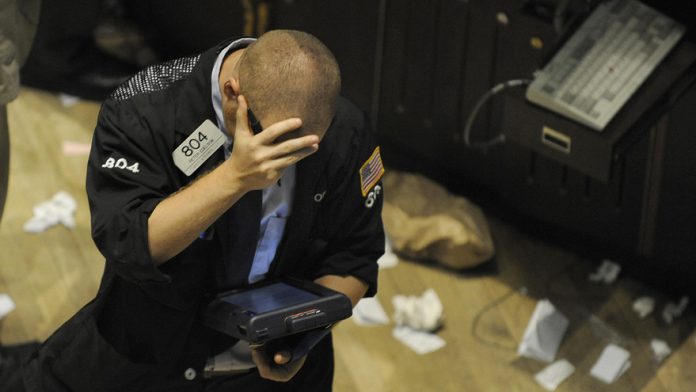 The market's plunging and second wave fears are here.
That's the story this morning as all three major indexes shed significant value. The Dow, S&P, and Nasdaq Composite are down 3.80%, 3.20%, and 2.45%, respectively, on the day.
And if bulls can't muster an afternoon rally, they're likely to close even lower.
Stocks boosted by speculators over the last few weeks are especially getting hammered. Norwegian Cruise Line (NYSE: NCLH) has already fallen over 12%. American Airlines (NASDAQ: AAL) is down 10%.
FAANG companies, meanwhile, are fighting to keep their shares above water. Only Amazon (NASDAQ: AMZN) and Netflix (NASDAQ: AMZN) are up this morning. The rest have posted moderate midday losses.
After several states – Texas, Arizona, and more recently, California – reported an uptick in coronavirus cases, it's no surprise to see the market recoil in horror. Investors have been nervously watching Covid-19 totals since the U.S. economy began to reopen.
Now, with coronavirus-related hospitalizations on the rise, a dip is forming in equities.
But according to Treasury Secretary Steven Mnuchin, another lockdown is out of the question.
"We can't shut down the economy again. I think we've learned that if you shut down the economy, you're going to create more damage," Mnuchin said.
"And not just economic damage, but there are other areas and we've talked about this: medical problems and everything else that get put on hold. I think it was very prudent what the president did, but I think we've learned a lot."
Critics of the nationwide shutdown have said that instead of switching off the economy, the government should have kept it open while encouraging social distancing guidelines. Americans may soon learn whether or not that strategy would have been effective if new Covid-19 cases continue to emerge.
Mnuchin also explained that if the economy needs more monetary aid, he's prepared to ask Congress for help, adding to the existing lending programs.
"We have the Fed program, we have Main Street, which is going to be now up and running, and we're prepared to go back to Congress for more money to support the American worker," Mnuchin said.
"So, we're going to get everybody back to work. That's my number one job working with the president and we're going to do that."
It's "all hands on deck" in Washington.
But even that might not be enough to prevent a major market meltdown, especially now that the CBOE Volatility Index (VIX) – the index we looked at yesterday – has officially crossed over into "sell territory."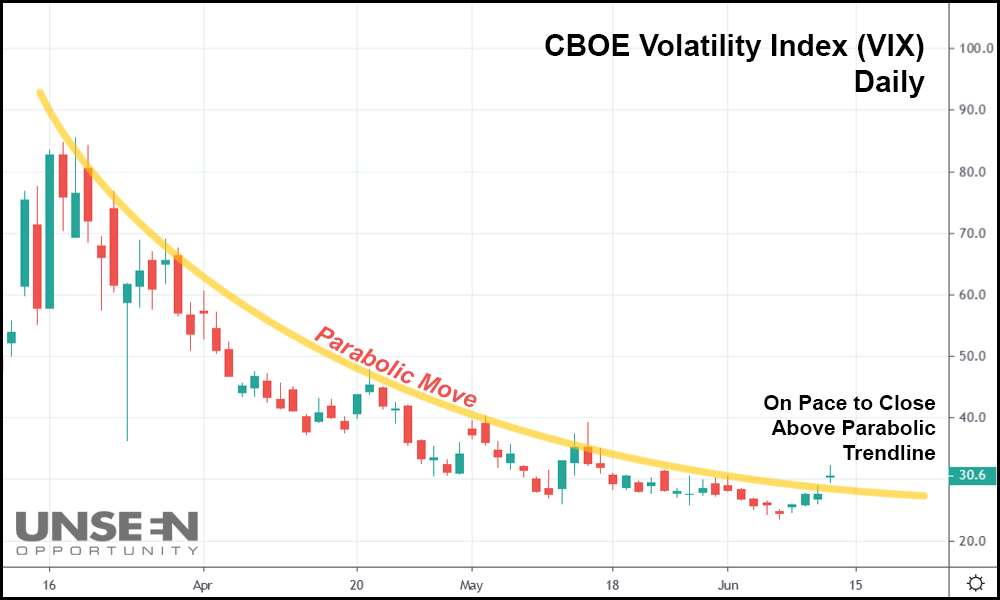 This morning, the VIX jumped above its parabolic trendline (in yellow) that's likely to foretell of the market's next collapse.
We said yesterday that if the VIX closed above that line, the odds of a broad sell-off were high. The index is certainly on pace to do so as of midday today.
Pending a surprise rally this afternoon, the VIX will easily cross the bearish threshold. Once it does, the index should continue rising over the next few days, if not weeks.
Plenty of bulls are seeing this morning's losses as yet another buying opportunity on the way back to new all-time highs. And while stocks absolutely look discounted relative to where they were on Monday, the truth is that the market could still fall further – as much as the VIX has room to climb.
Which, for short-term traders, will eventually provide a legitimate buying opportunity. Not the one that bulls are getting "trapped" in right now.
Once the VIX approaches its March highs, it could be "time to buy." Most likely after the U.S. economy gets its second wind and Covid-19 finally goes dormant.