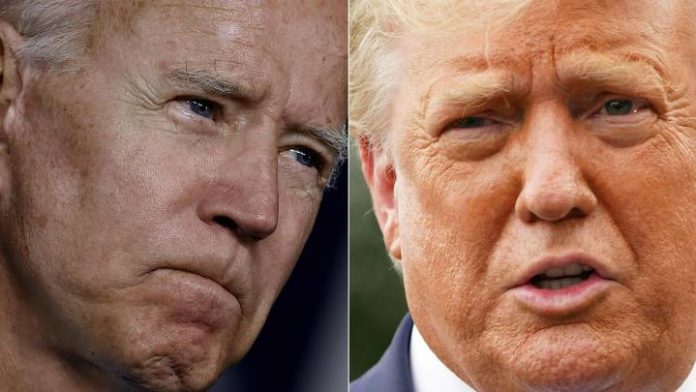 After opening higher, stocks have given up most of their gains in an indecisive morning trading session. Bulls are still hoping for more stimulus.
Bears, meanwhile, insist that a deal won't be done until well after the presidential election.
Those conflicting opinions have kept a lid on equities for the time being. House Speaker Nancy Pelosi encouraged investors yesterday when she hinted that stimulus talks had been going well.
And after the market closed, the FDA approved Gilead's (NASDAQ: GILD) coronavirus treatment option, remdesivir.
It wasn't enough to cause a surge at the open, but sentiment remains slightly positive as a result. Wall Street is expecting a "blue wave" in November via a Democratic sweep, too, which many analysts believe could cause stocks to pop.
But there are still plenty of pessimists out there who argue that a Democrat-controlled government would ultimately be bad for the market over time.
"I think that narrative around what will happen if we have that blue wave will be correct in the sense that next year you're going to get a massive fiscal stimulus, you're going to get a big boost to the economy. There's no doubt that Main Street under this program is going to benefit," explained legendary hedge fund manager Paul Tudor Jones in an interview.
"I think under a blue wave, and the Biden tax plan, financial assets over the long run suffer a great deal."
During last night's presidential debate, President Donald Trump and Joe Biden sparred on a number of topics already covered in the debate prior.
And though the subject matter was the same, the tone of the discussion was anything but. Trump presented a much calmer demeanor this time while landing a number of clean shots on Biden, who once again failed to provide platform specifics and even vowed to phase out the American oil industry – a declaration that had debate moderator Kristen Welker taken aback.
In a video call conducted by the L.A. Times with undecided voters, 9 out of the 13 polled said they'd vote for Trump following the debate. 1 said she would vote for Biden, while the other 3 remained either unsure or leaned toward a third-party candidate.
But after a short discussion, 12 of the 13 said they'd vote for Trump, including the 1 who was planning on voting for Biden originally.
And while the selection criteria used by the L.A. Times was in no way scientific, it provided at least some insight into the mind of the independent American voter. Those who watched the debate, looking to be swayed, saw a Trump victory.
That, coupled with Biden's anti-oil policy, could have a major effect in swing states like Pennsylvania or the increasingly "purple" Texas, where the oil industries are king and oil companies employ scores of willing voters.
Wall Street still thinks, however, that Biden & Co. have this thing "in the bag." But as many investors learned in 2016, nothing's guaranteed when it comes to presidential elections. Bulls shouldn't be buying purely on the hopes of a November 3rd blue wave.
Instead, the wiser decision would be to cautiously watch the election from a distance before making a major move. That's not what Wall Street's doing, but, believe it or not, they've been wrong before.
And if undecided voters continue to lean conservative, they'll be wrong again. Possibly in historic, 2016-like fashion.