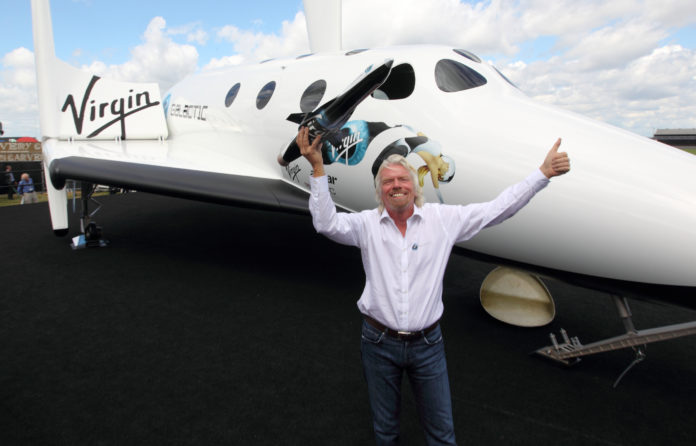 The riots continue and the economy remains stagnant. China, meanwhile, is slowly taking over Southeast Asia.
And still, the market rises.
Today's trading session was another odd one. Stocks opened flat, sunk by midday, and finished strong in the afternoon.
When all was said and done, the S&P gained 0.8% while the Dow climbed 1.1% higher. The Nasdaq Composite rose 0.6% after being down over 1% around noon.
Jeff Kilburg, CEO of KKM Financial, views today's surge as part of a "catch up" move by certain stocks.
"This is a healthy reversion as you're seeing some of the laggards come back in line," Kilburg said.
"If anything, this is going to help sustain a more bullish stance in the marketplace."
Unsurprisingly, Big Tech – the market leaders during the rally – appeared sluggish by comparison. Facebook (NASDAQ: FB), Apple (NASDAQ: AAPL), and Amazon (NASDAQ: AMZN) only gained 0.3% on the day. Amazon (NASDAQ: AMZN) eked out a small 0.1% bump in share price. Google-parent Alphabet (NASDAQ: GOOG) enjoyed a 0.5% boost, beating the other FAANG stocks.
It seems that the market's now ready for a full economic recovery by way of the state-by-state reopenings. The "stay-at-home" stocks struggled today as a result.
"[The rally] is a head-scratcher for many," said Michael Arone, State Street Global Advisors chief investment strategist.
"Investors are looking beyond the current environment and they're looking at the fact that policymakers have put forward a firm commitment to do what it takes […] and they're expecting a recovery."
If that recovery doesn't arrive soon, the bullish façade could quickly fade, culminating in a massive retracement of the market's recent gains.
Making matters worse is the civil unrest in major American cities, where large groups of protestors, police, and looters are congregating in public, stoking fears of a second wave of COVID-19.
"We're talking about reopening in one week in New York City, and now we're seeing these mass gatherings over the past several nights that could in fact exacerbate the COVID-19 spread," said New York Governor Andrew Cuomo in a press conference on Monday.
And though most investors had their gaze fixed on value stocks today, they also should have been watching another kind of stock entirely:
Virgin Galactic Holdings (NYSE: SPCE).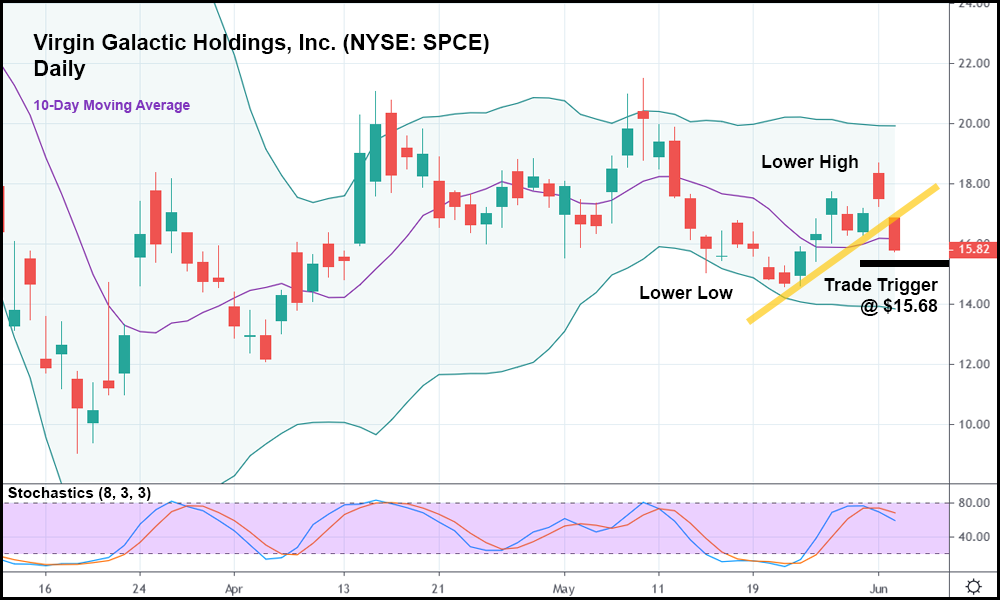 SpaceX, with the help of NASA, put two American astronauts on the International Space Station – a historic first. Virgin Galactic Holdings, while not SpaceX (which isn't publicly traded), saw a spike in price on Monday following the successful launch.
At its high point for the day, SPCE was up as much as 10%.
Then, share prices fell, bringing SPCE's gain to a more pedestrian 2.82%.
And today, SPCE fell below the 10-day moving average along with its minor bullish trend (represented with the yellow trendline). Add to that the setting of a lower high and a lower low, and you've got a stock that's begging to be shorted.
For those reasons, it might make sense to take SPCE short with a trade trigger of $15.68. Thankfully, SPCE seems mostly uncorrelated with the general market. That means that no matter what happens from here, SPCE will most likely move in isolation, allowing short-term traders to grab some quick gains while the market wrestles with several "hot button" issues.