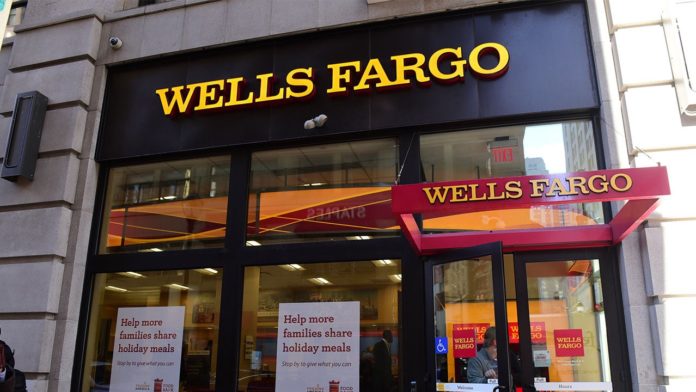 After rising to start the morning, the market closed flat in a see-saw trading session. Bulls appeared exhausted following a surprise July jobs "beat," which is the kind of thing that would normally send equities soaring.
Today's response to the data was an exception.
According to the Labor Department, the U.S. economy gained 1.763 million jobs last month. Dow-polled economists expected an addition of only 1.4 million by comparison.
It's a big deal for analysts watching the labor market, but overall, there's more work to be done. The U.S. is still down 12 million jobs from its peak in February of this year. And, based on what the Labor Department reported from June to July, it's clear that monthly payroll gains have slowed.
That's got investors scratching their heads. Where's the "V-shaped" recovery everyone was hoping for?
Apparently, it's become more of a "swoosh."
Making matters worse today were actions against a duo of Chinese apps – TikTok and WeChat – that now permeate American culture. President Trump signed an executive order banning the apps on Thursday night in an attempt to limit China's siphoning of U.S. data. Then, shortly before noon today, the U.S. sanctioned Hong Kong leader Carrie Lam.
Bulls can see that U.S.-China tensions are beginning to boil over once again. A few investors pulled their "emergency chutes" in response.
More should follow if China retaliates over the weekend.
The icing on the bearish cake, though, was Congress' inability to agree on an unemployment aid package for workers left jobless by the pandemic. Both sides of the aisle believed they could have a deal done sometime this week.
That never happened.
Now, Trump is expected to step-in while lawmakers figure out how to play nice.
"I'm extremely disappointed that we came up here today just to hear the same thing repeated over and over again, which is the same thing we've heard repeated for the last two weeks," White House chief of staff Mark Meadows said.
He continued, adding that the administration would "take executive orders to try to alleviate some of the pain that people are experiencing."
Speaking of government money, several Wall Street firms now believe an additional round of stimulus is needed to prevent an economic collapse. Moreover, that it would have to be a "doozy" of a cash injection, rivaling the one provided in March.
"In order for stocks to move higher, we do need a fiscal policy package in the $1.5 trillion range," Michael Arone, chief investment strategist at State Street Global Advisors, said, echoing his peers.
"Without that, the economy is likely to retrace. This recovery will stall without one."
The signs of weakness are certainly there. Still, though, from a purely technical (and momentum-driven) standpoint, some sectors favor the bulls.
Case in point, Wells Fargo & Company (NYSE: WFC) never quite recovered from the coronavirus crash. In fact, the stock is actually trading below its March lows.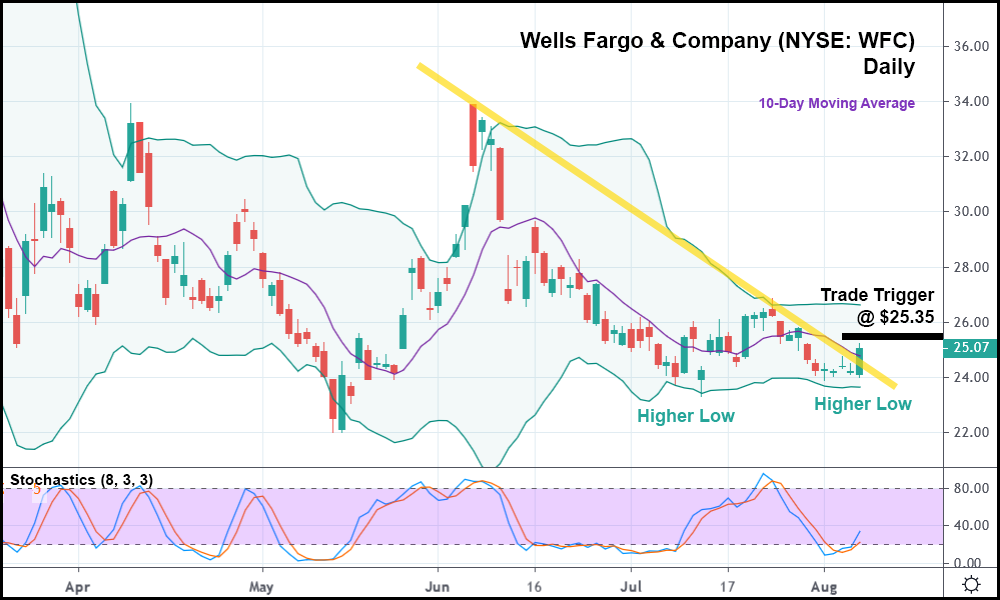 While several other industries and sectors have gone on veritable "moonshots," banks have amazingly languished near their 2020 lows.
WFC perhaps has it the worst out of all the major banks in that regard.
And while that would normally be an undesirable quality for a bullish trade, in this case, it makes the stock that much more attractive. It almost seems impossible that WFC could fall any further, and based on its recent pair of higher lows, that appears to be the case.
The stock broke out above its bearish trend (represented by the yellow trendline) today along with the 10-day moving average. For the reasons listed above, it might make sense to take WFC long with a trade trigger of $25.35 provided it trades above today's high.
Best of all, the market doesn't necessarily need to rise for WFC to jump higher. It's already a "mega-laggard," and more importantly, it hasn't followed the general market.
When tech sells-off, the money will have to go somewhere. My guess is that some will work its way into stocks like WFC, which are absolute bargains relative to the current market leaders.