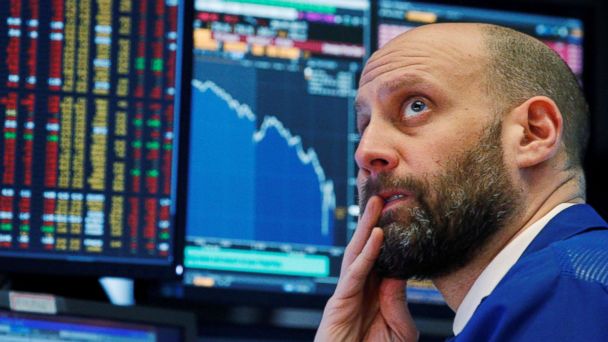 Amazon (NASDAQ: AMZN) shares are sinking, the indexes are plunging, and investors look ready to cash out after weeks of gains.
In other words, the post-coronavirus crash rally could finally be over.
Or, at the very least, "on pause."
The Dow is down 1.6% as of midday while both the S&P and Nasdaq Composite linger at a 2% loss. And though Amazon may be leading the market lower, nearly every other stock has fallen as well.
It was a combination of factors that skewered equities this morning – all of which threaten to shift sentiment negative.
Tempers are flaring again between the U.S. and China in response to rumors that COVID-19 originated in a Chinese lab. White House economic advisor Larry Kudlow said that would be "held accountable for it" in an interview with CNBC.
What that specifically meant was not clarified. Kudlow did say, however, that "future tariff decisions [will] be up to the president."
To bulls, that's a scary proposition. More tariffs during a time of economic gridlock are unlikely to make Wall Street happy, save for bearish strategists who loaded up on short positions.
Making matters worse was the poorly received Amazon earning's guidance from Thursday afternoon. Company leadership advised that all of Amazon's quarterly profits would be used to pay coronavirus-related costs (approximately $4 billion).
Amazon had a huge quarter in terms of raw revenue, raking in $75.5 billion, but even that wasn't enough to stave off the effects of COVID-19. Investors now expect a similar outlook for America's top stocks moving forward.
But most of all, weighing on equities this morning was the mere presence of the historic April rally.
Analyst and founder of the Sevens Report, Tom Essaye, observed as much in a recent commentary on the state of the market.
"A historically strong April in markets ended on a down note as more soft economic data offset fading optimism for coronavirus treatments while earnings were mixed," Essaye wrote.
"[Stocks] are sharply lower mostly on continuation from yesterday's selling as markets digest the recent rally, although AAPL & AMZN earnings were mildly disappointing."
In fact, it could be argued that the market has approached another critical moment – one that could determine if the rally continues or collapses.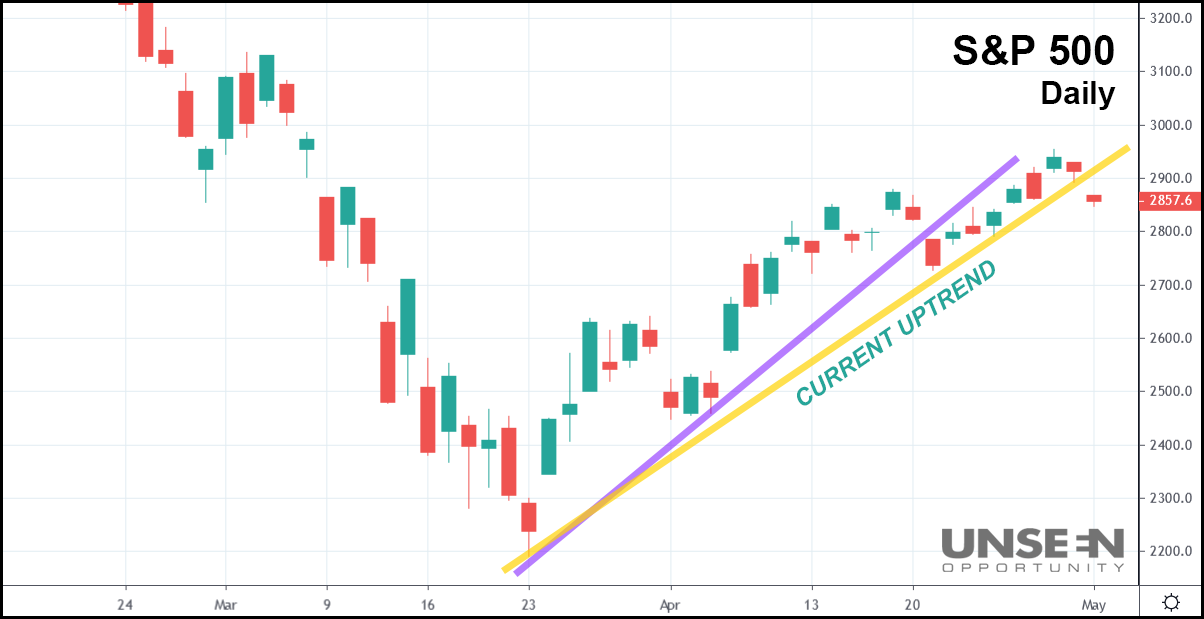 Today, the S&P 500 fell below its rally uptrend (represented by the yellow trendline). A few weeks ago, the index did the same thing on April 21st when it fell below its prior uptrend trajectory (represented by the purple trendline).
When the S&P dropped, it got dangerously close to kicking off a correction. Had the index fallen again on the 22nd, an end to the rally would've been confirmed.
Instead, the S&P shot back upwards, culminating in a new April high.
Today's situation is almost exactly the same. There have been three "white knuckle" sell-offs, now; the most recent being this morning's. The last two times the market dropped below its uptrend, it ended up rallying.
The current predicament could result in the same conclusion; another rally continuation starting on Monday.
But if the market closes lower on Monday, it could very well be a signal that the rally's finished. Don't be surprised to see bulls exit in droves if that happens.
Either way, though, one thing's for certain:
Stocks are up considerably since bottoming on March 23rd. Even if a correction's coming, traders still had a golden opportunity to grab some truly impressive gains. A re-testing of that low will provide them with a chance to produce a repeat performance.
Potentially just as fast and with equally dizzying returns.