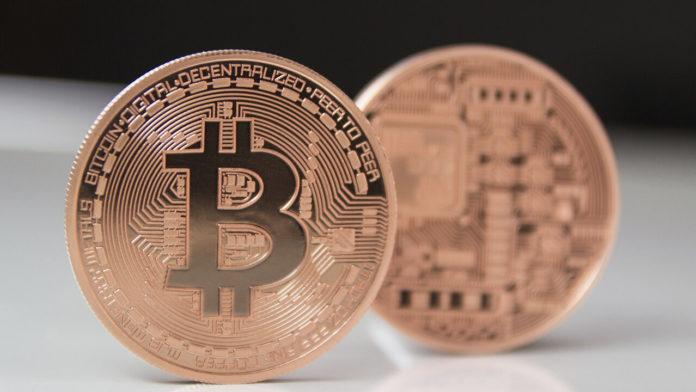 Stocks are cold and crypto's hot now that the market's several days removed from GameStop's short squeeze.
And, with little happening on the equities front, investors have turned to digital currencies. Bitcoin's rising as a result.
But the biggest winner of the day wasn't crypto's top coin. Instead, Ethereum's stole the spotlight after hitting a new all-time high this morning.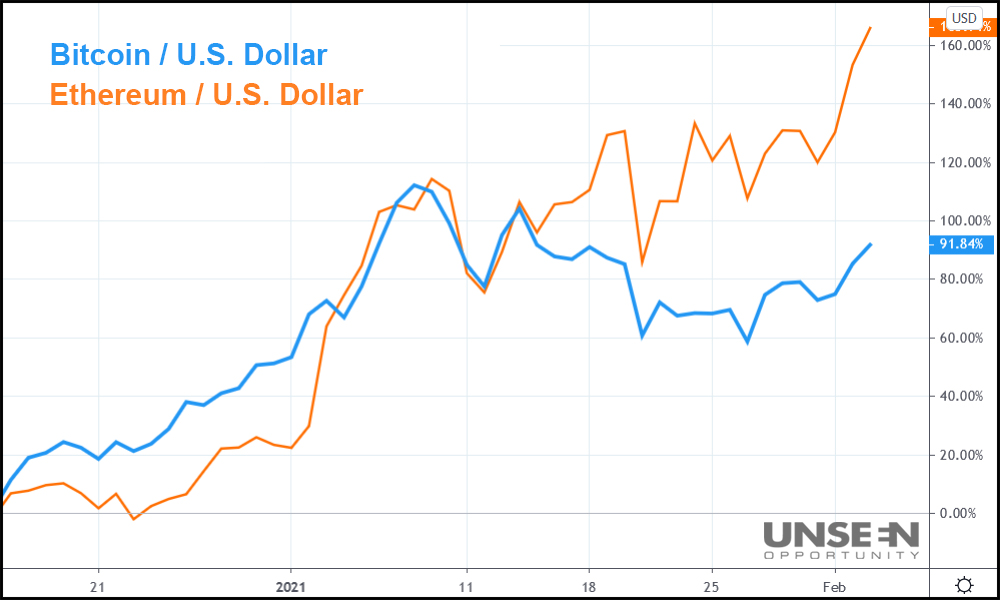 Bitcoin was without a doubt the top crypto story of 2020. This year, however, Ethereum's done markedly better.
It's come as a bit of a shock to some, especially JPMorgan Chase & Co. strategist Nikolaos Panigirtzoglou, who thought the listing of Ether futures – due out next week with the CME – could create "negative price dynamics."
Those close to the digital currency industry are less surprised, however. Vijay Aayyar, head of business development with crypto exchange Luno, said the addition of futures should only bolster Ethereum's position.
"For all you know, major players may be looking to get long exposure through futures, now that there is an institutional-grade product to do so," he explained.
Want more FREE research and analysis on the best "unseen opportunities" in the markets?
"Smart traders moved to Ether when Bitcoin topped out around $40,000 and have made more money."
Meanwhile, Scott Minerd, chief investment officer of Guggenheim Partners, cautioned investors not to forget about Bitcoin during the Ethereum rally.
In an interview with CNN's Julia Chatterley yesterday, he revised his already lofty Bitcoin price target.
"If you consider the supply of Bitcoin relative […] to the supply of gold in the world, and what the total value of gold is, if Bitcoin were to go to those kinds of numbers, you'd be talking about $400,000 to $600,000 per Bitcoin."
Minerd then went on to say that Bitcoin's $20,000 to $40,000 surge in late 2020 "smacks of short-term speculation." He continued, adding that Bitcoin is likely overpriced at the moment due to a lack of widespread institutional participation.
From Minerd's point of view, Bitcoin's due for a short-term correction before resuming a longer-term bull run.
"We are at the foothills of a long upward trend in its institutionalization," he concluded.
It's something we've touched on before; the idea that large institutions, while intrigued, haven't completely committed. Sure, payment processors (like Square and Paypal) are getting on board, but Wall Street has yet to truly take part.
The problem isn't a lack of demand, either. Banks simply can't buy Bitcoin (or Ethereum) outright for regulatory reasons. JPMorgan, for example, doesn't own any.
Heavily regulated institutions can only participate in Bitcoin's price action by buying shares of Grayscale Bitcoin Trust (NYSE: GBTC), an open-ended grantor trust that behaves like an ETF. And because the SEC has yet to greenlight an actual Bitcoin ETF, it's the only option available for Wall Street.
Bitcoin is presently trading for around $37,000 with a total market cap of roughly $685 billion. GBTC's market cap is just $25.18 billion, or 3.67% of Bitcoin's, by comparison. Even if 100% of GBTC was owned by Wall Street, that'd still put the institutional exposure to Bitcoin at a very low level in the grand scheme of things.
So, as much as crypto investors would've loved for Wall Street to start buying Bitcoin, it hasn't happened. The reason being that there just aren't enough assets available for institutions to go long (or short) on Bitcoin.
The same goes for Ethereum. However, that too will change with time. A few weeks ago, we noted that a $240,000 Bitcoin could happen by year's end after applying Bitcoin's 2020 surge to a logarithmic scale.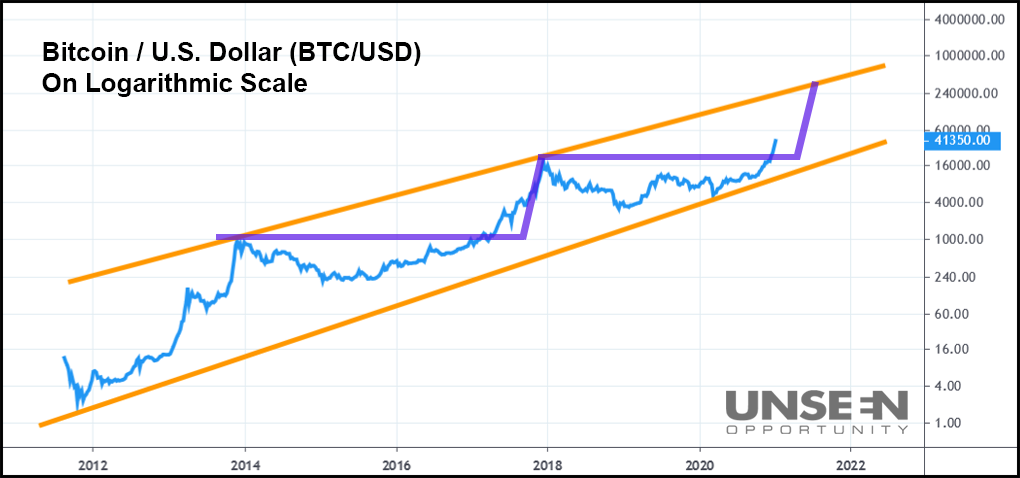 If institutions are finally allowed to get on board, a $240,000 Bitcoin – while initially shocking – doesn't seem overly unreasonable in the long run. Moreover, we could see one as early as this year.
That's not a guarantee, mind you, but it should give investors a better sense of Bitcoin's true "punching power." With fiat currencies in crisis the world over, there's never been a better macroeconomic backdrop for a continued crypto rally.
Which, today, has re-emerged in the form of a new Ethereum all-time high while stocks struggle to break free from "short squeeze mania."