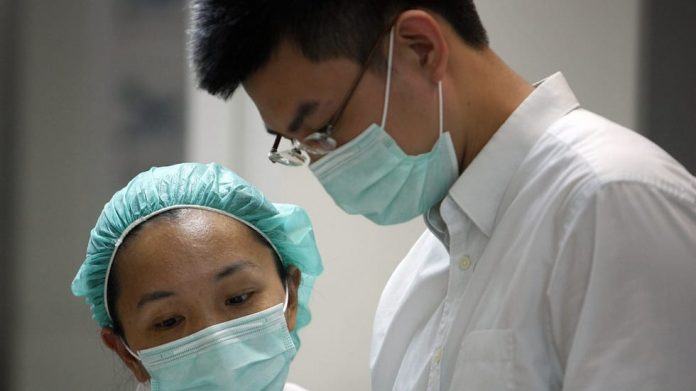 The Wuhan coronavirus is picking up steam.
In response, stocks are falling. The S&P, Dow, and Nasdaq composite are down 1.45%, 1.50%, and 2.3%, respectively.
Almost 2,800 cases have now been confirmed in China. 80 people have died.
Meanwhile, China's doing its darndest to keep the virus contained. As it stands, the city of Wuhan has effectively been quarantined. Every route in and out of the city is either closed or regulated by Chinese officials.
But that hasn't stopped the virus from spreading. Carriers of Wuhan can't tell if they're infected during the virus' incubation period. More importantly, they could be contagious before showing any symptoms according to a statement from China's health minister, Ma Xiaowei.
Some experts are skeptical of Ma's claims, however, like Michael Osterholm, director of the Center for Infectious Disease Research and Policy at the University of Minnesota.
"I seriously doubt that the Chinese public officials have any data supporting this statement," he said.
"I know of no evidence in 17 years of working with coronaviruses – SARS and MERS – where anyone has been found to be infectious during their incubation period."
On the other hand, Dr. Paul Offit, a longtime advisor for the Centers for Disease Control and Prevention, wouldn't be surprised if Ma's assumption was correct. Chickenpox, rubella, mumps, and measles all spread in a similar manner.
For that reason, he believes an aggressive "counter-attack" against Wuhan would be prudent. In particular, Offit says the U.S. needs to ramp up its detection efforts.
"I think the conservative thing to do would be to cast a wider net," he said.
Offit continued, adding:
"My gut says we're going to be able to contain this real quick – we're going to be able to put a moat around this fire. I think this is going to be much more like SARS or MERS than the movie Contagion."
Thus far, little has stopped the Wuhan coronavirus. Modeling studies done by Neil Ferguson, an Imperial College London professor of infectious diseases and epidemiology, show that as many as 100,000 could already be infected. If the model proves accurate, the SARS outbreak of 8,000 would be minuscule by comparison.
If the outbreak reaches even half that level, equities are likely to get absolutely crunched.
CNBC Squawk Box and Mad Money host Jim Cramer believes that while a correction is coming, it won't develop into a full-blown crash.
"This is the panic people have been waiting for," he said this morning, acknowledging that bulls were looking for a reason to sell after weeks of consistent gains.
But Cramer also warned investors that this might not be a buying opportunity quite yet.
"We've been saying over and over if we get an exogenous event that's when you get the sell-off, that's when you have to buy," he said.
"I think it's only timing when you have to buy. […] Give it a little break."
Cramer's expecting a "second leg" of sell-offs to develop once the World Health Organization (WHO) declares the Wuhan coronavirus a global health emergency.
Thus far, the WHO's remained quiet, possibly to prevent widespread panic from setting in. But if the coronavirus continues to spread, the group will eventually have to act. When that happens, don't be shocked to see stocks plummet.
Instead, get ready for a market revival after the virus is defeated. The Wuhan coronavirus is by no means the "end of the world."
Eventually, investors will stop treating it like it is. When that happens, it's time to buy. But for now, equities could still have some selling to do.