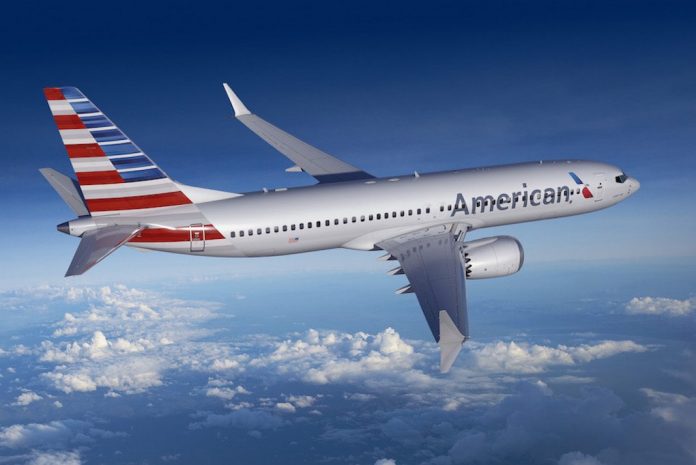 Another surge. Another set of all-time highs.
Another day of trading commanded by Apple (NASDAQ: AAPL), which continues to be the market's top stock.
It was a trading session that saw the Dow (+1.40%), S&P (+1.00%), and Nasdaq Composite (+0.60%) all get in on the action, with the latter two setting price records.
And in addition to Apple, the rest of the "FAANG gang" rose, too, alongside several reopening-sensitive companies like airlines and cruise ship carriers.
Helping sentiment today was a decline in new Covid-19 cases. Johns Hopkins University reported that only 37,000 new U.S. infections were confirmed Sunday, well below August's peak of 64,000, measured earlier in the month.
Fundstrat's Tom Lee, the man who famously predicted a $20,000 Bitcoin in 2017, sees plenty of upside in the market due to the shifting infection trend.
"I think something interesting may evolve in the weeks and months ahead. I think it is entirely possible that USA COVID-19 cases crash to sub-10,000 in September," he said in a note.
"The US is soon becoming one of the safest places in the World. And if this is true, capital will also want to seek the US."
If that happens, stocks would undoubtedly rise. But the question is whether or not those gains would only show up in the market's top offerings, or via a broader rally. Equities have undergone a severe "narrowing" as Big Tech exploded in August. AAPL now commands $2.2 trillion in market cap, and some analysts are even giving it a higher ($600) price target.
The resulting imbalance has some investors worried that the market could be vulnerable to volatility.
"The S&P 500 and the NASDAQ hit new record highs last week but more stocks were down than up. Typically, the opposite should be true," wrote Bruce Bittles, chief investment strategist at Baird, in a note.
"In a healthy rising market, the majority of stocks, groups and sectors should be rising along with the averages. On Friday, deteriorating market breadth was exhibited by roughly 200 stocks in the S&P 500 that were up and almost 300 were down."
A large number of stocks, despite rising in June, haven't really enjoyed any July or August gains. As of this afternoon, though, they could be eyeing a true resurgence. One, in particular, has "buy" written all over it as a result.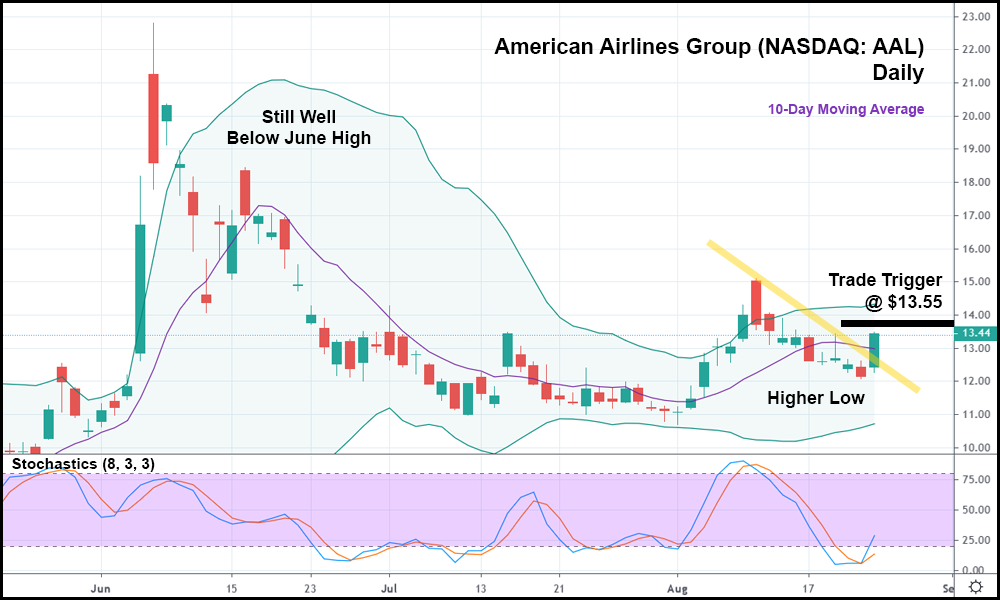 American Airlines (NASDAQ: AAL) was the "poster child" for the post-crash buying frenzy. Its shares exploded for a massive gain of 130%+ from late May-early June, and then sold-off almost as quickly.
After spending months chopping sideways, AAL made another run higher in early August, only to sell-off again.
Today, though, AAL may have finally achieved "escape velocity." The stock broke out above its minor bearish trend (represented by the yellow trendline) and the 10-day moving average. It even set a higher low (a bullish indicator) as well, which will provide support so long as AAL doesn't break past that low.
For those reasons, should AAL trade above today's high, it might make sense to take the stock long with a trade trigger of $13.55. From there, resistance lingers at $15.00.
A move above $15 could signal the next AAL "eruption," possibly back toward the June high.
And even if the general market doesn't rise, AAL still could. It significantly outpaced every other stock (save for cruise ship carriers and other airlines) back in early June.
So, although lightning usually doesn't strike twice, it certainly looks likely to happen with AAL over the next few weeks. Especially considering the current "boom and bust" nature of equities.