Stocks erupted higher today as yields plunged. The Dow, S&P, and Nasdaq Composite all advanced, screaming into the black with force. The 10-year Treasury yield sunk below 4.00%, lifting major pressure off of markets.
Atlanta Fed President Rafael Bostic was responsible for today's yield collapse, which occurred in response to comments Bostic made on rates yesterday afternoon.
"I am still very much of a mindset that slow and steady is going to be the appropriate course of action," Bostic said.
"Right now I'm still very firmly in favor of the quarter-point move pacing."
The odds for a 50 basis point rate hike at the Fed's next meeting plummeted immediately. Yields slumped, allowing stocks to rally into the close. The sudden bullish swing continued this morning.
But it wasn't just Bostic's remarks that kept the good times rolling; a scathing note from Bank of America (revealed before the market opened) suggested that the recent run of stronger-than-expected economic data is about to come to an abrupt end.
Bank of America analysts said that, due to how strong January's numbers were, February's reports could show a severe contraction.
"Some consumers might have made big-ticket purchases or dined out to 'celebrate' the increase in their income. Post-holiday clearance sales and unseasonably warm weather in January would have further incentivized such activity. Indeed, spending on durable goods, clothing, and restaurants & bars was particularly strong in January," wrote Bank of America analysts.
In response, economist Aditya Bhave argued that "the acceleration in consumer spending might have been more short-lived than we were expecting."
The bank observed that card spending from Bank of America customers decreased dramatically in February. Year-over-year, consumer spending had dropped 1.3% as of the week ending February 25th. With automobiles excluded, spending fell 0.6% year-over-year, which almost touched a post-Covid low.
Bank of America also believes the next jobs report will be significantly weaker than January's, which was the result of a record-setting seasonal adjustment.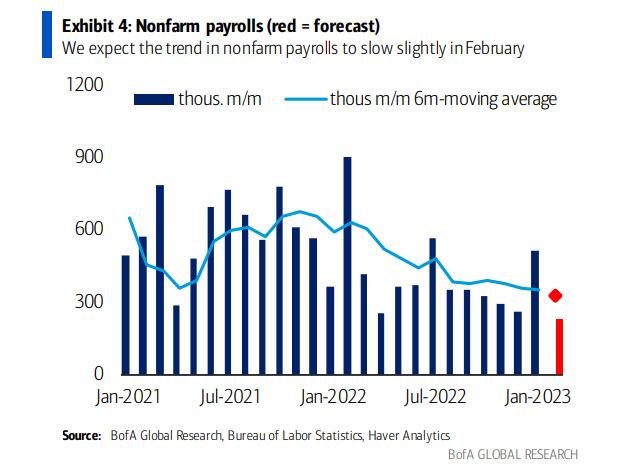 Coupled with Bostic's remarks, this could fuel the next major short-term rally. The next jobs report comes out on March 10th. Do not be surprised if the market turns a corner shortly before then.