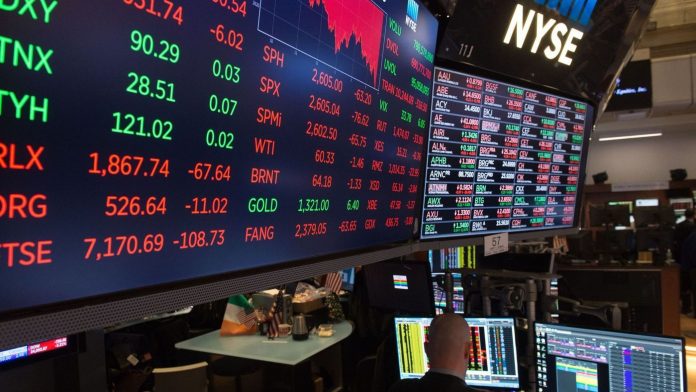 Last Tuesday, billionaire investor and ex-hedge fund manager Mike Novogratz spoke about the future of cryptocurrency at the Bloomberg Invest New York Summit.
Novogratz, or as I like to call him – Mike "No Regrets" Novogratz, had a bunch of great stuff to say about the industry and how institutional money entering the market could have a profound effect.
He talked about how the decentralization of other industries via blockchain startups will change our lives in just a matter of years – and how they will allow investors to become speculators in those startups through their associated tokens.
Specifically, he mentioned Uber and how a decentralized ride service (hypothetically dubbed "dUber"), will pose a threat to the transportation giant after it inevitably goes public.
The most notable statement he made, though, was in regard to how the creation of crypto indexes will eventually lead to the birth of a new asset class:
"Bloomberg got over the fear of being in the crypto space….
…we're seeing institutions make a move. Having this index [the Bloomberg Crypto Index] is important.
This index, maybe we're six months early, maybe we're two years early – but crypto will be an asset class. Institutions will move into it. Custody is coming.
I'm speaking to four or five major traditional custody players [institutions] that are all working on figuring out how they're going to get involved.
There's been enough money made and enough research done – enough people moving into this industry that every institution (will join them).
There's been one surprise to me in the last eight months, it's when I go to the NYSE, Deutsche Bank, Goldman Sachs… their senior people know so much more about crypto than I thought they would.
They are doing their work, and they are getting ready to pull the trigger."
Back in 1962, the S&P 500 Stock Composite index was created. Since then, it's safe to say that it has performed pretty darn well: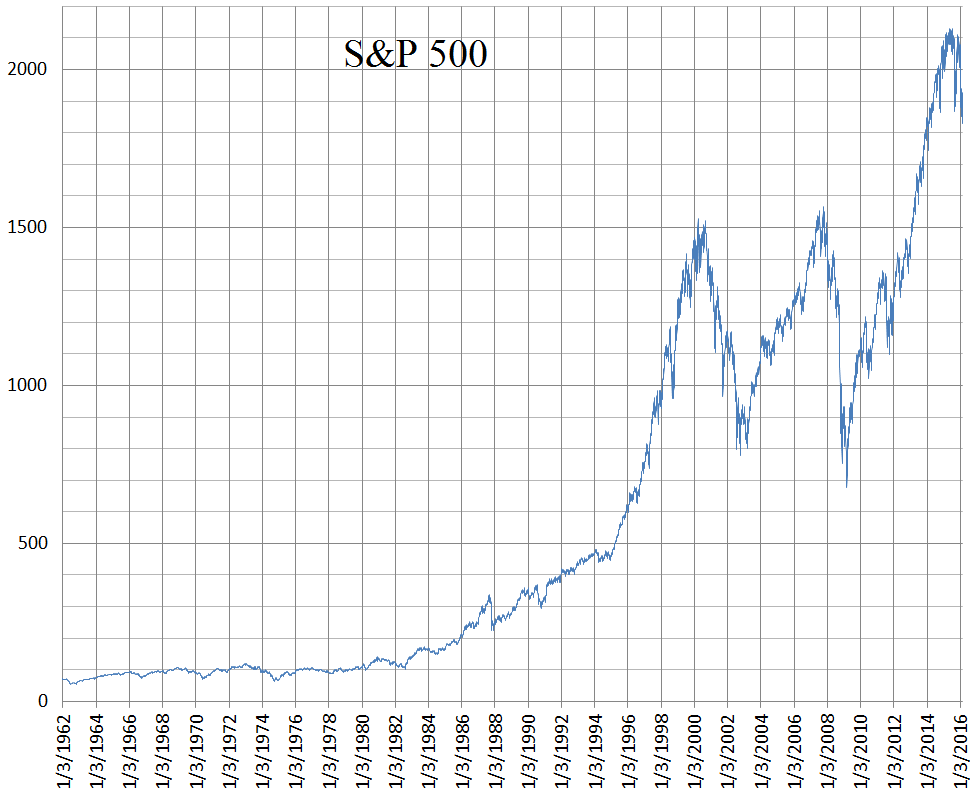 Very impressive – but there's actually another index that makes a much better apples-to-apples comparison with crypto.
Back in 1992, Goldman Sachs launched the infamous Goldman Sachs Commodities Index (GSCI). Up until '92, investors speculated in commodities just like they speculate in crypto today – but not a single institution had bought commodities yet.
Senior leadership at Goldman Sachs saw an opportunity and began explaining to the institutions that commodities needed to be a part of their portfolio – citing statistics, research, and how profitable they were for early investors.
The institutions listened, and a new asset class was born. All because Goldman Sachs decided that commodities were important enough to warrant an index.
Let's take a look at commodity prices since the creation of the GSCI in 1992, up until 2008 before the Global Financial Crisis: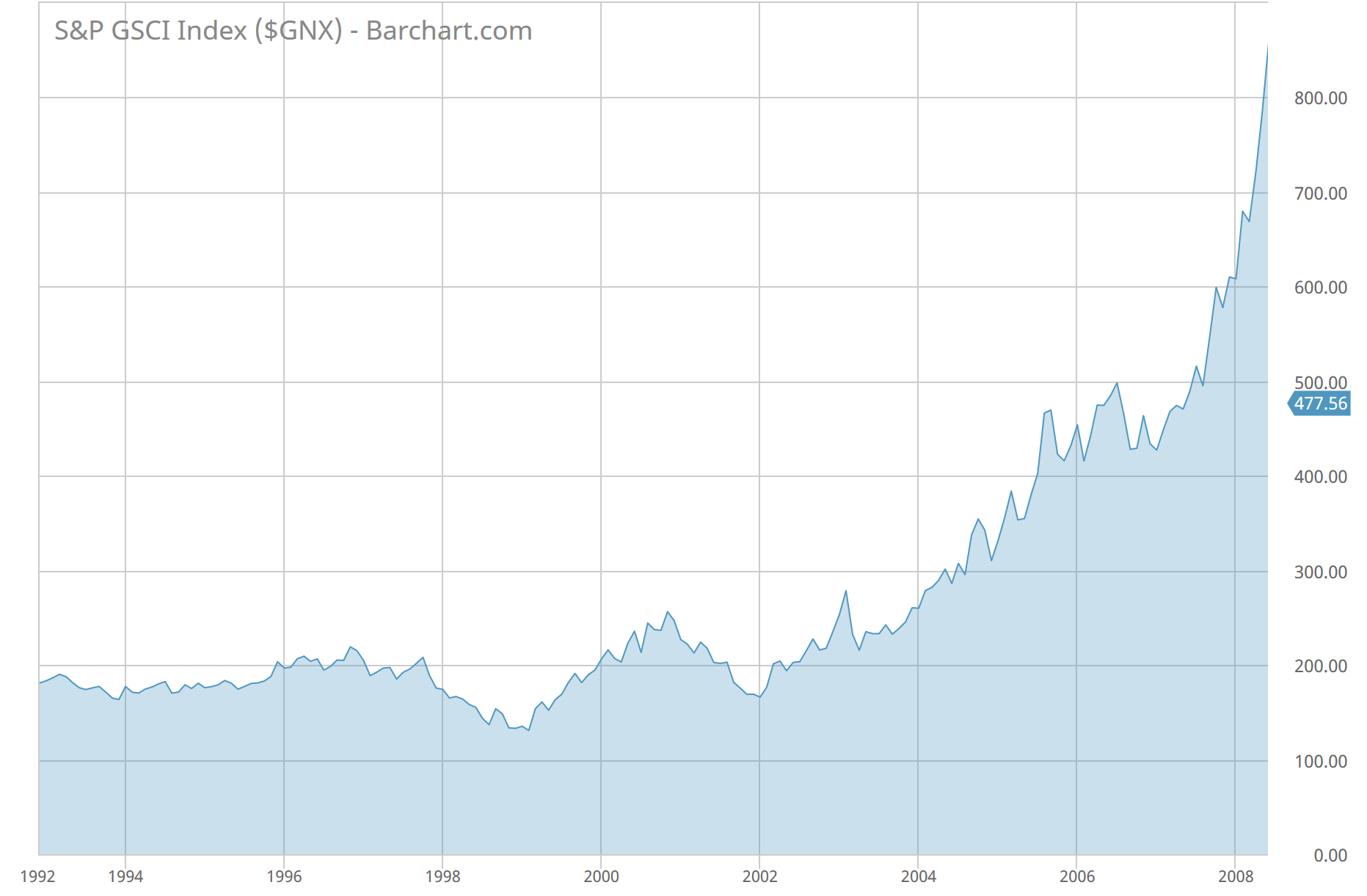 As you can see, there were plenty of happy commodity investors in the years following the creation of the index.
Now in those last two charts you saw, you may have noticed that it took awhile for each market to truly "take off".
You may even think that crypto will have to go through the same process, and it could even be a decade before we truly see meteoric gains.
Unlike commodities and common stock, though, cryptocurrency moves at a much faster pace. Due to the removal of financial, functional, and educational barriers – anyone and everyone can participate.
If you read my last e-mail, you saw that I pulled up these two charts comparing the Bitcoin rally of late 2017 to the "Dot-Com Bubble" of the late '90s:


Both charts look nearly identical, but I don't want you to just focus on price movement. Eventually, the stock market recovered after the "Dot-Com Bubble" burst – and just like with commodities and common stock, it took years for a rally to occur. You can see that it took many months to eventually bottom out, as each candlestick represents one month on the Nasdaq chart.
The Bitcoin/USD chart, however, has each candlestick representing only one week.
Crypto moves rapidly in comparison to every other market – and it is going to get exponentially faster over the remainder of 2018.
In fact, it's going to hit light-speed when Mike Novogratz's institutional buddies start pouring money into the market later this year.
Because according to Novogratz, once we start seeing that institutional cash…
"I wouldn't be surprised to see the crypto market reach a valuation of around $20 trillion."
$20 trillion is a huge number, especially considering that the current market capitalization of all crypto is only valued at $345 billion. Imagine what your portfolio would look like a few years down the road, if you had bought in now before the "big money" hits the market.
While this is all good news, and the creation of the Bloomberg Crypto Index is extremely encouraging of things to come – I absolutely need to warn you about something:
The window of opportunity to "get in" before everyone else is closing rapidly.
So, you should really consider taking a serious look at crypto right now, because it won't be long before the institutions "pull the trigger" on Bitcoin (and the rest of the market), launching it into orbit.
Because if you don't, you'll have missed out on the birth of what will be the next major asset class and a true financial revolution.