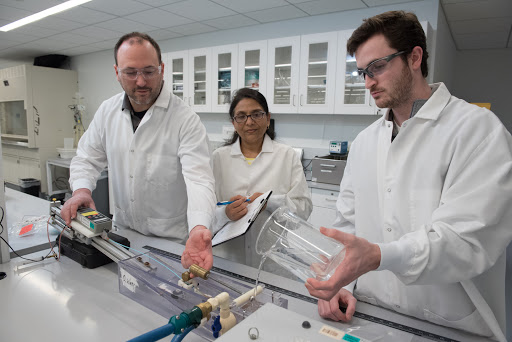 Finally, after several strange trading sessions, the market managed to open at a gain this morning and closed higher by the afternoon. It's the first green candlestick for the S&P 500 since Monday and a potential signal that the rally will continue.
Or, it's the last bullish gasp before a correction.
Stocks could easily go either way with several business reopenings set to take place next week.
One of the first to do so is Apple (NASDAQ: AAPL), which has already started serving customers in select locations in South Korea, Australia, and Germany.
"We're excited to begin reopening stores in the US next week, starting with some stores in Idaho, South Carolina, Alabama, and Alaska," said an Apple rep in a prepared statement.
"Our team is constantly monitoring local health data and government guidance, and as soon as we can safely open our stores, we will."
In those states, Apple only maintains six locations. The company has 271 stores total in the U.S. by comparison.
So, while they might not boost Apple's bottom line substantially, the reopenings are still a symbolic victory. Using temperature checks, social distancing techniques, and face coverings, Apple is confident that its stores will be safe for both customers and employees alike.
Want more FREE research and analysis on the best "unseen opportunities" in the markets?
"Our new social distance protocol allows for a limited number of visitors in the store at one time so there may be a delay for walk-in customers. We recommend, where possible, customers buy online for contactless delivery or in-store pick up," the iPhone manufacturer said.
It's enough to get investors excited about other companies following suit. April's jobs report, which logged a 20.5 million payroll loss last month, did little to dissuade bulls this morning from buying.
If the economy's going to reopen soon, why worry about last month's unemployment claims?
To JJ Kinahan, chief market strategist at TD Ameritrade, some caution may still be warranted.
"There's this sense of, 'OK, we're going to get back to work and things are going to be better.' But at what pace are they going to get better, and will that be sustainable?" asked Kinahan.
If stocks are going to "do this thing" and continue rising, that means short-term traders need to get ready to go long.
And fast.
Thankfully, plenty of stocks seem poised to surge. One which, however, could be a "top performer" as early as next week.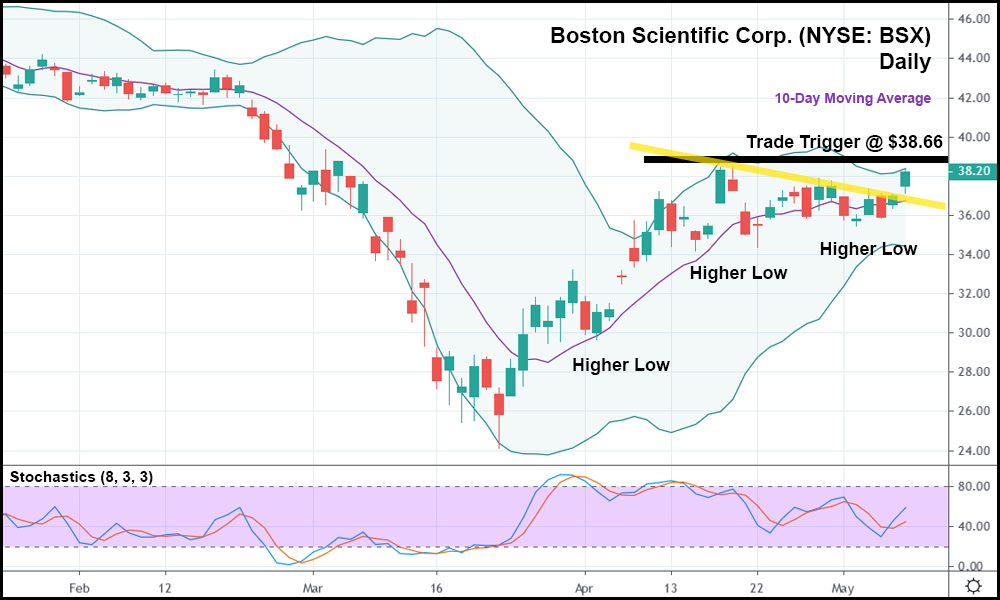 Boston Scientific Corp. (NYSE: BSX) has already had a great post-crash run. The stock peaked in April and has since sold-off slightly, but now, it is approaching another major breakout.
BSX soared today, surpassing its minor bearish trend (represented by the yellow trendline) and the 10-day moving average. Three higher lows have been set as well, suggesting that BSX retains significant upward momentum.
Should BSX rise above today's high, it might make sense to go long on the stock with a trade trigger of $38.66.
Anything could happen next week with COVID-19 and the U.S. economy. We're just one headline (good or bad) away from the next shift in sentiment.
If it shifts bullish, BSX could provide short-term traders a way to grab some rapid-fire gains.