Stocks climbed this morning as bearish fears subsided slightly to cap off a rough week for bulls. Overall, though, the mood on Wall Street remains highly pessimistic.
"This week was brutal. […] Let me tell you, we're in a recession," warned Wharton Business School professor Jeremy Siegel in an interview last night.
"It's a mild recession. It's not an official recession by the NBER, certainly not yet, but this first half is negative GDP growth, and it's ending on a slide."
Siegel's comments, while accurate, don't jive with Fed Chairman Jerome Powell's post-FOMC remarks.
After announcing a 75 basis point rate hike on Wednesday, Powell said that the US economy is still "very strong" despite soaring inflation and that the Fed is "not trying to induce a recession." Nor did he even suggest that a recession has already arrived.
But just one day after Powell's address, the Atlanta Fed issued guidance projecting that the US is, in fact, currently in a recession. The bank revised its Q2 GDP growth estimate downward to +0.0% while dropping Q3 and Q4's estimates into negative territory, forecasting an economic contraction.
Stocks plummeted yesterday in response while inflation hedges (like commodities, gold, etc.) soared. It's clear that investors have lost faith in the Fed's ability to beat back inflation. America's top CEOs seem to be feeling that way, too.
JPMorgan CEO Jamie Dimon and Tesla CEO Elon Musk have both voiced their displeasure with the Fed's current stance. A recent Conference Board survey also showed that CEO confidence is tumbling. It hit a post-pandemic low this week after dropping for the fourth straight time.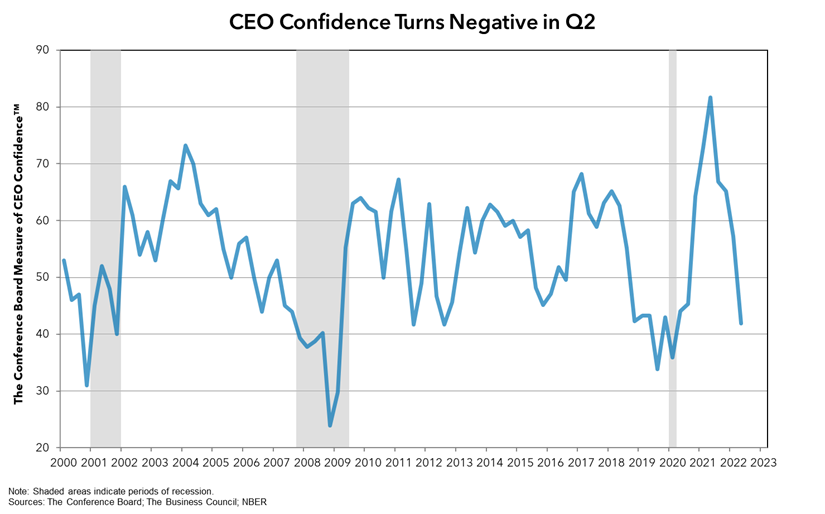 "[Powell] is obviously playing catch-up, 100 percent," said former Goldman Sachs president Gary Cohn when he was asked if the Fed waited too long to tighten monetary policy.
"He was clearly behind the curve and clearly late, and the runway for a 'soft landing' for the economy is now much shorter and narrower."
Moody's Analytics chief economist Mark Zandi explained how a group of disgruntled CEOs could impact growth moving forward.
"Recession is basically a loss of faith by consumers who think they may lose their jobs and CEOs who think they are not going to be able to sell what they produce," Zandi said.
"Unhappy CEOs worried about the future will cut back spending plans, and that leads to recession."
A top executive at one of America's largest companies, who chose to remain anonymous, voiced his displeasure in a POLITICO interview that lambasted several groups.
"The Fed is obviously way behind, but the Treasury team and the White House economic staff don't seem to be giving Powell much help by coming up with a clear set of plans to tame inflation," the executive said.
This isn't a unique take. Plenty of other executives have issued similar statements in anonymous interviews, too, so as to not invite backlash from their peers for stepping out of line.
"A lot of what happened, at least this year, was unknowable and they had to somehow try and balance things perfectly, and that's just an impossible task," said a senior executive at a large Wall Street bank.
"But the way many executives see it, there were other opportunities to move earlier and be in a better position right now, and obviously Powell and the Fed just did not get it right."
And so, as this attitude continues to snowball, expect inflation hedges to outperform. Precious metals were down this morning, but that doesn't mean they'll stay there for long. It's clear that most investors think the Fed moved way too slowly on raising rates.
The question now is whether Powell & Co. have the guts to uncork bigger rate hikes in the future. Given their track record, however, they probably won't. That's what has CEOs, investors, and analysts alike so worried, especially as inflation looks ready to tick even higher in the months ahead.