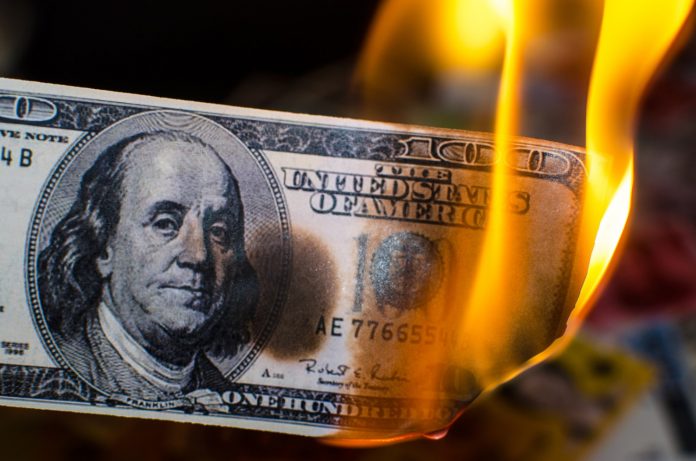 Stocks climbed again today as investors braced for tomorrow's Consumer Price Index (CPI) reading. The Dow, S&P, and Nasdaq Composite all held on to their gains through noon after opening higher. Tech led the way forward.
"As we get closer to the end of this interest rate hike campaign that the Fed is doing, tech stocks should rally," explained Bolvin Wealth Management Group founder Gina Bolvin.
"Let's just face it: Last year they got creamed, so there are investors that want to pick up some bargains."
For the first time since November, the Nasdaq Composite notched a three-day winning streak when it closed in positive territory yesterday. Will the good times continue, though? Not according to Wells Fargo strategist Chris Harvey, who said the current rally isn't one that investors "want to chase."
"We just don't think this is, for lack of a better phrase, the kiss to build a dream on," Harvey remarked.
"I would not be getting aggressive here at these levels."
A CPI miss tomorrow would push stocks significantly higher, making the rally look very "chasable."
Yesterday, we looked at a note from JPMorgan's trading desk which gave the market an 85% chance of a bullish inflation reading.
Today, Morgan Stanley published a note featuring a "flawless" CPI predictor that managed to accurately estimate beats/misses in 10 out the of last 10 inflation prints.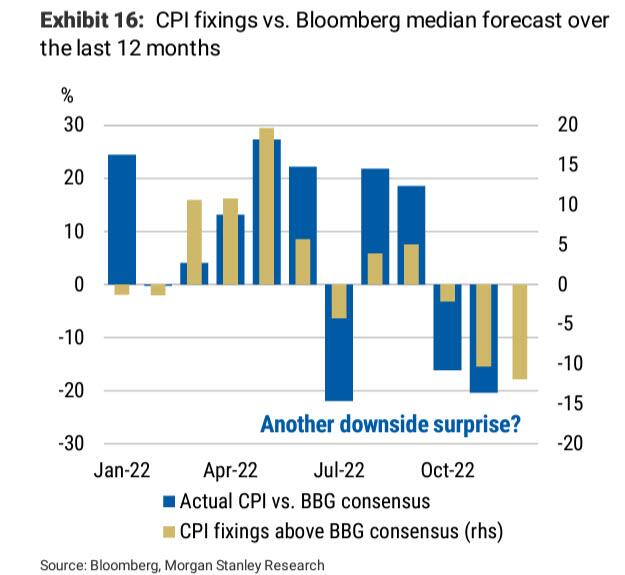 The indicator itself is not an economic index, but the CPI fixing market, where interest-rate swaps are made. Trading data out of CPI fixings shows a predicted CPI print tomorrow of -0.13% month-over-month (MoM), which is well below the Bloomberg median estimate of 0.0%.
This suggests that inflation will surprise to the downside tomorrow. So too does a slumping ISM Services reading, which was also featured in today's note from Morgan Stanley. ISM Services has been long viewed as a leading indicator for CPI.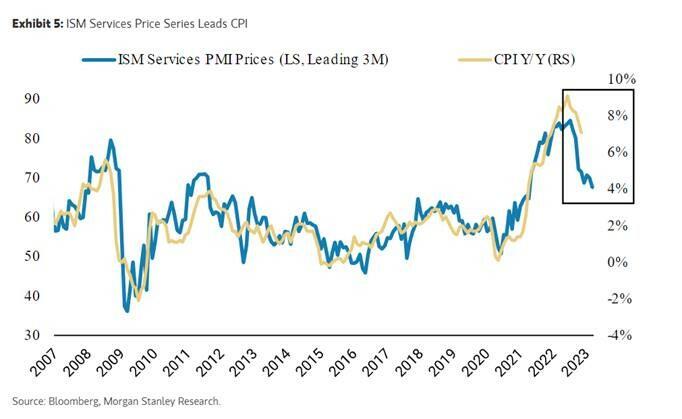 "Economic surprise indices are poised to keep rolling over," wrote Morgan Stanley analysts, referring to the ISM chart above.
"[Our] economists expect weak retail sales and a weak 1Q GDP print as well – suggesting more economic weakness ahead. The likelihood of further downside surprises in overall economic numbers, especially inflation might, deter the Fed from its hawkish rhetoric."
In other words, Wall Street is banking on a soft CPI reading tomorrow. But even if bulls do get the cooler-than-expected inflation print that they so deeply desire, sentiment could flip on a dime when bank earnings come out Friday, kicking off a critical earnings season.
And so, for traders who are sitting on bullish positions, it might make sense to fade tomorrow's rally if CPI misses big. Because if forward guidance for banks doesn't look good, the market could sharply retrace, potentially wiping out its post-CPI gains in the process.