Yesterday morning, President Donald Trump sent the following tweet: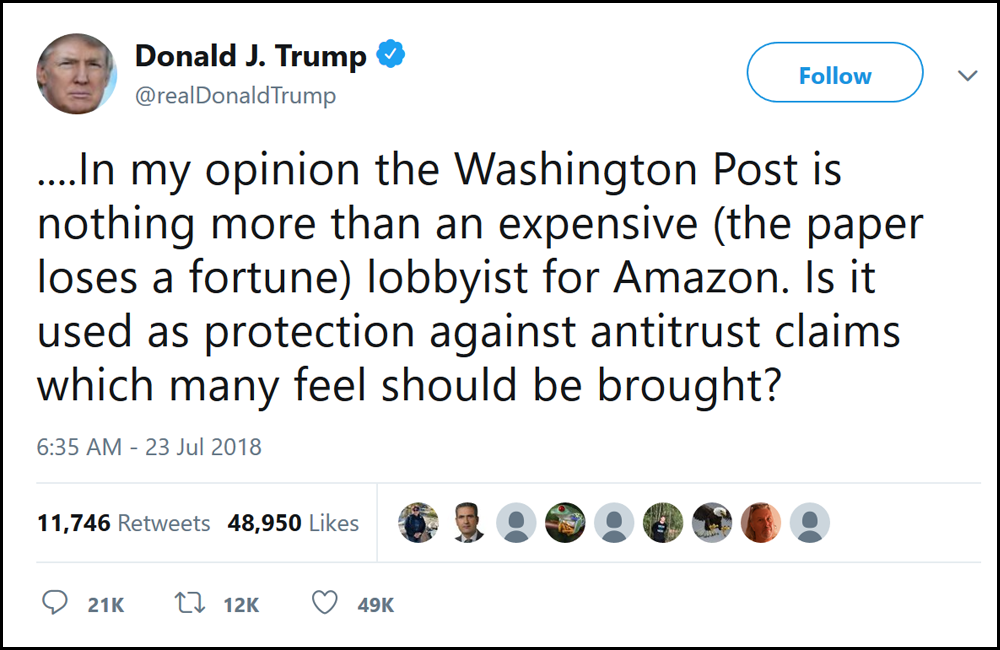 In this tweet, Trump re-emphasized his administration's disapproval of how Amazon conducts its business – which has signaled the death knell of American retail for years. Ever since the antitrust fines against Google, monopoly-busting regulators around the world have set their sights on Amazon – a company that now controls almost 50% of the U.S. e-commerce market.
There's no doubt in my mind that in the coming weeks, Jeff Bezos and his company's business practices will be called into question by the media – providing a platform for detractors to take cowardly jabs at the once humble book merchant.
Executives of brick and mortar stores across the country are happy to point their fingers at Amazon as if picking a suspect from a lineup – identifying who's guilty of killing American retailers.
But to act like Amazon is some sort of unexpected, unseen threat is ridiculous. Moreover, it's even worse to assume that Amazon is entirely to blame.
The e-commerce giant hasn't been a threat to retailers only over the course of the last year…
Or the last five years….
Want more FREE research and analysis on the best "unseen opportunities" in the markets?
Or even the last ten.
Amazon announced their Prime service (which as I mentioned in a previous issue, delivers astronomical value for a minuscule price) way back in 2005 – that's 13 years that retailers have had to get ready for the storm.
But instead of battening down the hatches and preparing for the worst, they were largely asleep at the wheel – becoming victims, utterly helpless to the shifting tides of the market.
So, while retail stores claim to have found the company responsible for their demise, when searching for a culprit they should have also taken a long look in the mirror – as uncomfortable as that may have been.
With Amazon controlling only 5% of all U.S. retail sales, there really is no valid antitrust case here – at least, not yet. Competitors can spring up at any time and any where they choose, and Amazon isn't doing anything to prevent that.
They've spared the rod and have instead chosen to spoil consumers – freezing out merchants who treat customers as more of an inconvenience than a valued guest.
However, the collective retailers of America would argue otherwise, as they've called Amazon a monopoly time and time again.
And you know what? For all intents and purposes, they practically are, at least in the realm of online shopping.
But that isn't a good enough reason for the Federal Trade Commission to go after a company.
Remember – antitrust laws were not created to prevent monopolies, but to protect the consumer.
Sure, Amazon may be in a monopoly position now – but to get there, they had to sacrifice billions of dollars in revenue for many, many years. This built trust with consumers slowly, gaining substantial market approval in the process – much to the chagrin of market analysts (at the time) who pegged Jeff Bezos as a nutjob, flushing his company down the drain.
If the FTC ends up going after Amazon for establishing such a dominant position in the market, it will set an extremely dangerous precedent in which the government can penalize companies for merely becoming too successful.
What we are seeing play out now is a situation where a long-standing industry (American retail) is feeling bullied by Amazon, because they weren't able to stay competitive in the changing business landscape.
Competition – the one thing that makes the free market so great – requires companies (at times) to adapt or die.
If Amazon is indeed penalized in the coming months for violating antitrust laws, it will happen because the company became too successful, too fast, and the rest of the industry was too dumb to do anything about it.