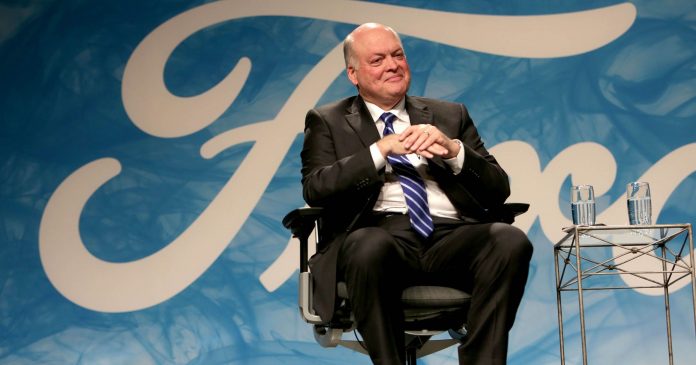 After nearly a decade-long erosion of both market share and profitability, Ford Motor Company has decided to "flip the switch". In a massive company-wide wake up call, CEO Jim Hackett revealed to employees this morning that a previously announced series of layoffs are to be completed by this August.
They're part of a longer-term restructuring plan that seems to completely go against Ford's prior ambitions – to be the biggest, "baddest" car manufacturer in the world. It was Henry Ford's original mission statement to put every human being behind the wheel of a Model T, and with Hackett's new culture-shift, many people will see this as a step backwards for the auto giant, who seems to be shrinking with each passing quarter.
But the contraction of Ford's empire is by design, and it certainly isn't an accidental biproduct of their new "profitability at all costs" approach. In order to get "mean", they first have to get "lean", and that includes laying off 7,000 salaried workers, or roughly 10% of the company's global workforce.
Most of the job cuts are occurring overseas, where Ford struggles to keep up with foreign competitors the most. Only 2,300 of the jobs eliminated will come from the U.S. workforce, and 1,500 of those are voluntary buyouts from 2018.
The truly revealing stat, though, is that approximately 20% of upper-level management will be laid off according to Hackett's email this morning. Ford says that in North America, its corporate restructuring is "nearly complete", but they still have plenty of work to do in Europe, China, and South America – places where the company will continue to trim personnel.
All in all, the job cuts are expected to save Ford $600 million annually, providing a boost to their bottom-line while they focus on churning out their most popular vehicles.
As an industry outsider scanning the headlines, it might seem like a surrender. But to shareholders, it looks more like a prize-fighter strategically dropping down a weight class, ready to dominate a new division after being knocked out by the heavyweight champ.
More importantly, though, Hackett's new plan has the "go ahead" from the Ford family, who still control the company and maintain a 2% minority ownership in it. As the ones closest to the business for the longest time, the Fords are ready for a change.
And boy, are they getting one.
Investors don't seem to share the same sentiment, however, as Ford shares are down by roughly 0.50% as of midday. The restructuring should be seen as a major boon for the company, but overarching trade war tensions have likely dissolved much of the resulting optimism.
The indefinitely suspended auto industry tariffs will undoubtedly wound Ford if they're ever reactivated, and so far, it appears as though Hackett's restructuring (as it stands) isn't enough to get investors any more excited than they already are.
That's okay, though, because when Ford announces earnings next (presumably in July), we'll see real evidence of what the company's new identity has achieved in terms of dollars and cents. If it's revealed then that Ford has truly gotten more profitable, then only question investors will be asking is…
"Why didn't I buy more shares back in May?"