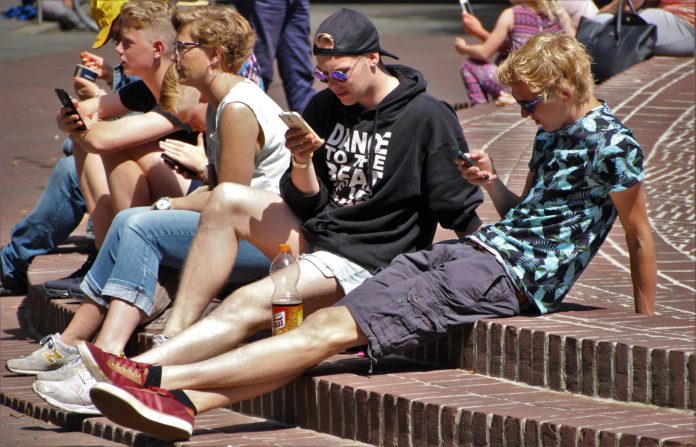 Stocks jumped higher today after opening for a loss. In what was another volatile trading session, bulls managed to keep the bears at bay despite a new warning from the World Health Organization (WHO).
The Dow (+2.30%), S&P (+1.50%), and Nasdaq Composite (+1.20%) all finished in the green, pushing the market back toward the top. Small-caps, Apple (NASDAQ: AAPL), and Boeing (NASDAQ: BA) led the pack, posting impressive gains in the process.
BA in particular had a big day, rising 14.4% in response to the beginning of new certification flights for the much-maligned 737 Max. Analysts view it as a potential turning point for the company.
And while investors were distracted by the shift in sentiment, Covid-19 infections surged once more. 44,000 new cases were confirmed in the U.S. on Friday. Saturday saw an increase of 43,581 while 40,000 were added to the infection totals on Sunday.
WHO director-general Tedros Adhanom Ghebreyesus believes the new data is indicative that the pandemic has only gotten worse, not better.
"Although many countries have made some progress, globally, the pandemic is actually speeding up. We all want this to be over. We all want to get on with our lives, but the hard reality is that this is not even close to being over," Tedros said earlier in the day.
"Some countries have now experienced a resurgence of cases as they start to reopen their economies and societies. Most people remain susceptible. The virus still has a lot of room to move."
When the pandemic began, the WHO was initially seen as a beacon of medical wisdom. Now, it's a highly criticized, flip-flopping source of "doom and gloom." The organization likely withheld critical Covid-19 information from the rest of the world on Chinese orders. The director-general, Tedros, is viewed by many as an extension of Beijing.
Bulls didn't seem to care about what he had to say, and rightfully so. That doesn't mean, however, that stocks will rise from here. According to Fed Chairman Jerome Powell, an economic recovery may prove difficult. And, more importantly, it could take longer than expected.
Current market valuations have the economy set for a "V-shaped" recovery, which is likely too optimistic at this point in time.
After the market closed, Powell released prepared testimony that he plans to read before the House Financial Services Committee tomorrow. In it, he admits that "a full recovery is unlikely until people are confident that it is safe to reengage in a broad range of activities."
When the market opens tomorrow, Powell's comments could give bulls pause. Or, they could continue buying knowing that the Fed will provide even more stimulus.
Either way it shakes out, though, some stocks still look ready to fall. And should the bottom drop out underneath the market, a few may completely collapse.
Glu Mobile Inc. (NASDAQ: GLUU) being one of them.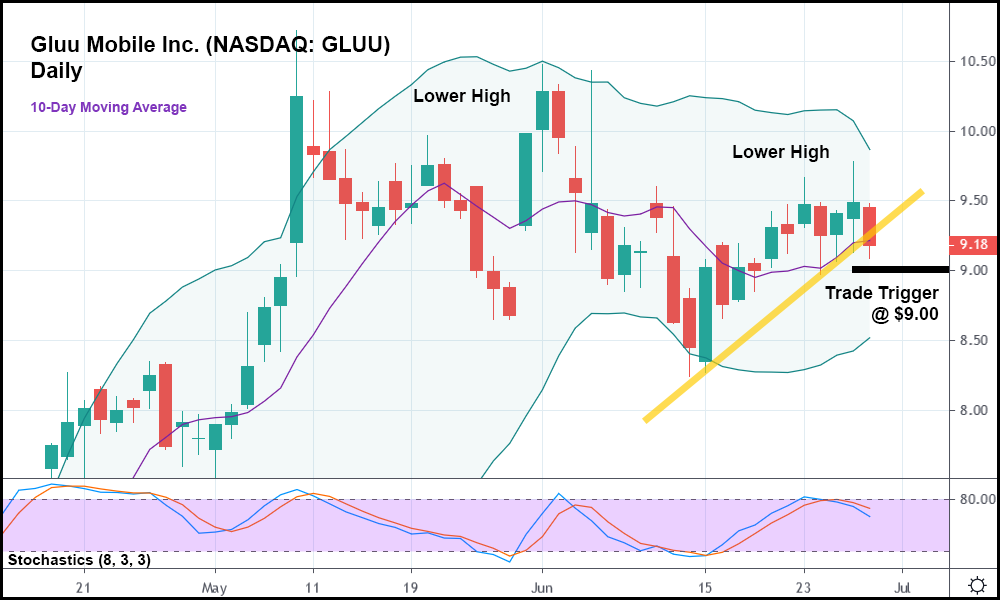 GLUU, after peaking in mid-May, has now set several lower highs. The stock was at one point a post-crash winner.
More recently, though, it's been struggling to hold on to those gains.
And today the stock fell beneath both the 10-day moving average and its minor bullish trend (represented with the yellow line).
Should GLUU trade below today's low, it might make sense to take the stock short with a trade trigger of $9.00.
The lower Bollinger Band (BB) lingers nearby, but with enough momentum behind a downward move, GLUU could easily blow right past it, leaving key support at $8.30 in its wake.
All while the rest of the market starts to crumble, too, as reality sinks in about the current economic situation.