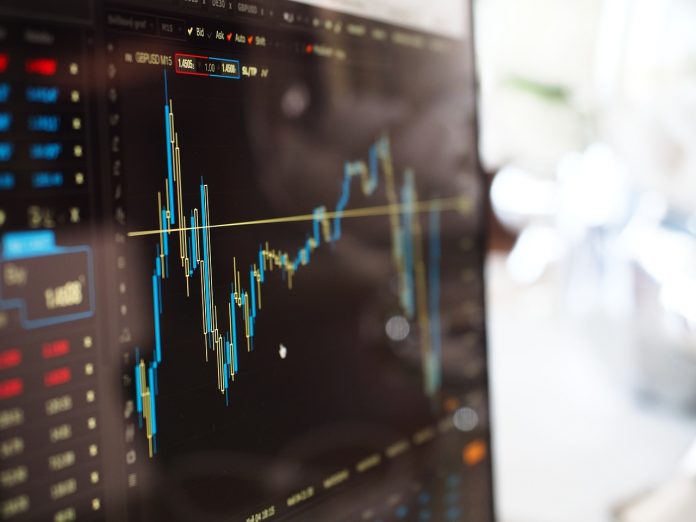 Alphabet Inc., A.K.A. Google (NYSE: GOOG) reported earnings after the market's close on Monday – blowing past analyst estimates and driving their stock price to a new all-time high. Revenues were up 25.6% over last year, fueled by advertising revenue and the company's investment in new technologies.
In the report, Google cited their core business (Google search) as well as their innovations in machine learning, artificial intelligence, and cloud technology as reasons to be excited for an even brighter future.
As the world becomes more interconnected each day, Alphabet Inc.'s business is going to rely more and more on the Internet of Things (IoT), which is made up of all the internet connected smart devices in the world. The IoT is expected to grow exponentially in the next 7 years, and in the earnings report on Monday afternoon, Google displayed a willingness to capitalize on that growth – potentially leaning on the IoT to drive profits down the road.
So far, there are an estimated 25 billion IoT connected devices today – that includes smartphones, computers, smart televisions, and believe it or not, even smart refrigerators. As long as they're connected to the internet, they're most likely a "thing" in the IoT.
That number is expected to triple by 2025, and the IoT's infrastructure will be powered by two of the major technologies that Google is currently investing heavily in – cloud services and artificial intelligence.
So, while the company impressed investors by looking for future opportunities in the right places, Alphabet Inc. also left some analysts speechless after showing off last quarter's financials.
Their revenues for Q2 hit $32.66 billion, exceeding the consensus estimates by $500 million, driven by their ad revenues from Google search and YouTube – both of which had shown continued improvement over the year.
Analysts also estimated an Earnings Per Share (or EPS) of $9.55, but once again Google overachieved by $2.20, posting a surprising EPS of $11.75 – up 32% from last year.
The earnings report went so well, and the financials were so impressive that many analysts see a "20% upside" for GOOG going forward.
Shares Of Google Are On The Rise
As fun as it is to talk about the earnings report itself, I also wanted to dig into what happened to GOOG on the charts. After all, earnings reports are extremely subjective – what may be "big news" to me or you might be unimportant to someone else. Even if everything in the earnings report looks great, many investors will occasionally find something to complain about, driving the stock price down amidst otherwise good indicators of a company's health.
Anyway, let's dive in and see what actually happened following Google's earnings in this weekly candlestick chart: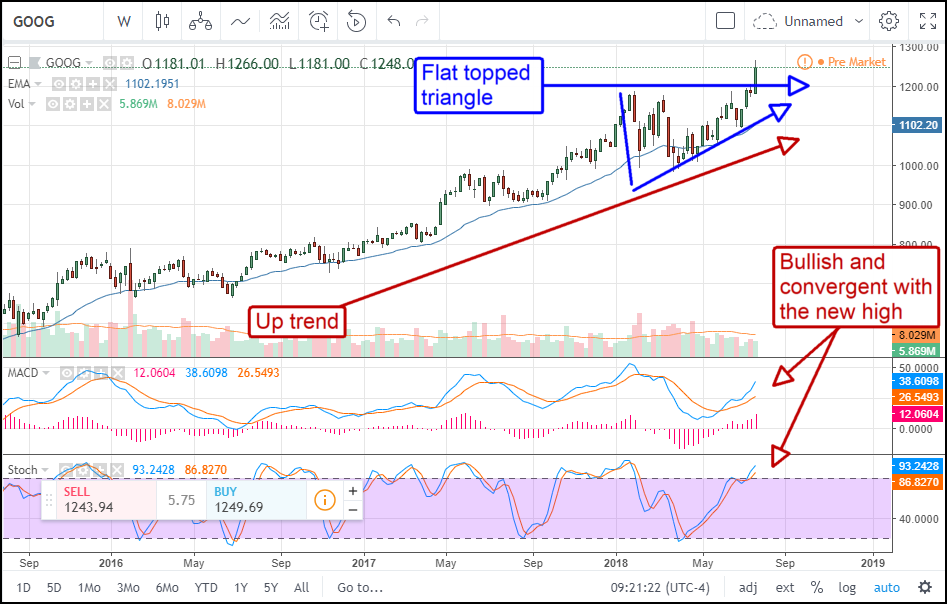 GOOG jumped more than 5% to set a new all-time high, breaking out of a bullish continuation pattern. In the chart, you can see the stock's movement and how it set a clearly visible flat-topped triangle – with a bullish break that is supported by a few key indicators:
First, we have the moving average convergence divergence (or MACD), which can be a mouthful to say if you avoid using the acronym for it. The MACD is simply a trend-following momentum indicator that shows the relationship between two moving averages of prices. In this case, it's bullish, on the rise, and forming a strong peak indicative of rising prices.
Next, towards the bottom of the chart, we have the "Stoch", or Stochastics, an indicator that was created back in the late 1950s to measure the relationship between a stock's closing price and its price range over a period of time. On the chart, you can see the blue line (identified as %K or the "stochastic fast") crossing up over the red line (identified as the %D or the "signal line"), providing further evidence of continued upwards movement.
Based on the magnitude of this pattern, a move up to $1,400 seems likely. The only concern I have is regarding the trading volume, which has fallen off over the past few months. Without an increase in volume, upside potential could ultimately be limited. However, happy investors (and potential future investors) caused a volume spike shortly after the earnings report – providing a nice boost to GOOG.
But Will European Union (EU) Privacy Laws Damage Google In The Long Run?
Even though Google's earnings went so well this quarter, many investors are still concerned that the EU's new privacy laws may end up hurting their future revenues.
It's a fair question to task, but from what we've seen so far, GOOG investors really don't care – especially when the company's growth is so aggressive in the face of antitrust penalties. All of the internet giants (like Amazon and Google) knew about the changing legal landscape in the EU and have taken the necessary precautions to prepare for it – even if that means taking a $5 billion fine on the chin from time to time.
That's not to say that these new laws will have no impact on how Google does business in Europe – just that whatever affect is does have will be highly limited. People in the EU are still going to use the internet and Google will to continue to be a major part of that experience.
Furthermore, advances in machine learning and artificial intelligence (two areas that Google is investing heavily in) will still let the company offer user-targeted experiences – just in different ways than before.
Google has immense growth potential, regardless of what legislation is passed down where, and this is what investors need to focus on.  Even though the company has been around almost as long as the internet has existed, it's still getting bigger each day – and that's something to proud of.